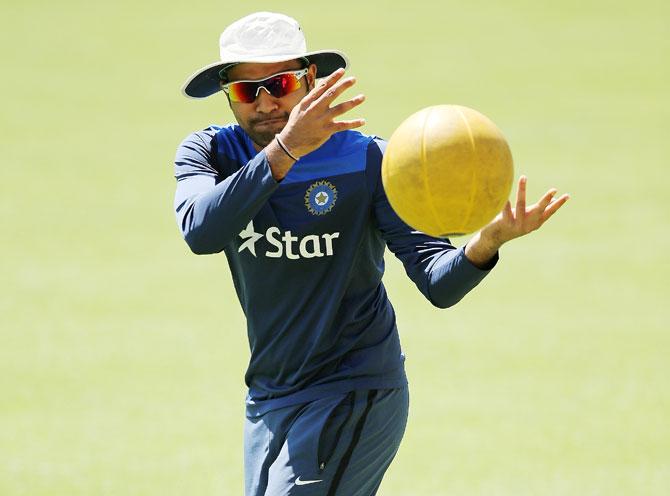 Rohit Sharma of India warms up during an India training session at Adelaide Oval. Photograph: Morne de Klerk/Getty Images
With only couple of days left for India to open their cricket World Cup campaign against arch-rivals Pakistan, the team had a gruelling training session in Adelaide on Thursday in preparation for the high-voltage contest.
After having the customary net session in the morning at the St Peter's College ground, where the full team was in attendance, the players trooped in in batches of two and three at the Adelaide Oval's indoor net session to do some 'physical training' under trainer V P Sudarshan.
The Adelaide Oval is probably one of those few international venues to which players normally walk down from their hotel (Inter-Continental, where international teams stay). It is hardly a three to four minutes' walk.
Therefore, it was a bit surprising when Virat Kohli, dressed in all black sports wear and not the official Team India practice apparel, along with Ajinkya Rahane and Mohammed Shami turned up with Sudarshan and a foreign security officer and local private security.
The trio, along with the trainer, went to the indoor training facility where the security officer was handed over a hand-written note which had separate list of three players each.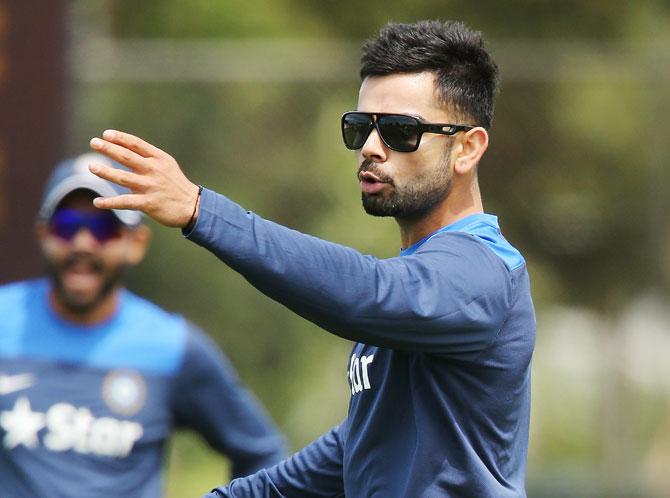 Virat Kohli during a training session for the Indian cricket team in Adelaide. Photograph: Morne de Klerk/Getty Images
On the first floor of the indoor facility is ICC's designated 'Media Accreditation Centre' where scribes gathered to collect their entry passes. The presence of the three players definitely aroused interest as to what they were doing in a second session after their usual net and fielding drills.
One saw Rahane and Shami standing face to face with a gap of around 10-12 feet and throwing the 'Medicine Ball' at each other. The Medicine ball is a common weight training apparatus and doing catching practice with it can be a form of training but it was baffling to find the security officer coming up to the media zone and instruct journalists to leave.
"The trainer (VP Sudarshan) is carrying out a special session and he doesn't want the media to be present. You guys will have to leave," he said curtly.
The mediapersons, who were standing at the balcony then left the area and sat in the rear. This time, it was an local security man, who came up and said, "Don't mind, I am just the messenger but their security officer sent me to tell you guys to leave."
When there was a polite query as to why the media should leave their designated accreditation zone, the gentleman said, "If you don't leave, then you might find him coming again to ask you people to leave."
After the trio of Shami, Rahane and Kohli finished with their session, it was Akshar Patel and Suresh Raina, who trudged in.
Skipper Mahendra Singh Dhoni left for Melbourne to attend the Opening Ceremony of the marquee event.