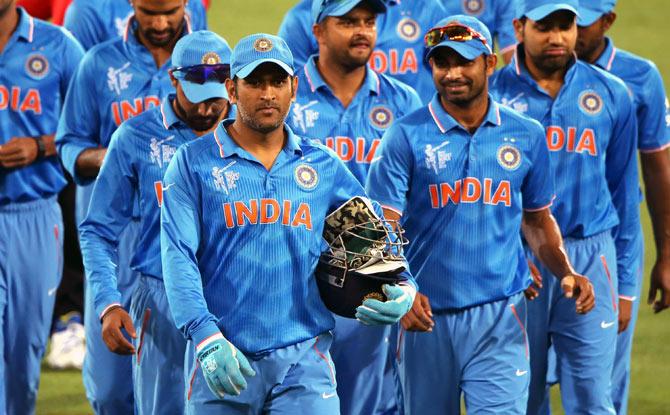 India captain Mahendra Singh Dhoni leads the team off the field. Photograph: Daniel Kalisz/Getty Images
Former Australia left-arm spinner Brad Hogg has said India, with three consecutive wins so far, have gotten over the setback of their disappointing Australia tour that preceded the World Cup.
"They (India) are big tournament team. I think they probably have settled down. They had had two months here and all their plans on how to go about in Australian conditions are working. They had a week before this tournament started," the former chinaman bowler said.
"They have started to bowl better in Australian conditions, their spinners are bowling well as well. It is a lot different here then bowling in India. Their batters are have also started getting used to the extra bounce.
"But they will be tested against the West Indies next Friday when they come up against pace and bounce on the fast WACA wicket," said Hogg, who was part of two World Cup winning Australian sides in 2003 and 2007.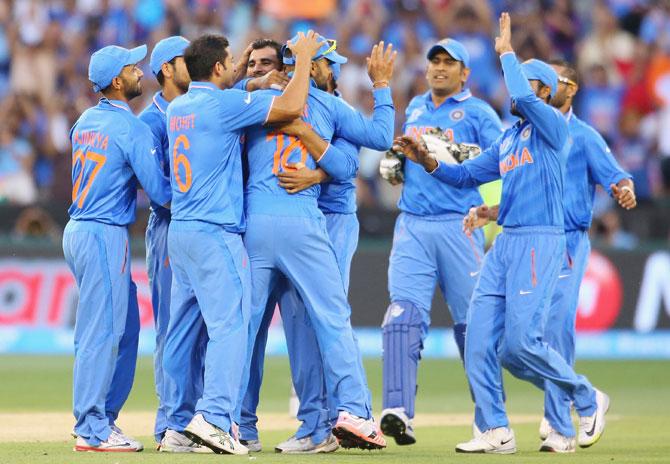 The Indian team celebrates the fall of a wicket. Photograph: Scott Barbour/Getty Images
Hogg is in awe of the current Indian team's fielding abilities and feels the defending champions are a "big tournament team" and have become the favourites to lift the World Cup.
"The thing which impressed me most about India is their fielding. The time when I was playing we really felt we can get some extra runs on the field, we can take them on in the boundary," Hogg said.
"But we saw against South Africa the other night, they had two crucial run outs of (AB) de Villiers and (David) Miller and turn the game around. It took the game away from South Africa.
"That extra pressure on the field is going to help their bowlers and batters. That's why I feel they are starting to become the favourites for the World Cup."