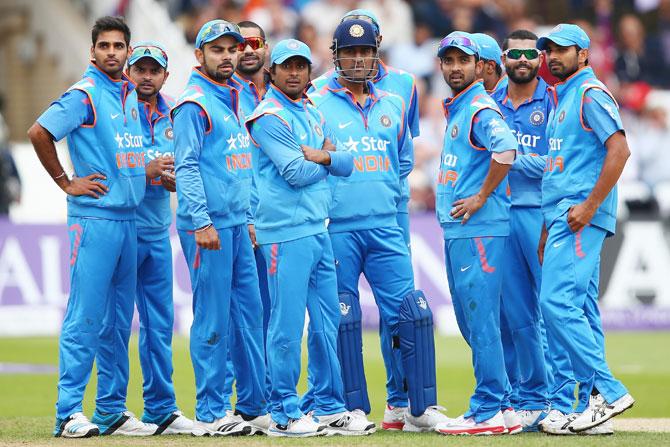 The Indian team waits for a review decision. Photograph: Michael Steele/Getty Images
Sachin Tendulkar has tipped defending champions India to make it to the semi-finals of the ICC World Cup which begins in Australia and New Zealand on Saturday.
The Master Blaster also said that captain Mahendra Singh could play a key role in the country's fortunes in the showpiece event.
"According to me, the top four teams that I would put them in the semis would be Australia, New Zealand, South Africa and India," Tendulkar, who played six World Cups, said when asked to name the four top teams.
He said the whole team will have to perform if India have to defend the title they won at home in 2011 but felt that Dhoni's experience and calm leadership would play a key role.
"Yes, I think MS Dhoni is the guy because he has the experience of competing at this level for close to 10 years and he is calm and composed. You know, even on the biggest of the stages he is calm and composed and that is what you expect from a leader," Tendulkar, who won the 2011 World Cup under Dhoni, told Headlines Today.
'Kohli's biggest strength is that he analyzes the situation very well'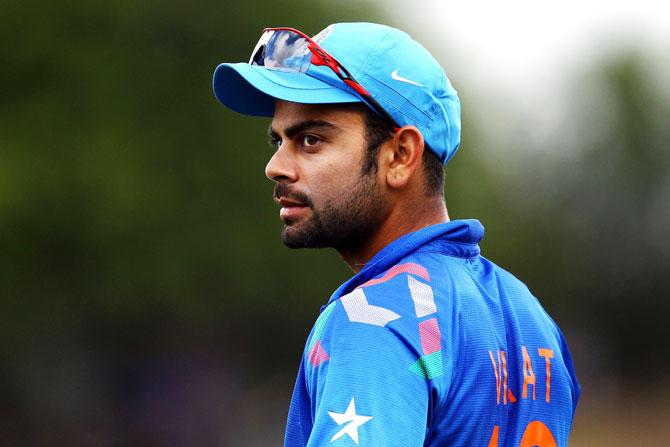 Indian batsman Virat Kohli during a match. Photograph: Getty Images
A leader should not panic, a quality which he has, and you know it's equally important for a captain to be in a good form also to take his team forward, only one individual cannot make you win the trophy. You need the support of the entire team," said the 41-year-old legendary batsman who retired from
international cricket in 2013 after breaking almost all the batting records.
Star batsman Virat Kohli is also one player who Tendulkar feels can shine in this World Cup.
"I think Virat Kohli is brilliant, his biggest strength is that he analyzes the situation very well and also analyzes the conditions, the pitch, the surface that he is going to bat on.
"He picks that very quickly, and then he is sure about when he's going to collect his runs and how he's going to collect his runs," he said.
'Pakistan's bowling attack might lack consistency'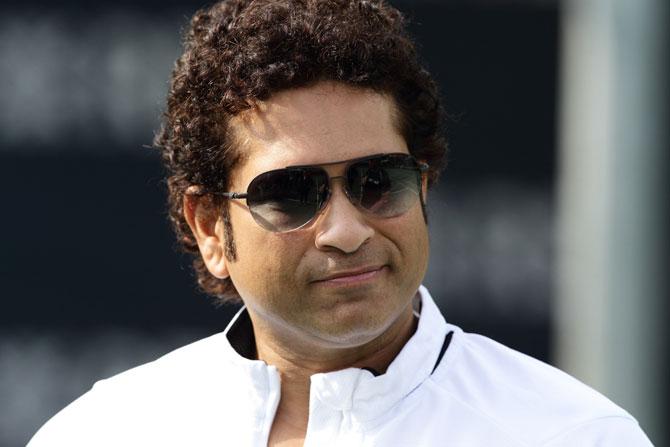 Sachin Tendulkar. Photograph: Getty Images
On struggling opener Shikhar Dhawan, Tendulkar said, "Shikhar has not had a great time there in Australia, but when he gets going, his game is suited for those hard and bouncy wickets. I think Shikhar, when he gets going early on in the tournament, he will be a key factor."
India take on Pakistan on Sunday in their campaign opener in what promises to be a high-voltage contest in Adelaide but Tendulkar said that their arch-rivals were not as strong as they used to be in the past and lacked consistency also.
"See, with time things change and so will the teams. I remember when we played in 2003 against Pakistan at Centurion, the bowling attack has Wasim Akram, Shoaib Akhtar, Waqar Younis, Abdul Razzak, Shahid Afridi, I mean, leading attack in the world I would say.
"They definitely don't have an attack of that calibre but that does not mean newer lot cannot deliver, they can still deliver but you know they lack that substance. I think Mohammad Irfan is one bowler who can consistently bowl well in Australia and New Zealand.
"The rest of the guys, there are a few guys. Wahab Riaz can bowl, but I feel they might lack consistency," said Tendulkar who have won three man-of-the-match awards in India's five World Cup wins against Pakistan since 1992.