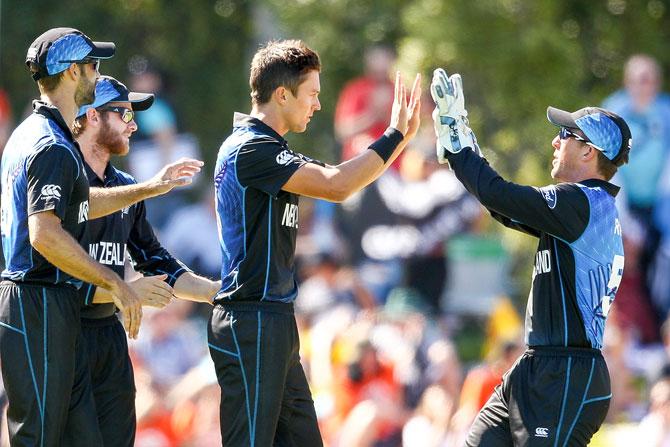 Trent Boult (cenre) of New Zealand celebrates with team mates after dismissing Calum Macleod of Scotland during the World Cup match in Dunedin. Photograph: Martin Hunter/Getty Images
New Zealand almost wasted a superb bowling effort to bumble their way to a three-wicket victory over Scotland in their cricket World Cup Pool A match in Dunedin on Tuesday.
The co-hosts finished on 146 for seven, although they made it harder for themselves than they should have after bowling Scotland out for 142.
New Zealand captain Brendon McCullum had indicated that the pitch, which has produced scores in excess of 300 in its last two one-dayers, typically aided the bowlers early on but got better as the day wore on.
Tim Southee (two for 35) and Trent Boult (two for 21) proved him right in the early overs of the match, both carving out hat-trick opportunities but unable to achieve the feat. The latter was named the player of the match for his effort.
The pressure they were putting on the batsmen suggested the Scots were heading for the lowest World Cup team total - 36 by Canada in 2003 - before Machan and Berrington saved their embarrassment.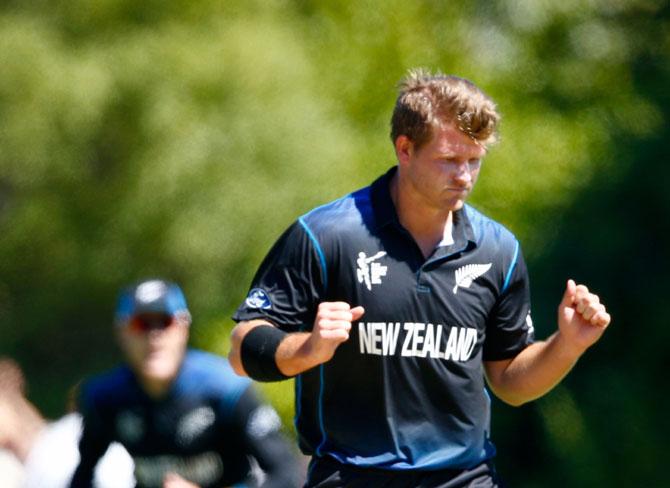 Corey Anderson of New Zealand celebrates his wicket of Matt Machan of Scotland during the ICC World Cup match in Dunedin. Photograph: Phil Walter/Getty Images
New Zealand had earlier destroyed Scotland's top order with a superb display of swing bowling from Boult and Southee, who reduced Preston Mommsen's side to 12 for four in the fifth over.
Matt Machan (56) and Richie Berrington (50) rescued Scotland's innings with a 97-run fifth-wicket partnership but once they were dismissed the tail collapsed.
Corey Anderson grabbed three middle order wickets (three for 18), while Vettori (three for 24) finished off the tail with three, the last two of which were on successive balls.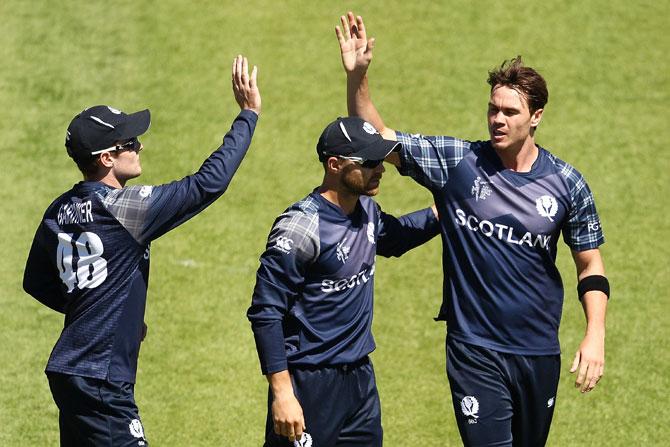 Iain Wardlaw of Scotland celebrates with team mates after dismissing Martin Guptill of New Zealand during the ICC World Cup match against Scotland in Dunedin. Photograph: Martin Hunter/Getty Images
Scotland's opening bowler Iain Wardlaw took three for 57 in 9.5 overs to give New Zealand some nervous moments in their run chase with many of their batsmen guilty of throwing away their wickets in an effort to improve their net run rate.
Kane Williamson top-scored with 38 while Grant Elliott managed 29.
Daniel Vettori (eight not out) and Adam Milne (one), however, saw them home in the 25th over at University Oval.
McCullum had been cautious before the game, refusing to take Scotland for granted particularly after Ireland did wonders for the associate nations on Monday.
Ireland stunned West Indies by four wickets to give the non-test playing nations a massive confidence boost as the International Cricket Council looks to reduce the size of the 2019 World Cup to 10 teams.