Rashid Latif has told PTI in an interview that it was the duty of the ICC to ensure that the quality of cricket and players was not reduced in a mad rush to make more money.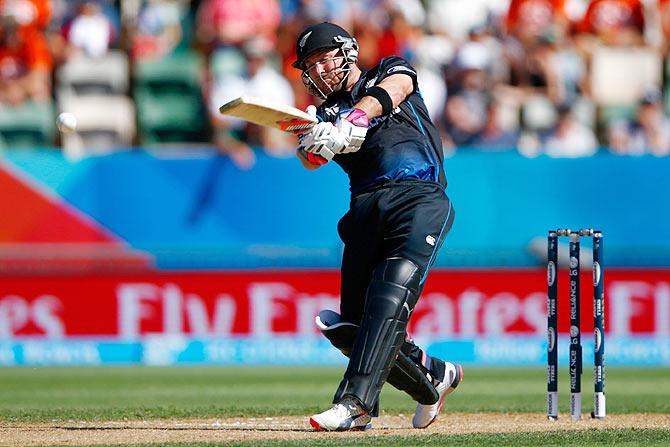 New Zealand Brendon McCullum bats. Photograph: Phil Walter/Getty Images
Former Pakistan captain Rashid Latif has made a strong plea to the International Cricket Council (ICC) to revise the fielding restrictions rule in One-Day Internationals in a bid to stop devaluation of former greats' achievements.
In an interview to PTI, the former wicketkeeper-batsman also expressed fear that if the ICC and its affiliated boards continued their mad rush to further commercialise cricket, it would soon turn into a sport like Baseball.
- The World Cup, as never before on Rediff.com
- VOTE: Who will win the 2015 World Cup?
"It is very difficult for bowlers now in One-day matches with the four fielders outside circle restriction in non-Power Play overs. And, with pitches being tailor-made for batsmen and the bats also getting deeper base and better sweet spots, getting big scores is not as difficult as in the past," Latif told said on Friday.
"The way batting records are crumbling in ODIs these days I just feel sad that they are in a way eroding the achievements of far better and great batsmen," he said.
Latif, 46, said with the changes in ODI laws the achievements of greats like Sir Vivian Richards, Martin Crowe, Sunil Gavaskar, Javed Miandad, Brian Lara were being eroded.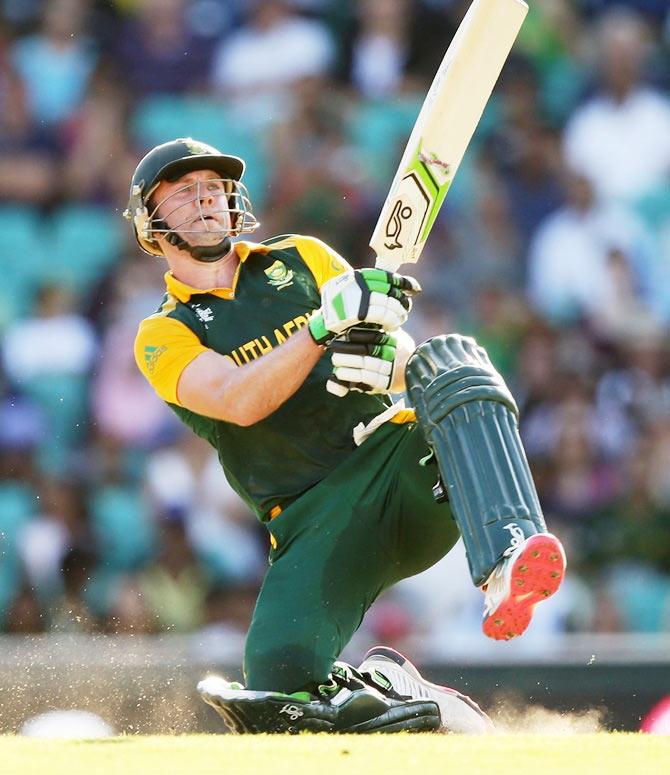 South Africa's AB de Villiers bats during the 2015 World Cup match against the West Indies at the Sydney Cricket Ground. Photograph: Matt King/Getty Images
"I have seen some of these greats bat and when they played it was far more difficult for them to get big runs. So their runs were very valuable."
He pointed out that nowadays many players are getting big scores and runs with 360 degree angle shots, cuts and edges due to the existing rules and conditions.
"The existing rules and conditions allow them to get away with such shots. Everything is heavily tilted in their favour and the runs being scored so easily today are eroding the achievements of former greats."
Latif said he felt for modern-day bowlers.
"Generally this four-fielder restriction has made a huge difference to bowlers. If an off-spinner is bowling, it means he basically has just one fielder protection on the off-side outside the circle and this allows batsmen to freely try reverse or paddle shots and play more cuts and edges."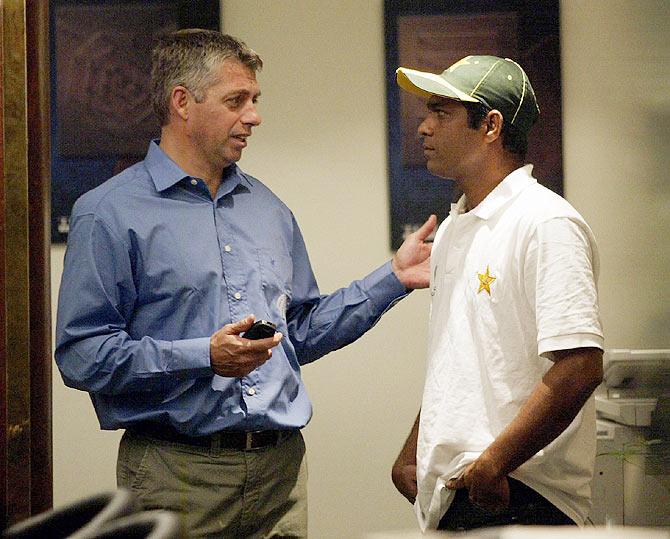 ICC chief Dave Richardson with Rashid Latif. Photograph: Hamish Blair/Getty Images
Latif said it was the duty of the ICC to ensure that the quality of cricket and players was not reduced in a mad rush to make more money.
"It is laughable that now the England and Wales Cricket Board and its affiliated counties are even considering a proposal to have four-day Tests. I fear soon they will kill the real spirit of cricket and turn into a sport like Baseball."
He said the fact that even associate or weaker teams like Ireland, Scotland or Bangladesh were getting 300 plus totals showed just how much of an impact the fielding restrictions had on reducing quality of batting.
Latif said he had seen only one bowler in the entire World Cup, Ravichandran Ashwin, who had worked hard to counter the fielding restrictions.