'I can't remember seeing Dhoni do wicket-keeping drills at the nets'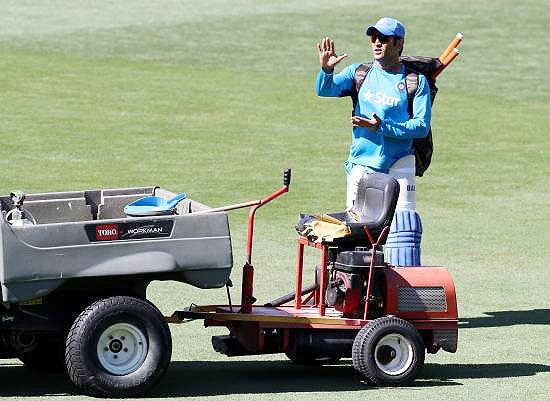 Mahendra Singh arrives at Eden Park for team training session. Photograph: Vipin Pawar/Solaris Images
Mahendra Singh Dhoni's cricketing philosophy has by and large remained unorthodox, and the biggest testimony to that is his 'minimum practice and maximum result' theory that has worked wonders during his decade long career as an India international.
- How Dhoni and Co make chasing targets look simple
- VOTE: Who will win the 2015 World Cup?
Believe it or not, the Indian captain has not performed the routine wicket-keeping drills at the nets for more than three years now and still maintains that high dismissal rate at the top level with a routine of 10 catches on match days.
Call it the 'Mahi Way' but that's how it has been for the Jharkhand dasher over the years. Those who have watched the Indian team's training session during home and away tours will notice that Dhoni, on training days, would hardly be seen with his 'keeping gear on.
May be on odd occasions, he will wear the keeping gloves but very few could recollect having seen him wearing keeping pads on.
He does all the normal fielding drills, takes part in catching sessions, diligently bats at the nets and occasionally bowls his seam-up stuff as well, but no one has seen him perform wicketkeeping drills.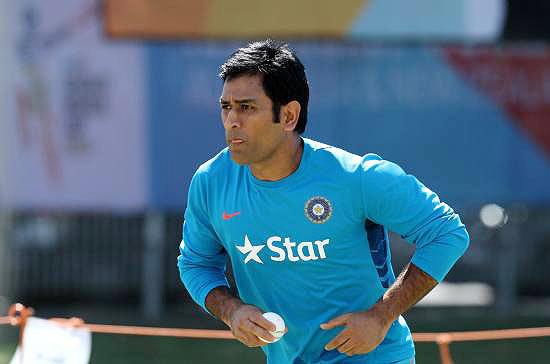 Mahendra Singh Dhoni bowls during a nets session. Photograph: Vipin Pawar/Solaris Images
Cut to the days of Syed Kirmani and then to Kiran More, Nayan Mongia and in recent times, Wriddhiman Saha, all these players would religiously do their routines as far as the glove-work is concerned.
- Don't Miss! The Rediff Cricket Show
- The World Cup, as never before on Rediff.com
But then Dhoni always loves to buck the trend. In fact, someone who has seen most of Dhoni's training sessions over the years confirmed that the skipper indeed doesn't do 'keeping drills.
"I can't remember seeing Dhoni do wicket-keeping drills at the nets. If you ask me why, I won't be able to answer you. His wicket-keeping drill is to take 10 catches on match days to get a feel of the ball hitting the gloves. That has worked for him nicely in all these years," a member of Indian team's support staff, who has closely seen Dhoni train, told PTI on condition of anonymity.
Playing all three formats round the year can take its toll on the body and Dhoni always advocates clever training methods with less strain on the body.
Keeping wickets with crouching stance for 100 overs in Test matches or 50 overs in an ODI, day in and day out is no joke as there is a lot of stress on the back -- probably keeping himself fresh for match situations.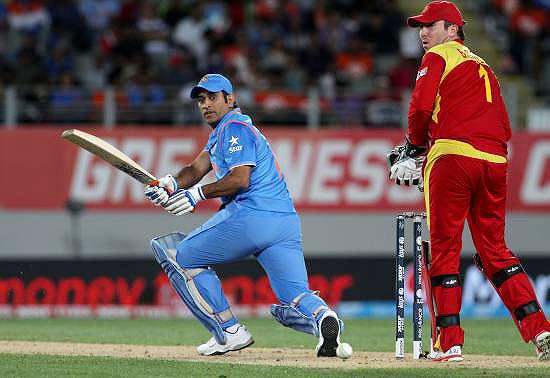 Mahendra Singh Dhoni bats as Zimbabwe's Brendan Taylor looks on. Photograph: Vipin Pawar/Solaris Images
Seldom do people know their strengths and limitations. For Dhoni, his biggest strength is being aware about his limitations and working around it.
The 294 dismissals (catches plus stumpings) from 90 Tests and 325 dismissals in 260 ODIs is a proof that Dhoni indeed is India's greatest wicketkeeper-batsman.
- Team India register 10 World Cup wins on the trot
- Dhoni sticks with tried and trusted combination
- Of Raina's impressive batting average and Dhon's cool captaincy
Syed Kirmani, who played only two Test matches less than Dhoni and has a total dismissal count of 198 (catches and stumpings included). Kirmani didn't play in the IPL era and also when ODI matches were not the priority cricket.
Not just his keeping, it has been even more difficult to decode Dhoni the batsman as rival captains would agree.
Zimbabwe's Brendan Taylor summed it up aptly.
"It was difficult for me today (referring to India versus Zimbabwe), and it's been difficult for many captains. He hits the ball 360 degrees around the field, so it's hard to put fielders in certain areas. It's just his composure and his mindset.
"He's done it so many times now I think it's second nature for him. But to be averaging 50 plus batting at 6 is an incredible achievement. You can learn so much from a person like that," said Taylor.
Sunil Gavaskar in his book 'Idols' where he has paid tribute to Kirmani, termed him as 'Keeper of India's fortunes' but the tag probably now best fits India's 'Captain Cool'.
© Copyright 2022 PTI. All rights reserved. Republication or redistribution of PTI content, including by framing or similar means, is expressly prohibited without the prior written consent.