'I think the best four teams are in the semi-finals and I don't think many people could disagree with that'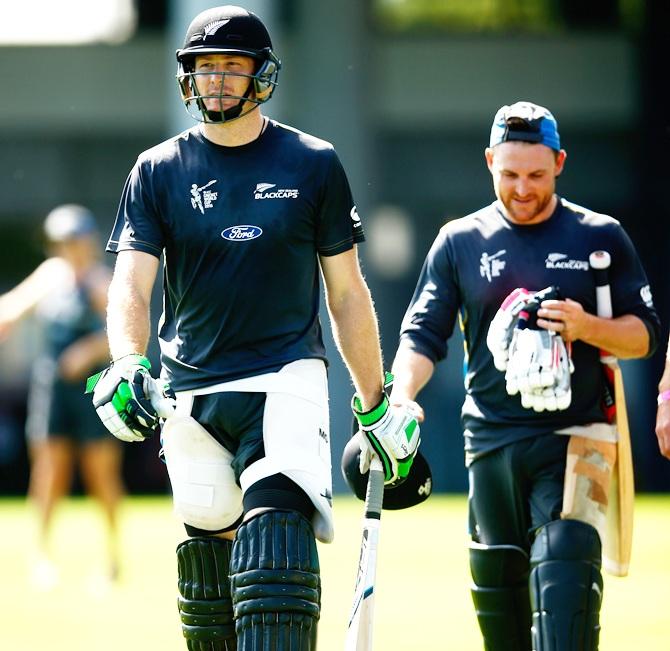 Martin Guptill, left, and Brendon McCullum of New Zealand arrive for a New Zealand Black Caps training session at Eden Park. Photograph: Phil Walter/Getty Images
The four best teams have made the semi-finals of the World Cup and New Zealand's clash with South Africa at Eden Park is going to be 'one heck of a show', according to coach Mike Hesson.
Great debate: Will it be pace or spin friendly pitch at SCG?
The Rediff World Cup Chat: Prem Panicker on the semis
Hesson's side advanced to their third successive semi-final, and seventh overall, with a 143-run victory over West Indies in Wellington on Saturday, courtesy of Martin Guptill's record 237 not out.
South Africa were also impressive in their nine-wicket destruction of Sri Lanka last Wednesday at the Sydney Cricket Ground after they lost two matches in pool play.
"I think the best four teams are in the semi-finals and I don't think many people could disagree with that," Hesson told reporters in Wellington before they headed to Auckland to prepare for their showdown with the Proteas.
Neither side have made the World Cup final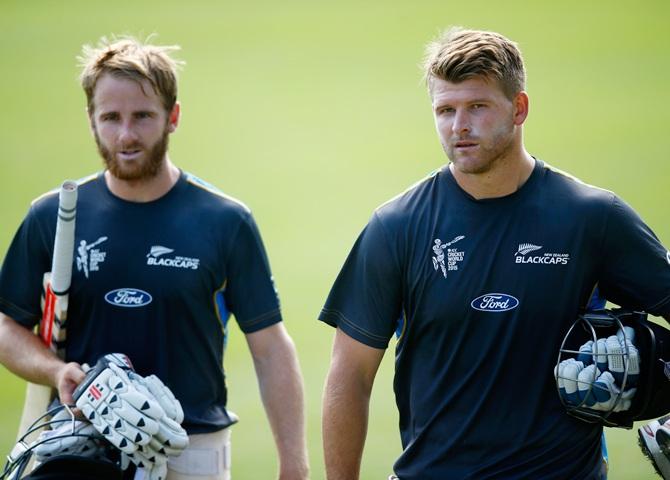 Kane Williamson, left, and Corey Anderson of New Zealand arrive for a New Zealand training session. Photograph: Phil Walter/Getty Images
Neither side have made the World Cup final, with South Africa considered the great underachiever in the tournament, though Hesson dismissed suggestions that would resurrect any underlying psychological barriers for either side.
"I don't think there is any baggage for anyone. It's a one off game and we're all here for the party," he said.
"I'm sure we'll both turn up.
"Two sides playing good cricket and that's going to be a heck of a show."
South Africa have slight advantage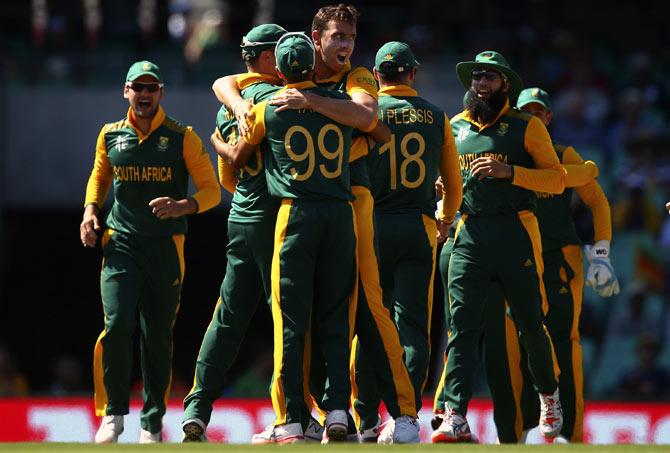 Kyle Abbott (centre) celebrates with team mates after taking the wicket of Kusal Perera. Photograph: Ryan Pierse/Getty Images
South Africa may have a slight advantage in recent head-to-head form, having taken apart New Zealand in two matches in Mt. Maunganui last October, though Hesson felt that had little bearing on what would happen on Tuesday.
"That was the start of a six-month campaign and I think it was fair to say South Africa were better prepared than us for those fixtures," he said.
"They hit us pretty hard early and we didn't respond very well. But we've had a few matches since then."
Hesson, who took over the side in 2012, has overseen a turnaround in New Zealand's fortunes as they have won both test and one-day series and improved their ranking in all forms of cricket.
The team also has players chipping in with valuable contributions up and down the order and in the bowling unit.
'We've gone from nine in the world to four'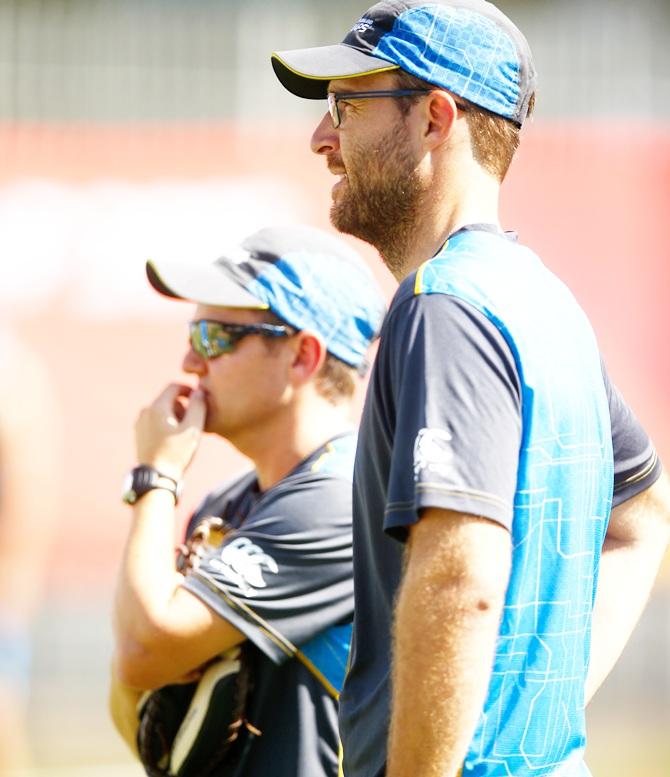 Daniel Vettori, right, chats with New Zealand coach Mike Hesson. Photograph: Phil Walter/Getty Images
"Something pretty big has happened over the last year or two," he said. "We've gone from nine in the world to four because we have been playing some pretty good cricket. And you only get there because we have some pretty good players.
"The biggest thing has shown us is that players have been quite selfless and their putting own personal targets or milestones are slightly behind where the team needs to be.
"Not everyone can take wickets or score hundreds every day but there are lots of little cameos along the way that's what makes this team what they are."
Australia play India in the other semi-final at the Sydney Cricket Ground on Thursday.