'Where India has played the pitches have been prepared to suit their strengths'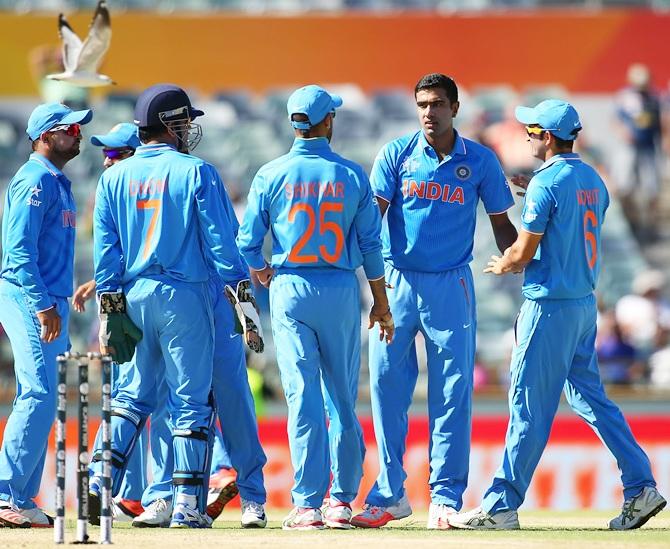 Ravichandran Ashwin celebrates with team mates at the WACA on February 28, 2015. India wbeat UAE by 9 wickets. Photograph: Paul Kane/Getty Images
Former Pakistan pacer Sarfraz Nawaz has accused the ICC of favoring the Indian team in the ongoing cricket World Cup by providing the defending champions pitches tailor made to suit their strengths.
"You look at the matches played so far in this World Cup that where India has played the pitches have been prepared to suit their strengths," Nawaz, who played 55 Tests and 45 ODIs said on a TV channel show.
The outspoken and often controversial pacer said that in contrast Pakistan was being made to play on pitches which were not easy for them.
"Look at today's match the pitch was double paced and had lot of bounce which goes against our strengths. I would ask the Pakistan Cricket Board to take up this issue with the ICC and find out what is going on," he said.
Nawaz said that Pakistan should lodge a protest with the ICC as one could see India was being favored by the sport's world governing body.
Former off-spinner Saeed Ajmal who was on the same panel on the channel declined to comment on the issue only pointing out that it was good that Pakistan won against Zimbabwe even on a challenging surface.
Nawaz said that it was strange that pitches in the World Cup either were totally suited batsmen or were assisting the bowlers.
He said that this same Indian team had struggled in Australia in the preceding Test and ODI tri-series.
DON'T MISS!
© Copyright 2022 PTI. All rights reserved. Republication or redistribution of PTI content, including by framing or similar means, is expressly prohibited without the prior written consent.