'Mohit is someone who offers a clear role to any captain, and that is the ability to keep the run-rate down, a vital asset for any team'
'It wasn't so long ago that a wicketkeeper would stand up to Mohit, but he has proved he can bowl with good pace when the pitches suit'
Fast bowling coach and biomechanics expert Ian Pont discusses the rise of India medium pacer Mohit Sharma with Manu Shankar/Rediff.com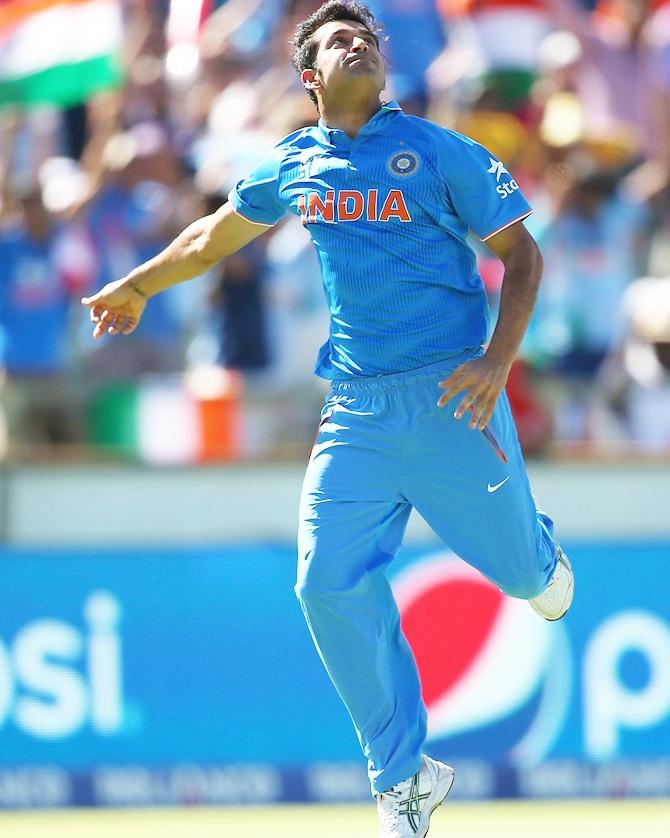 Mohit Sharma of India celebrates. Photograph: Paul Kane/Getty Images
If India is on an unbeaten run in the ongoing World Cup with five straight victories, much of the credit should go to their bowlers.
Written off prior to the tournament as among the weakest bowling units, they have surprised one and all by not only restricting, but also dismissing the opposition in all five outings. And, for that, much credit should go to the pacers, particularly young Mohit Sharma.
- VOTE: Who will win the 2015 World Cup?
- Don't Miss! The Rediff Cricket Show
- The World Cup, as never before on Rediff.com
The Haryana bowler, not named in India's original 15-man squad for the ICC's showpiece 50-overs-a-side tournament, came into the side as a replacement for the injured Ishant Sharma and grabbed the opportunity with both hands. His control was crucial in India registering a convincing 76-run victory in their opening game against arch-rivals Pakistan. He picked two wickets for 35 runs, at an economy rate of 3.88, and stifled the Pakistani batsmen who were chasing a stiff 301 for victory.
Against South Africa, he again proved his utility by taking the prized wickets of Hashim Amla and Faf du Plessis. The two dismissals put tremendous pressure on the Proteas and they eventually succumbed to an embarrassing 130-runs loss to the defending champions.
- Also read: 'England have ceased to believe they can win'
Ask former Essex player and fast bowling coach Ian Pont and he will tell you that the 26-year-old Haryana pacer always had the potential to make it big.
For someone who has worked closely with Mohit, Pont isn't surprised with his success.
"When I first saw Mohit he was a keen medium pacer with a good set-up and action. He had many of the attributes you need to be a success at the highest levels. There were a few things he has changed, such as running in much straighter now and not shutting off his feet at the crease; both of these have helped him," said Pont, who worked with Haryana's Ranji team in 2011.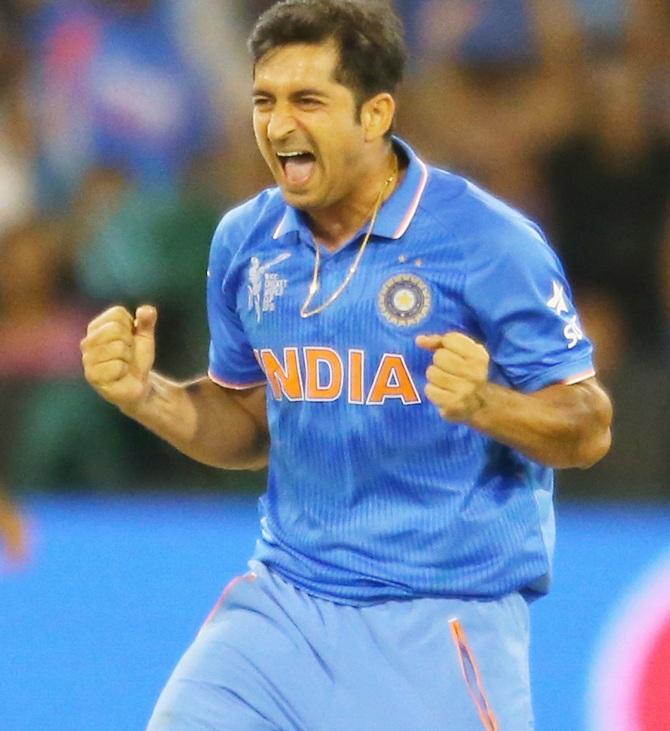 Mohit Sharma of India celebrates. Photograph: Scott Barbour/Getty Images
He elaborated: "Firstly, with his speed; he is now moving all his energy towards the top of the batsman's off-stump, and, secondly, with his alignment, as he isn't running towards fine leg when he bowls.
"This means he has almost eliminated the ball drifting into a right-handed batsman's pads, something he did when he slightly got things wrong, and has stopped getting too close to running on the pitch.
"All in all, the improvements in positioning and understanding have given him a more consistent action and release position at the crease plus a better head for fast bowling."
Pont is of the view that what we are seeing now is the result of Mohit's exposure in the Indian Premier League.
"Playing under MSD (Mahendra Singh Dhoni) at CSK (Chennai Super Kings) would have taught him a huge amount as well. And, finally, you don't become the 'Purple Cap' winner (leading wicket-taker in the tournament) at the IPL without being a successful fast bowler."
Pont believes the real reason for Mohit's success rate is a combination of the fact that he has a fixed role in the team and added speed he has generated in recent years.
"Mohit has a definite role in the Indian team to bowl a tight line and back of a length. He does this with usually impeccable control. Added to this he has a very decent back of the hand slower ball, which makes him ideal. He also understands the tactical aspects of where to bowl to given batsmen," said the 53-year-old, who is head coach at the Ultimate Pace Foundation in Bengaluru.
"He has increased his speed more than 10 kph during the past four years and that means the batsman has less time to play. It wasn't so long ago that a wicketkeeper would stand up to Mohit, but he has proved he can bowl with good pace when the pitches suit. A batsman would not expect a bouncer from him, so that can be an effective weapon, too. This increase in pace has given him more dimension at the higher levels," added Pont.
According to him, the fact that skipper Dhoni can now depend on someone who provides control should the new-ball pacers go for runs makes India a dangerous side.
"This is really his skill set. Mohit is someone who offers a clear role to any captain and that is the ability to keep the run-rate down, a vital asset for any team.
"Often, the first change makes the difference after the new-ball bowlers. So Mohit's contribution has been even more immense. It really is wonderful for a player to be able to come in and offer a solid, consistent performance. India now has someone they can rely on in that respect."
Is there a lesson to be learned from Mohit's success?
"Well, the main lesson is that improvements in pace and accuracy can be coached. Previously, coaches said that you are born with many of these skills, but Mohit has proved that this is not true. He was always a quality cricketer in the making, but his development is a real inspiration for every young wannabe pacer in India.
"Mohit is showing that you do not have to slow down to bowl a line and length, as he has got faster with control.
"The thing is Mohit is a great worker, very humble and a quiet character. He has a great sense of humour. He really understands his own game and has a steely determination to do well. All of those attributes go towards making him a great performer," concluded the renowned bowling coach who founded the Mavericks Cricket Institute in the UK to groom budding pacers.
- The World Cup, as never before on Rediff.com
-Are you watching the World Cup? Please share your videos, photos and comments here