Virat Kohli gestures during an India Training Session. Photograph: Michael Dodge/Getty Images
India's premier batsman Virat Kohli may get close to breaking Sachin Tendulkar's 49 ODI centuries record but the batting maestro's 100 International centuries milestone would stay safe forever, feels former India captain Sourav Ganguly.
"Virat Kohli I think will get close to him in one-day cricket. He has reached 22 centuries, he still has 28 more to get to 50 in ODIs. He has to play probably for 10 more years for that, we will have to wait and see," the former cricketer said during a book release function.
At a time when every other batting record is broken, Ganguly said, "It's very very safe. I don't think anybody will ever be able to break that record."
'India's form has been a revelation for all of us'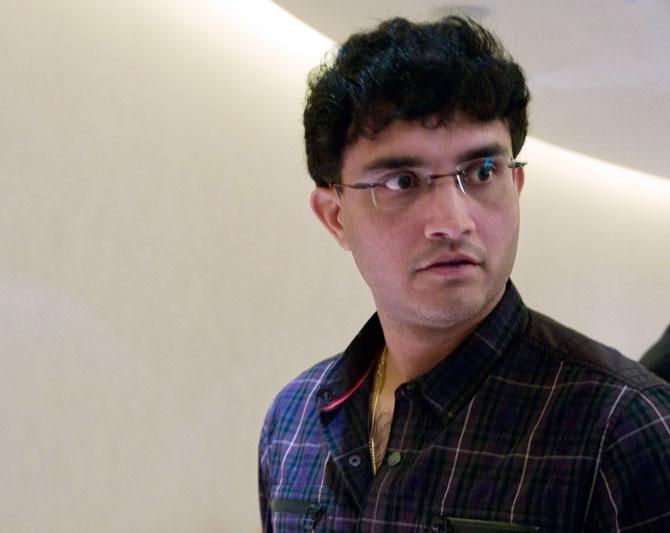 Former India captain Sourav Ganguly. Photograph: Getty Images
Heaping praise on India's turnaround in the World Cup, Ganguly said, "Their form in the recently-concluded Tests and tri-series and that in the World Cup is a massive revelation.
"Nobody predicted that India would beat South Africa by 130 runs. It's very unpredictable but India's form has been a revelation for all of us." But come knockout stages, it would be a anybody's game Ganguly said refusing to pick a final line-up.
"If you want a biased answer it would be Australia and India. But if you want a realistic answer then I don't know because anybody can beat anybody. It's very very unpredictable."
"World Cup group stage does not give you a picture of what's in store in the knockout stages. In this format, every team is beatable on that particular day," he said.
'India, Australia, New Zealand are looking good'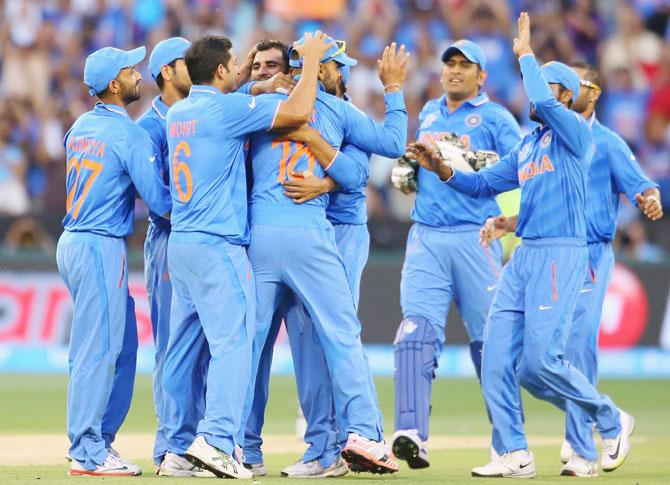 Indian players celebrate the fall of a South African wicket in Melbourne. Photograph: Scott Barbour/Getty Images
With a word of caution, Ganguly further said they have to see how Dhoni's men perform when they lose a toss.
"Remember India have won the toss twice we have to see when they lose a toss." Chris Gayle exploded to form with a 147-ball 215 in their win over Zimbabwe and Ganguly said it could be a reason to worry if they bat first and post 300 total on the bouncy WACA in Perth on March 6.
"Look at the West Indies if they win the toss in Perth and they get to 250-300, it's going to be hardwork for India. So it's very difficult to predict." Ganguly however picked India, South Africa and tournament co-hosts Australia and New Zealand to make the semi-final line-up.
"India, Australia, New Zealand are looking good and we cannot write off South Africa after just one loss." "And in this format, it does not matter what you do in group stages but how you perform in in the quarters, semifinals and final."