'I like the pressure and the expectations'
'The break in between was important. The World Cup itself can get you going'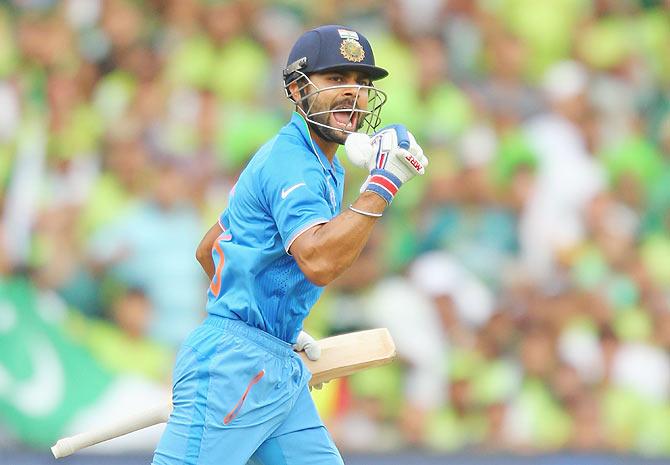 Virat Kohli of India celebrates as he reaches his century on Sunday. Photograph: Scott Barbour/Getty Images
Describing India's clinical win over arch-rivals Pakistan, in their World Cup campaign opener, as one of the biggest in his career, India batsman Virat Kohli said he was happy to have played his part in the "amazing" victory.
"I want to wrap up this ground and take it home. This has been a really special ground for me," Kohli said in a pitchside interview after his knock of 107.
- India extend World Cup supremacy over Pakistan after Kohli ton
"Probably one of the biggest win in my career so far. Amazing way to begin our World Cup. Big game against Pakistan and it was an amazing fight," Kohli, who was adjudged man-of-the-match said after India won the game by 76 runs at the Adelaide Oval.
"Expectations are going to be there when you do well for your country. I just look to stand up to those because I hate to lose, and I play passionately. I like the pressure and the expectations," he added.
Talking about the pressure of playing Pakistan in a World Cup match, Kohli said, "The last couple of days have been too tough. Too many people in the hotel getting worked over. You just have to stay in your little space."
'The way Shikhar Dhawan and Suresh Raina batted today is commendable'
Shikhar Dhawan plays a cut shot. Photograph: Morne de Klerk/Getty Images
It was a patient yet authoritative knock from Kohli, which he built brick-by-brick rather than playing scintillating shots. It wasn't a flurry of fours but liberal sprinklings of ones and twos with boundaries interspersed in-between.
Asked about his innings, Kohli said the team management has assigned roles to every player for this World Cup and he was performing his part.
We have discussed about roles of each player. My role in the team is to bat through, and the power-hitters can play around knowing that one end is secure. The way Shikhar Dhawan and Suresh Raina batted today is commendable," he said.
'I was very happy with our batting'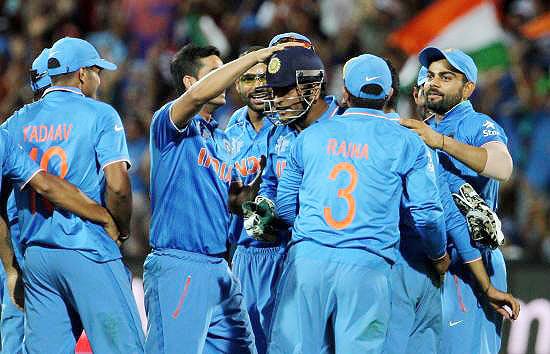 Team India players celebrate the wicket of Pakistan's Umar Akmal. Photograph: Vipin Pawar/Solaris Images
Meanwhile, Indian captain Mahendra Singh Dhoni praised his batsmen for putting up a stiff total.
"It was a very good performance. I was very happy with our batting. When you are batting first, it is not easy over here. It doesn't come on that nicely. It has a bit of a variable pace initially but it gets comfortable after that," he said.
"It was important we stayed in the middle. The big partnership between Virat Kohli and Shikhar Dhawan. And then, Suresh Raina capitalised as well," he added.
Asked about the confidence this win will give to his side after failing to win a single match in Australia (except a warm-up game), Dhoni said, "The break in between was important. The World Cup itself can get you going.
The support has been magnificent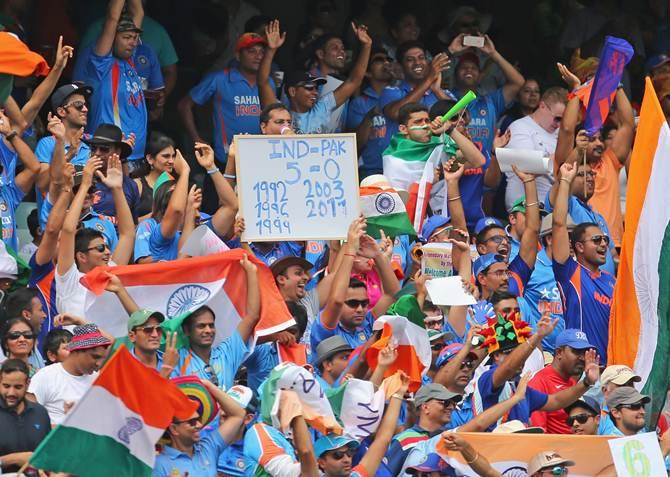 Indian fans in the stands at the Adelaide Oval enjoy the action during the World Cup match between India and Pakistan. Photograph: Scott Barbour/Getty Images
"Also the fans. Even before we came here, there were a lot of fans in our lobby and the Australians were asking what has happened. That helped."
Talking of how he kept his cool at all times, Dhoni said, "I don't control my emotions. They are there. Just that I don't like to be over-expressive on the field."
The 26-year-old Kohli also thanked the Indian fans for their support and expressed hope that they would continue to do that.
"The support has been magnificent. We expect the same throughout the tournament. Too loud at times for MS (Dhoni) to catch our attention."