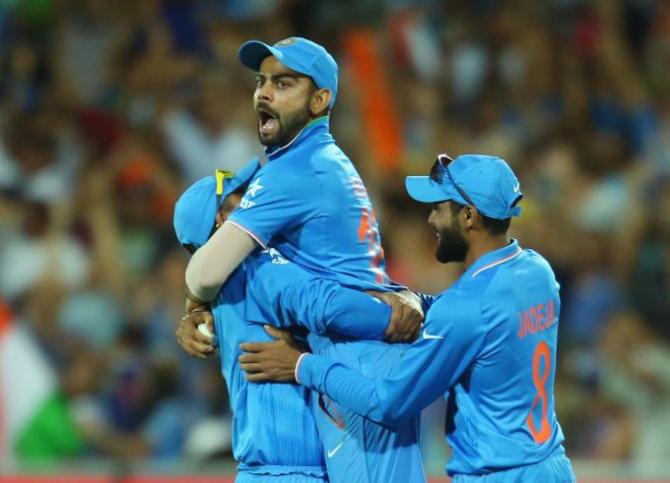 Virat Kohli. Photograph: Scott Barbour/Getty Images
Former Australia skipper Kim Hughes is not a great fan of Mahendra Singh Dhoni's leadership style and feels that Virat Kohli's elevation to captaincy should not only be in Tests but also across all formats to bring in more purpose to the top job.
"Much as I admire Dhoni as a player, I have found him letting the game drift at times across formats especially in Test matches. I was very happy to see Virat Kohli being made Test captain and I believe he is the man who should be leading India for a long time. He brings a direction and purpose to Indian captaincy," Hughes, who scored 4415 runs in 70 Tests for Australia, told PTI in an exclusive interview here today.
"What caught my attention in Kohli's batting this time was his running between the wickets during Test matches as well as during recent World Cup matches. This might be a little thing but that's the urgency or purpose shown by a leader. This Indian team looked better than teams that had toured earlier and primarily because of Kohli," said the 61-year-old Hughes, who had enjoyed great success against India as captain and batsman during the 1978-79 series.
'Surprised not to see a Test in Perth'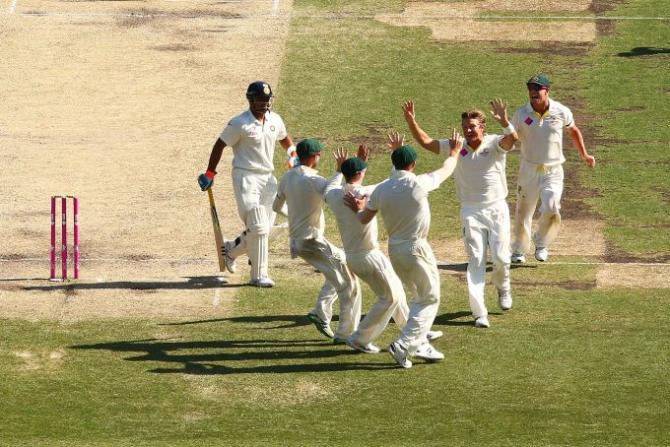 Shane Watson of Australia celebrates with team mates after claiming the wicket of Suresh Raina of India. Photograph: Brendon Thorne/Getty Images
Hughes is also not happy that Cricket Australia did not have a Test match at the WACA, where Indians would have been tested against pace and bounce.
"It's a strange thing that when we go to India, we get those turning tracks and India don't play on the bounciest of pitches during the Test series. Kohli did well in Perth when India played a Test in 2011-12, so what stopped them from having a Test over here.
"Hope they (CA) don't bring Indian curators for the Test series," said Hughes, who scored 594 runs against India during that away series in 1979 Reminded that his tenure as Australia captain ended on an emotional note when he sobbed like a child as he had to resign after being at the helm of affairs in 28 Tests, the stylish right-hander said, "I was an emotional man. I don't regret anything that I did that day.
"When you have to leave something that you love, you become emotional while leaving it. You would see that with AFL greats (Australian Rules Football). These macho men when they retire cry, sob like babies."
'India won't cross the semi-finals hurdle as they don't have the bowling'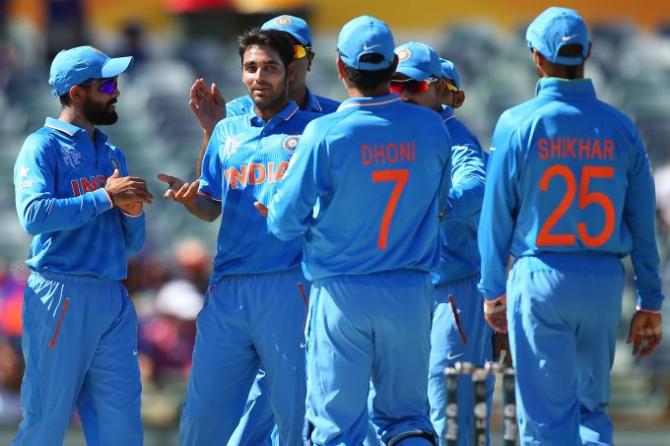 Bhuvneshwar Kumar of India celebrates with team mates after dismissing Amjad Javed of the UAE. Photograph: Paul Kane/Getty Images
When asked to compare the difference between his times and now, Hughes replied, "Well, there's a lot more at stake for Dhoni than it was during my time. Dhoni is a superstar and earns in a day what I did not earn in my two full seasons probably. So there's difference not only in personality but also in the times that separate us."
Asked if he has forgiven Rod Marsh, who allegedly had a role in his removal from captaincy, Hughes said, "Well, I am 61 now and that happened 30 years back. I have moved on and we (him and Marsh) are good friends now."
He picked India among the semi-finalists but said that Mahendra Singh Dhoni and his men's campaign may end there as they lacked in the bowling department.
"Australia, New Zealand, India and South Africa will play the semis and India won't cross the semi-finals hurdle as they don't have the bowling. New Zealand have the best bowling attack with Vettori being central to their plans. West Indies have been very poor and Pakistan unbelievably disappointing. Also I don't see any plan in England's World Cup strategy," he said.
DON'T MISS!
© Copyright 2022 PTI. All rights reserved. Republication or redistribution of PTI content, including by framing or similar means, is expressly prohibited without the prior written consent.