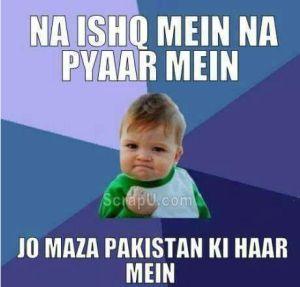 Netizens turned witizens on Sunday as India thrashed Pakistan in the Cricket World Cup league game.
As India made clinical work of its World Cup league match against traditional rivals Pakistan in Adelaide the net overflowed with wit and sarcasm.
Get all the action from the World Cup, here
Here's a sample.
Alia Bhatt wants to know why Sohail Khan is playing for Pakistan.
Abhishek Bachchan: Dad likes cricket. I am not my dad.
World: Thank god, we're all saved.
Will M S Dhoni now name his baby girl Adelaide?
After winning the toss Dhoni gave the coin to Pakistan to improve their economy.
At border Indian officer shouts at Pakistani spy: 'Goli mar doonga.' Pak spy replies: 'Goli se darr nahi lagta sahib, Kohli se lagta hai.'
Modi to Nawaz: Match to hum hi jitenge, dekhna.
Nawaz: Lagi shart?
Modi: Lagi, 1 ko 3 ka bhav.
Nawaz: Kya matlab?
Modi: Hum jeete toh ek Hina Rabbani hamari, aur hare toh Mayawati, Mamta aur Jayalalithaa tino tumhari!

And the memes too kept flowing through the day: