'One game can turn around things but I have my doubts'
'A break in-between could have happened could have made a lot of difference'
'Dhoni doesn't look like the player he was in 2011'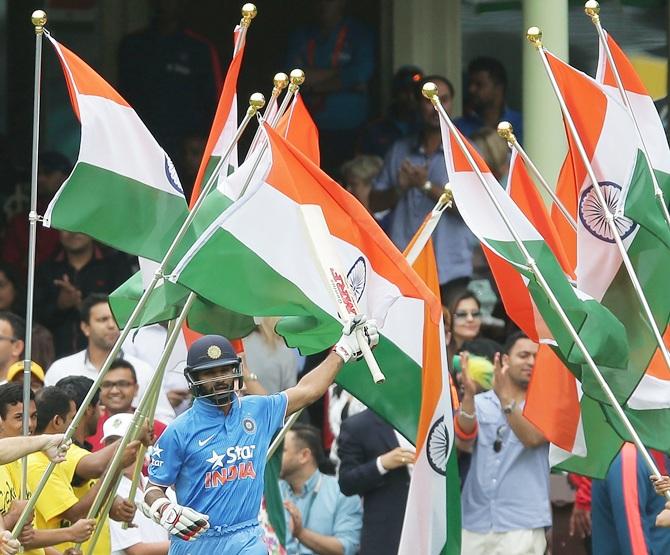 Shikhar Dhawan of India walks onto the field to open the batting. Photograph: Mark Metcalfe/Getty Images
Making a critical assessment of the Indian team's recent performance in Australia, former India cricketer Mohinder Amarnath said the team hardly look like a champion side.
Can India defend their title? Hard to predict, says Gavaskar
Schedule: ICC Cricket World Cup 2015
"One game can turn around things. But I have my doubts. To be very honest, they don't look like a champion team. When you see champions team, it's like West Indies and Australia. You win some you lose some that's fine. But your intentions should be very positive. This team somehow looks jaded," Amarnath said.
"They probably have been travelling around. They have been playing a lot of cricket over the time. Probably a break in-between could have happened could have made a lot of difference. But they have been on the ground and practicing. They have been seeing the same people. You need a little bit change," he added.
'They have been exposed in the series'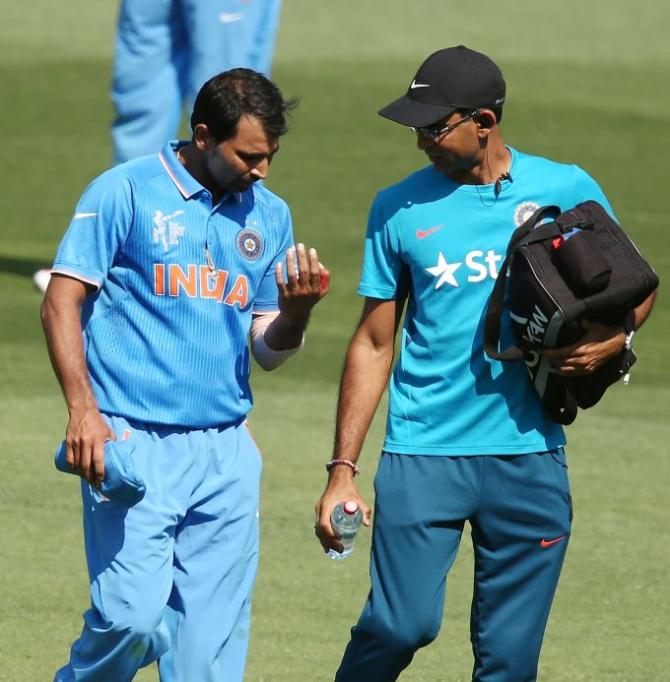 Mohammed Shami, left, of India leaves the field to receive treatment after injuring his left hand during the World Cup warm up match between Australia and India. Photograph: Morne de Klerk/Getty Images
About fitness problems in Indian team, Amarnath said, "Quite a few players are unfit. They need time to recover."
The former India selector said the batsmen have been found wanting in their Australian tour and they need to start scoring runs.
"They have been exposed in the series. The key players like Virat Kohli and Shikhar Dhawan have not been scoring runs. If they have to score runs the top order must fire which we haven't seen so far. If you play bad cricket it is going to carry on. This trip, even in Tests matches, only these two players -- Kohli and Ajinkya Rahane shone with the bat. But you cannot win matches relying on just two players. You need the whole team to contribute," he said.
'Team selection is being questioned'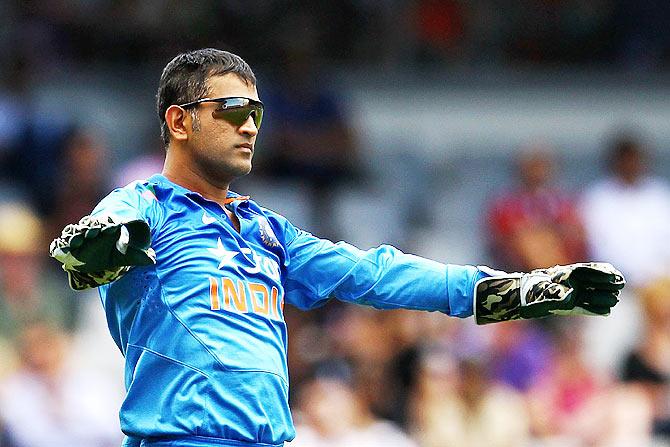 India captain Mahendra Singh Dhoni. Photograph: Anthony Au-Yeung/Getty Images
Amarnath, who had bagged the Man-of-the-Match award in both the semi-final and final of India's historic 1983 World Cup, said that India missed the trick by not selecting a leg-spinner.
"I think the team selection is being questioned. All the three spinners are similar with two left armers and one off spinner. Instead, with a leg spinner or take two spinners and an all rounder like Yuvraj Singh, you have an option and that's missing in this team. And the form of Dhoni himself is a worry.
"He doesn't look like the player he was in 2011. So if they want to do well they need to do as a team," he said.