'All I can say is we're not going to choke tomorrow'
'There's enough laughing, there's enough stress, there's enough nerves'
'No one is going to ask us if we played exceptional cricket when we win the World Cup'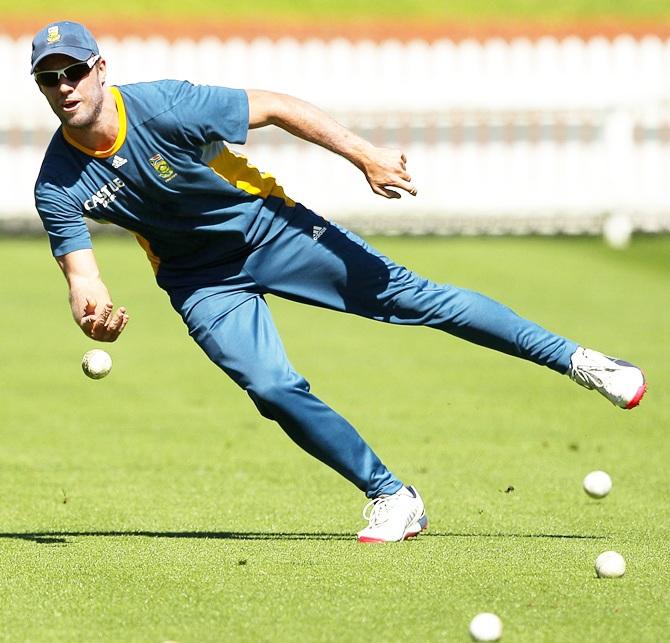 AB de Villiers takes part in a fielding drill during a South African nets session. Photograph: Hagen Hopkins/Getty Images
AB de Villiers cut through years of cod psychology and analysis of South Africa's inability to win a World Cup with a simple statement of intent on Tuesday.
Predict your FOUR World Cup semi-finalists
8 reasons why Sri Lanka will beat South Africa
South Africa vs Sri Lanka QF 1: How they measure up
Is South Africa a one man army?
Wrapping up his news conference on the eve of the quarter-final against Sri Lanka, the Proteas captain was finally asked the question about his team's mental strength.
"All I can say is we're not going to choke tomorrow," he said. "We're going to play a good game of cricket and come out on top. Simple."
Just how good that performance would be was not too much of a concern for the 31-year-old either.
He has been in brilliant form and hit a magnificent unbeaten 162 from just 66 balls at the Sydney Cricket Ground to lead South Africa to a victory over West Indies earlier in the tournament.
'We just want to find a way to win the game tomorrow'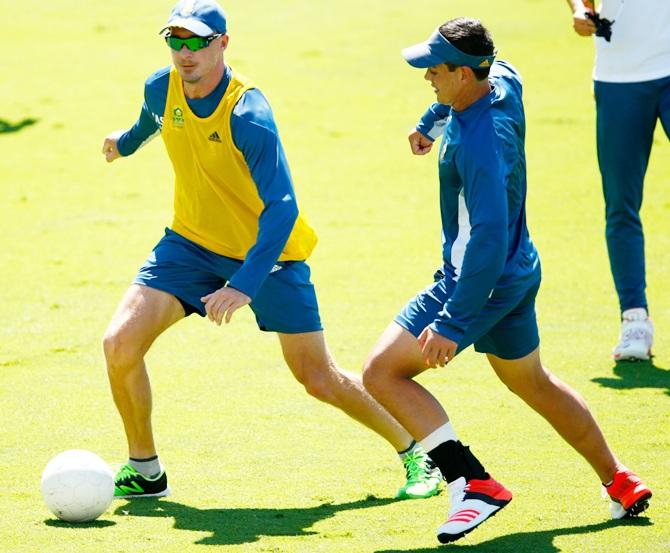 Dale Steyn, left, warms up. Photograph: Phil Walter/Getty Images
He suggested, however, that he did not care whether victory came from another of his destructive innings or a rushed single from a tail-ender.
Six key moments in India's winning run at the World Cup
"We have to win tomorrow," he said. "That's what it comes down to, no one is going to ask us if we played exceptional cricket when we win the World Cup.
"We are just going to say that 'we won the Cup'. So we just want to find a way to win the game tomorrow."
South Africa have never won a knockout match in their six World Cups and De Villiers said from his experience in two earlier tournaments, Proteas sides have tended to over-analyse ahead of big matches.
'There's enough laughing, there's enough stress, there's enough nerves'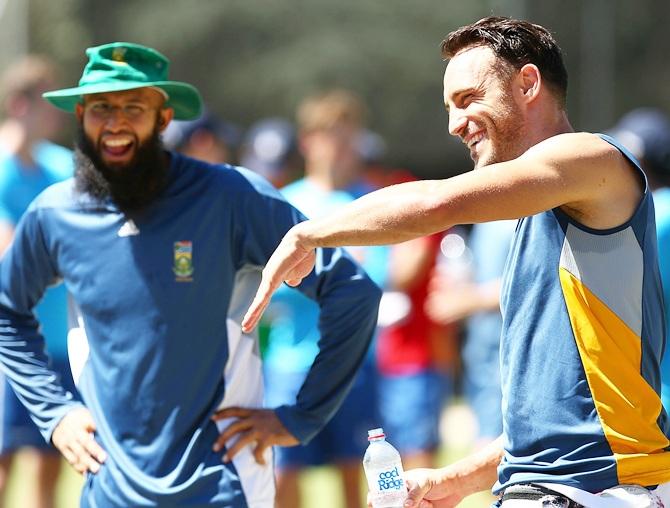 Hasim Amlar, left, and Francois du Plessis share a joke . Photograph: Mark Nolan/Getty Images
De Villiers gave his team the day off training on Tuesday and said they were trying to keep everything as simple as possible.
"We're a bunch of good guys, we really enjoy each other's company," he added.
"There's enough laughing, there's enough stress, there's enough nerves, there's enough good cricket, there's enough bad cricket, we've got a mixture of everything in this team.
"We've just got to find a way to win tomorrow, that's my message to the guys. I believe we're ready for that."
After South Africa suffered both of their defeats at this World Cup when batting second, some pundits believe the toss will be crucial to deciding which team reaches the semi-finals.
De Villiers disagreed.
"I'm not too worried about that," he said.
"Whatever happens tomorrow, we'll try to adjust as quickly as possible and whether we bat or bowl first, try to find a way to run through them if we bowl first and if we don't, try to find a way to post a big total."
Don't miss Prem Panicker on World Cup 2015!