'It's one of the most prized games when it comes to the ODI format'
'We don't have any injuries in the squad'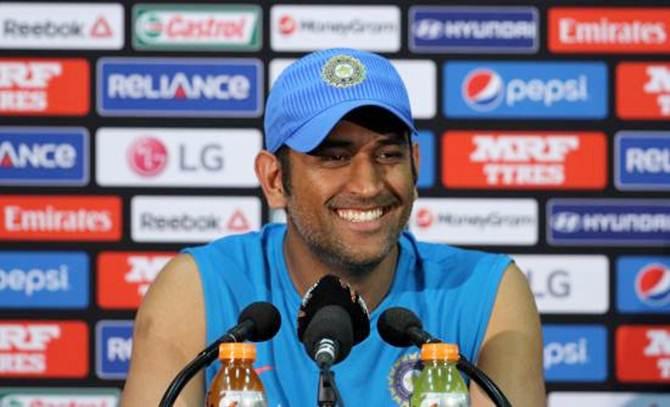 India captain Mahendra Singh Dhoni addresses the media at the Adelaide Oval ahead of Sunday's World Cup match against Pakistan. Photograph: Vipin Pawar/Solaris Images
All set to begin their the defence of the World crown, India captain Mahendra Singh Dhoni expressed confidence that his players are well-equipped to tackle pressure situations, saying they have "calm nerves" and the experience of playing in big matches.
"What's brilliant about this team is you don't need to calm nerves. They've got a fair amount of experience, all of them. They have been playing ODI cricket for quite some time. They are also part of IPL squads, which means they are quite used to playing in front of 40,000, 50,000 people, and also
big games like the quarters, semis, and all of that, and they have played different tournaments," Dhoni told mediapersons at the pre-match press conference, ahead of Sunday's high-voltage match against arch-rivals Pakistan.
- Catch the Cricket World Cup here
"They have played Asia Cup and all of that. I feel there's nothing that's really needed from outside, and most of them are experienced when it comes to handling tense situations," said Dhoni.
Asked about the pressure of maintaining India's all-win record against Pakistan in the World Cup, he made it clear that he would not care for numbers and statistics. Rather, he said it will give an opportunity to his players to raise their level of performance.
"We have to try our best, and that's what it's all about. It's not really about stats. As far as the preparation in the dressing room is concerned, it looks just fantastic. When we play Pakistan, there's definitely more intensity on the field, and with a lot of fans being around, I think it will be a perfect scenario for everyone to raise their level of performance," Dhoni said.
"I think what's important is to know our position well. What will be important for us will be to execute our plans as normally against every side. Whatever plans you have, if you can execute them, definitely you will create problems for the opposition. Irrespective of where the stats lie, what's most important for us will be execution part because we have got quite a few plans," added the 33-year-old wicketkeeper-batsman.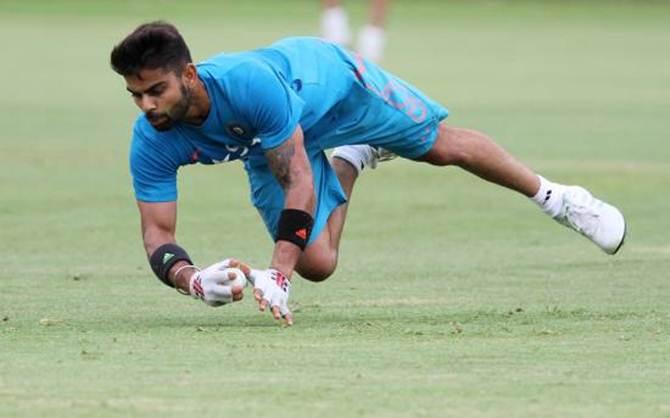 Virat Kohli during a training session at Adelaide. Photograph: Vipin Pawar/Solaris Images
Apart from Dhoni, Ravichandran Ashwin, Virat Kohli and Suresh Raina are the only existing members of the 2011 squad that won the World Cup at home and 11 players in the squad will be appearing for the first time, but Dhoni said this is the best side that could have been selected.
"Well, it's a completely different squad. There are a few players from 2011 squad, but, other than that, a lot of changes have been made for whatever reasons, and with that, you have your own strengths. This is the best 15 players that were available to be selected for the World Cup."
"When an individual comes into the side, he has his own strength. The bowling department looks very different to what we had in 2011. But at the same time we try to give as many number of games to individuals as possible so that when they turn up for the World Cup, they have quite a few games under their belt."
He felt that it is good that India starts their campaign in the mega event against Pakistan.
"I think it's not a bad one, the reason being we have played tri-series and the warm-up games, and starting with Pakistan it will be a high-voltage game. With so many fans coming from India, it will be a houseful. It's definitely something; it's one of those occasions the spectators really love it. It's one of the most prized games when it comes to the ODI format," he said.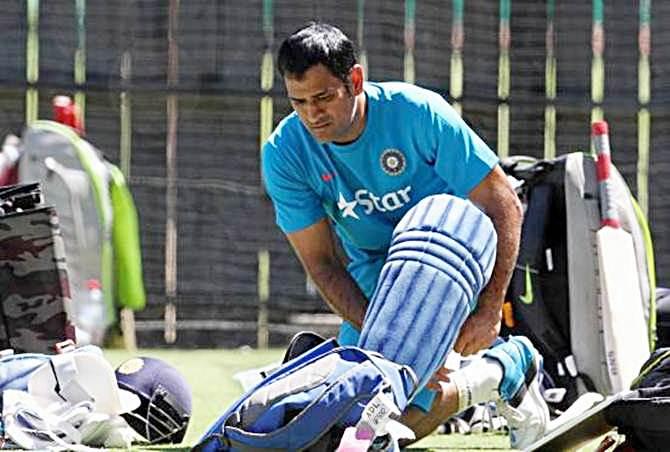 Mahendra Singh Dhoni pads up for batting practice. Photograph: Vipin Pawar/Solaris Images
Asked if it will be an even contest considering both teams have had injury issues in recent times, he asserted that his boys are all fit.
"Well, I don't know whether it will be an even contest or not because it's very difficult to predict, but as far as India is concerned, we don't have any injuries in the squad.
"Ishant is the only one who's missing. So that's still a big positive because it has been a long summer for us over here."
Dhoni sent an entire nation into a frenzy four years back but he said he has moved on from that magical night at the Wankhede Stadium.
"Well, I think a lot has been talked about the 2011 World Cup, the celebration part, and also what the kind of mood was when it comes to the dressing room, especially after the game. That's something that we don't really need to revisit again. That's (2011) definitely something that will be now until the time we play cricket or until the time we are alive, so it was definitely a proud moment for us," he said.
Questioned about the struggling form of his bowlers, Dhoni maintained that his bowling unit was upbeat.
"Well, the morale has been up. If you see, there were instances where they went for runs, but at the same time there were good performances by bowlers. Also against Australia, Glenn Maxwell went for the bowling and he was able to score freely. But, what happens is, it actually helped them reassess their plans. All in all, they are looking good."
He said the pacers have been practising bowling yorkers.
"Again, we had a couple of practice sessions in the centre wicket at St. Peter's if I'm not wrong, and they (bowlers) made the most out of it. The yorker bowling was really good by all fast bowlers, at the same time variations, the slower bouncer, the bouncer, even the bouncer in the slog overs and all of that stuff, so they are looking good.
"Where we drastically need to improve is not giving boundary – opportunity of boundary balls, easy boundary balls in the first stint overs when the ball is new and the batsmen, they can actually use your pace. That will be the key factor how we bowl in the first 10 overs."