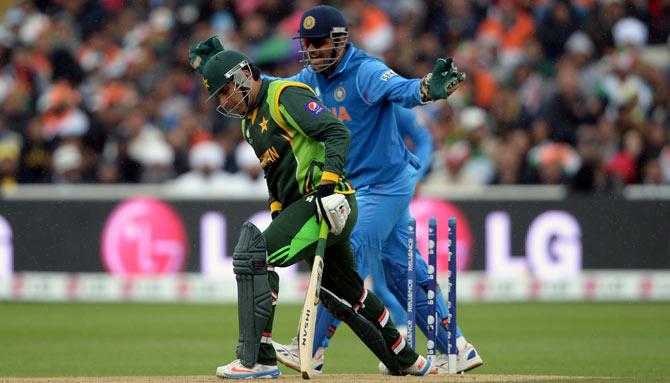 India captain Mahendra Singh Dhoni celebrates as Pakistan skipper Misbah-ul-Haq is dismissed during the ICC Champions Trophy in 2013 in Birmingham. Photograph: Gareth Copley/Getty Images
Legendary cricketers Sunil Gavaskar and Ian Chappell tipped India as favourites in their much anticipated World Cup clash against Pakistan, saying that past history and better acclimatisation to Australian conditions could tilt the balance in favour of the defending champions.
- ICC World Cup 2015 Schedule

India have beaten Pakistan in all the World Cup matches -- in 1992, 1996, 1999, 2003 and 2011. Both Gavaskar and Chappell said that Pakistan are unlikely to break their World Cup jinx this time also, although both sides go into the showpiece event as struggling teams.

"Both teams are going into the World Cup not in great touch. Pakistan are also struggling as they had lost to New Zealand recently, it could be even stevens. But I think India will start as slight favourites because of their past records," Gavaskar said.

He said the absence of off-spinner Saeed Ajmal in the Pakistan squad due to suspect bowling action -- though he was later cleared by the International Cricket Council -- will have a huge impact on the 1992 champions.

"Without a doubt, Ajmal was half the Pakistan side and they will be hit hard without him. He is a wicket-taking and a containing bowler. He is just like Muttiah Muralitharan in his prime days in the Sri Lankan side," the former Indian captain told NDTV.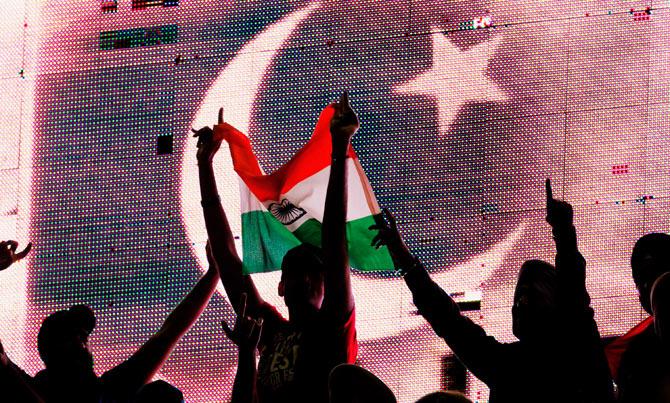 India and Pakistan fans during the 2011 World semi-final in Mohali. Photograph: Daniel Berehulak/Getty Images
Chappell agreed with Gavaskar and said India will start as favourites as the defending champions have acclimatised to the conditions better than the Pakistanis as they have playing in Australia for the past two months. He also said the current Pakistani side lacked match-winners.
- MAD about cricket? Solve this World Cup puzzle!

"They (Pakistan) won the World Cup in 1992 but at that time they had so many match-winners in Imran Khan, Javed Miandad, Wasim Akram, Inzamam-ul-Haq. They don't have those match-winners in the current team. The loss of Junaid Khan is also a big blow for them," he said.

"India have been playing in Australia for the past two months and they have acclimatised more to the conditions than the Pakistanis. Moreover, India played really well in the (first) Test against Australia in Adelaide. They even had a chance to win the Test and lost it in the last hour. So, taking all these into consideration, India start as favourites," said the former Australia captain.

Former India batsman V V Laxman feels Indian players can cope with pressure better than the Pakistanis and that is the reason they have been winnings more matches in ICC events than their neighbours.

"Pakistan are a dangerous side, no doubt about that. But they lacked consistency and they recently lost to New Zealand in the UAE under familiar conditions. So even in current form, India are the favourites. Moreover, India can cope pressure associated with a high-voltage clash better and that is why India have won more matches against Pakistan in ICC events, including all five World Cup matches," Laxman said.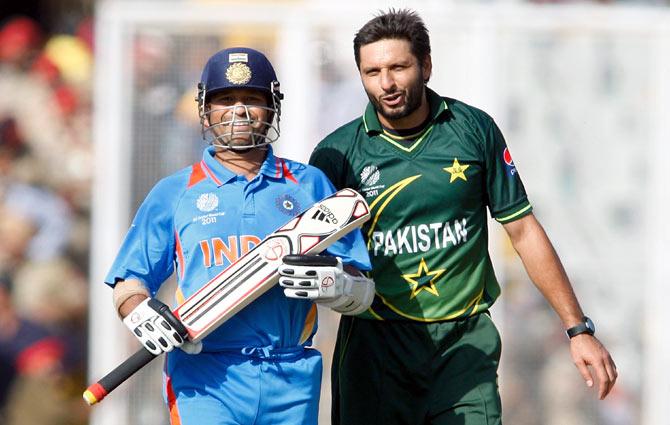 Sachin Tendulkar (left) and Shahid Afridi exchange words during the 2011 World semi-final in Mohali. Photograph: Graham Crouch/Getty Images
Asked about Sachin Tendulkar missing out for the first time in a World Cup clash against Pakistan, Laxman said, "India will miss Sachin. He has bagged three man of the match awards in India's five World Cup wins against Pakistan so far. Nobody can replace him.
- India's bowlers will have to make the difference at World Cup: Srinath

"Having said that India have many match-winners in the current team, more in batting than in bowling. The batting is deep with captain Mahendra Singh Dhoni batting at number six. Rohit Sharma, who has hit highest individual score of 264, is a match-winner. Dangerous Suresh Raina is there in number five and then Ajinkya Rahane at number four. Virat Kohli is having the best patch of his career. Pakistan faces a formidable Indian batting line-up," he said.

Gavaskar pointed ou that in an India-Pakistan match, it's more of a contest of temperament than of skill sets.

"It's not much of skill sets but of a temperamental thing. Everybody from both sides of the border will be glued to the match. When India played Pakistan in the 2011 World Cup semifinal at Mohali, for many in India beating Pakistan mattered more than winning the World Cup. For them since the Indian team has beaten Pakistan, they had won the World Cup. The same is in Pakistan I believe," said Gavaskar.

"Tendulkar and Javed Miandad can get over this temperamental aspect to be able work on their skills, so they are different. When Tendulkar or Miandad is dismissed, then either side feels that they can get into the rest of the team," he added.

This World Cup will be the first one which does not have either Miandad or Tendulkar.
© Copyright 2021 PTI. All rights reserved. Republication or redistribution of PTI content, including by framing or similar means, is expressly prohibited without the prior written consent.