Indian players Virat Kohli and Rohit Sharma after winning the ICC World Cup match against United Arab Emirates. Photograph: Vipin Pawar/Solaris Images
On a roll after three successive wins in the ongoing cricket World Cup following today's nine-wicket spanking of minnows UAE, India captain Mahendra Singh Dhoni said his "complete unit" has been doing well with consistent performances in all departments of the game.
Prem Panicker: India sustain their intensity, to a point
Rohit Sharma, Virat Kohli help India seal third straight win
PHOTOS: Ashwin's career best haul helps India ease past UAE
"The bowlers have really stepped up and in a team sport it starts to reflect in other departments too. Our batting has been good. We dropped one catch today but the fielding has been brilliant.
"The complete unit has been doing well," Dhoni said after India chased down the target of 103 in just 18.5 overs against United Arab Emirates at the WACA ground in Perth.
"It is not in case of a single match, we are doing for three matches, one after another. We have to continue with the good effort," he said.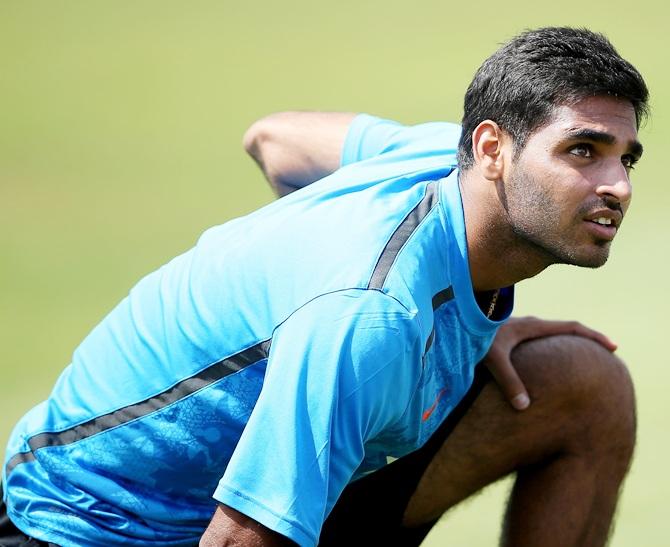 Bhuvneshwar Kumar during an India nets session. Photograph: Scott Heavey/Getty Images
Dhoni heaped praises on his bowlers and said picking wickets in the middle overs has been one of the reasons for India's brilliant run so far in the tournament.
"When we were losing quite a few games outside the subcontinent, it was an area of concern that we were not getting wickets in the middle overs. Now we are getting wickets with the new ball and the spinners are able to put more pressure on the batsmen in the middle overs," said Dhoni.
Asked about Saturday's completely lopsided match, Dhoni said, "We have had quite a few plans and it's important in these conditions that you execute them, not give opportunities to score freely."
On the performance of pacer Bhuvneshwar Kumar (1/19), who bowled five overs in his first match after recovering from an injury, Dhoni said, "He looked good. First five overs he bowled he was looking sharper than he did when he came back from the injury and played the Test match. If he plays a few more games, we can see how he can bowl in the death overs also."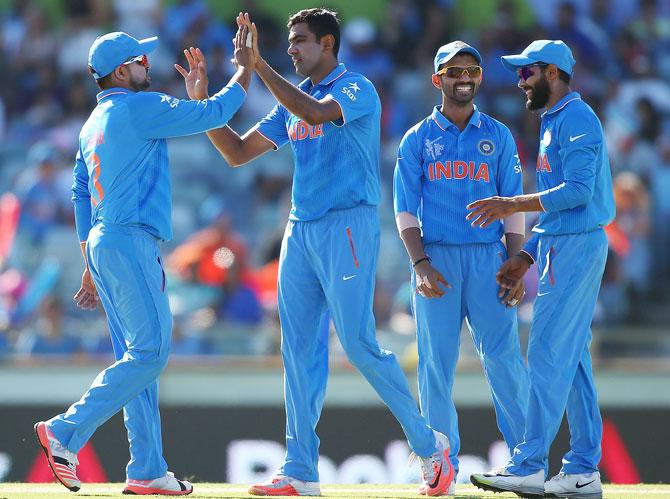 Ravichandran Ashwin of India celebrates the wicket of Mohammad Naveed of the UAE during the World Cup match at WACA. Photograph: Paul Kane/Getty Images
Off-spinner Ravichandran Ashwin, who was adjudged man-of-the-match for his career-best effort of 4/25, said the fact that he has not got four wickets before Saturday's match came to his mind.
"I bowl at such phases of the game, it's more of cutting the runs out, it can get a little difficult, but (the lack of a four-wicket haul) was playing on my mind today after the first five overs.
"When it comes to this format, I'm pretty much unselfish, it doesn't matter if I get the numbers or not as long as I put in the effort required," Ashwin said.
"My wrist is getting into a good position, and that helps with the arm ball, the breeze helped as well. It was good to play the big teams initially, now we're on a roll," he added.
Are you watching the World Cup? Please share your videos, photos and comments here!
ICC World Cup Merchandise 2015 available on Rediff Shopping
DON'T MISS!