'There is lot of pressure involved in a World Cup'
'India-Pakistan game is always very special and is a pressure game'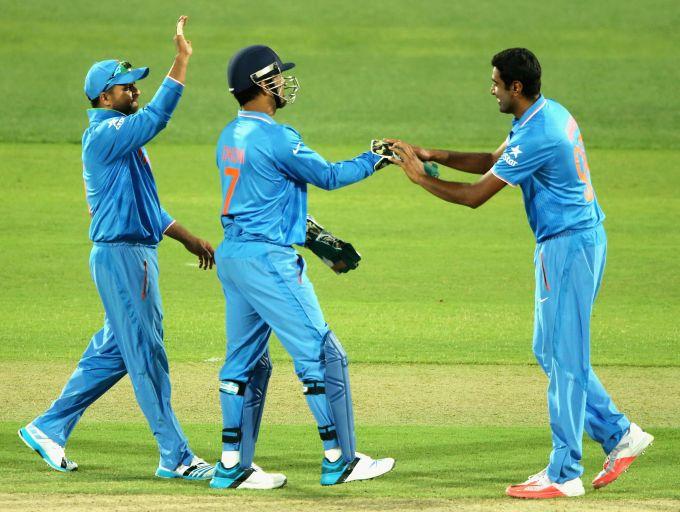 MS Dhoni of India celebrates with Ravichandran Ashwin of India after taking a stumping during the 2015 ICC Cricket World Cup warm up match between India and Afghanistan. Photograph: Daniel Kalisz/Getty Images
Having played a stellar role many a time in India-Pakistan clashes, all-rounder Irfan Pathan feels that the defending champions have a far superior unit and will do well against the arch-rivals in the high-voltage opening World Cup encounter on February 15 in Adelaide.
"I think India is going to do really well because I think they are a far superior side. Inshallah I am sure India are going to do well. Aur Irfan Pathan ki duaein bhi toh unke saath hain (My prayers are with the team)," Irfan said.
Irfan, who was part of the 2007 World Cup team under Rahul Dravid, opines it is all about handling pressure in the 50-over showpiece event.
"There is lot of pressure involved in a World Cup. Because everyone is watching you, everyone's talking about a World Cup, everyone wants the Cup back. And obviously people will talk about it because it comes every four years. So the pressure mounts four times.
"When I was in West Indies, we thought we had prepared well but unfortunately things didn't turn out the way we would have wanted to. So the pressure is always there and you have to handle it as much as you can," said the Baroda all-rounder.
'If you playing a World Cup match against Pakistan then the pressure doubles'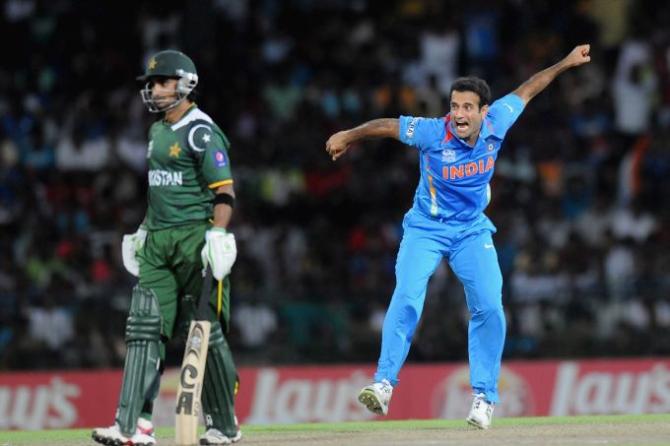 Irfan Pathan of India celebrates after taking a wicket during the ICC T20 World Cup against Pakistan. Photograph: Pal Pillai/Getty Images
Irfan, who was also a part of the inaugural World T20 winning side, recalls the pressure game against Pakistan.
"India-Pakistan game is always very special and is a pressure game. And if you playing in a World Cup then the pressure doubles. I recall one such pressure situation in the inaugural World T20 in South Africa when the India-Pak game was tied. We tried not to take pressure on ourselves in that situation. (MS) Dhoni was a new captain, the whole scenario was so new", he said.
"We hardly had a meeting for five minutes before the Pakistan game. We tried to stay relaxed and just enjoy the game. We played well without taking any pressure, but in the final the pressure automatically mounted. The final, if you remember, swung in favour of both the teams equally until Misbah (ul-Haq) played that stroke. I enjoyed my outing as well, picking up (Shahid) Afridi in one of my three wickets," Irfan said.
'Sachin is going to be missed as long as we play cricket'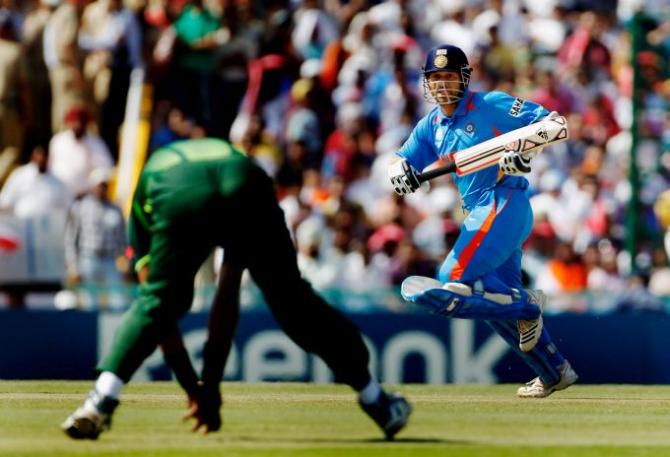 Sachin Tendulkar. Photograph: Daniel Berehulak/Getty Images
When quizzed about Sachin Tendulkar, Irfan said that World Cup or no World Cup, the Master Blaster will be always missed whenever an Indian side takes field.
"Sachin is going to be missed as long as we play cricket. He is that kind of cricketer and I am sure it will be the same in the World Cup. Since 1992 he hasn't missed a World Cup and is the highest run-scorer in World Cup history.
"I am too small a person to be speaking about a person of Sachin's stature. But in terms of what he has given, I am sure he will be missed," he said.