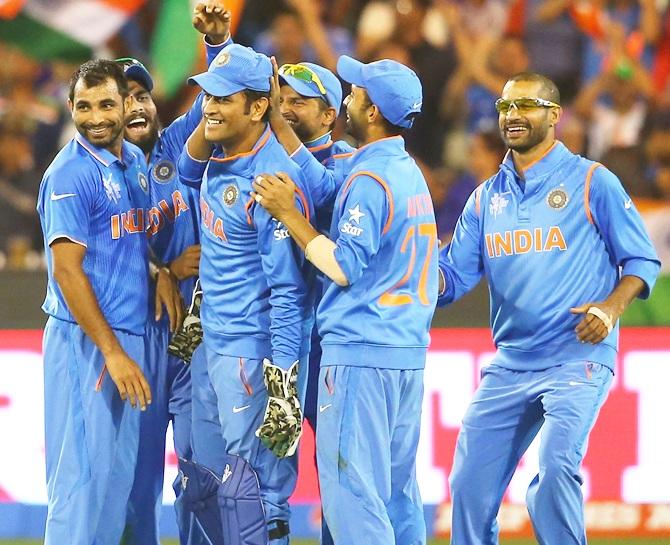 India players celebrate a wicket. Photograph: Quinn Rooney/Getty Images
Former Australia opener and chief coach Geoff Marsh feels that speedster Mitchell Starc's performance will be key for the home team in their upcoming
ICC Cricket World Cup semi-final clash against India at the SCG on Thursday.
Left-arm pacer Starc is the leading Australian wicket-taker with 18 wickets from six matches in the tournament so far.
"It will be a great contest as it involves two extremely competitive teams. India have shown a lot of consistency but at the same time Australia have a lot of quality in their ranks.
"It will be a good match but I will rate Australia's chances as slightly better in the semi-finals. I believe Mitchell Starc's performance could be a decisive factor," Marsh told PTI during an interaction.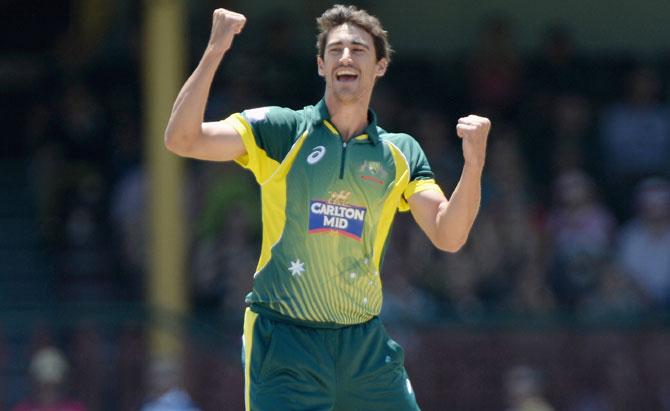 Australia's Mitchell Starc. Photograph: Gareth Copley/Getty Images
The 56-year-old Marsh, who has won the World Cup both as player (in 1987) and coach (1999), is very impressed in the manner India have made a comeback after an indifferent show during the Test and ODI series in Australia.
"It has been an incredible comeback for them in the World Cup after the Test and tri-series. They have really pulled it off well. It has been a collective effort.
"The batsmen have performed and the bowlers have done a splendid job for them so far. It is certainly not going to be easy for Australia. For Australia, the best part is that they bat deep," said Marsh, who has played 50 Tests and 117 ODIs for Australia between 1985 and 1992.
Marsh has had a reasonably successful coaching career as chief coach during the team's 1999 triumph under captain Steve Waugh in England and as an understudy of Bobby Simpson during the 1996 World Cup where they were runners-up.
Former Australia opener and coach Geoff Marsh. Photograph: Paul Kane/Getty Images
For him the relationship between the coach and captain is very important and believes that Ravi Shastri's presence has made a lot of difference to this current Indian team.
- The Cricket World Cup like never before, only on Rediff.com
"Even though India lost the Test series, they fought well. It's not fair on my part to comment on coach-captain relationship in the Indian team but Ravi Shastri I feel has made a lot of difference to the set-up.
"Ravi himself has played a lot of international cricket and possesses an in-depth knowledge about the game. The inputs provided by him will certainly be of great value for the boys," said Marsh.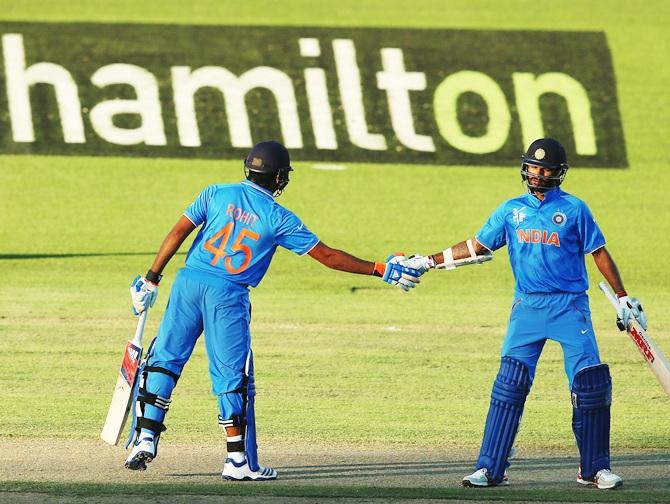 The Indian opening pair of Rohit Sharma and Shikhar Dhawan. Photograph: Hannah Peters/Getty Images
Asked if Rohit Sharma-Shikhar Dhawan pair would be able to emulate the more illustrious ODI opening pairs like Sachin Tendulkar-Sourav Ganguly, Virender Sehwag-Gautam Gambhir, the former opener said, "It's not fair to compare but this current pair has the numbers to show for their efforts.
"They have done well for the team in the tournament. They have given the starts that have provided momentum to the team. Obviously, if they continue, they would definitely achieve bigger things."
When the same question was asked about Australia's best ever ODI pairing among Geoff Marsh-David Boon, Mathew Hayden-Adam Gilchrist and the current pair of Aaron Finch-David Warner, Marsh rated "the pair of Gilchrist-Hayden as the best-ever.
But Warner-Finch are young and have a lot of time left. Also when I have mentioned Hayden-Gilchrist, I must mention the name of Mark Waugh, who was a phenomenally talented and perhaps in that same league."