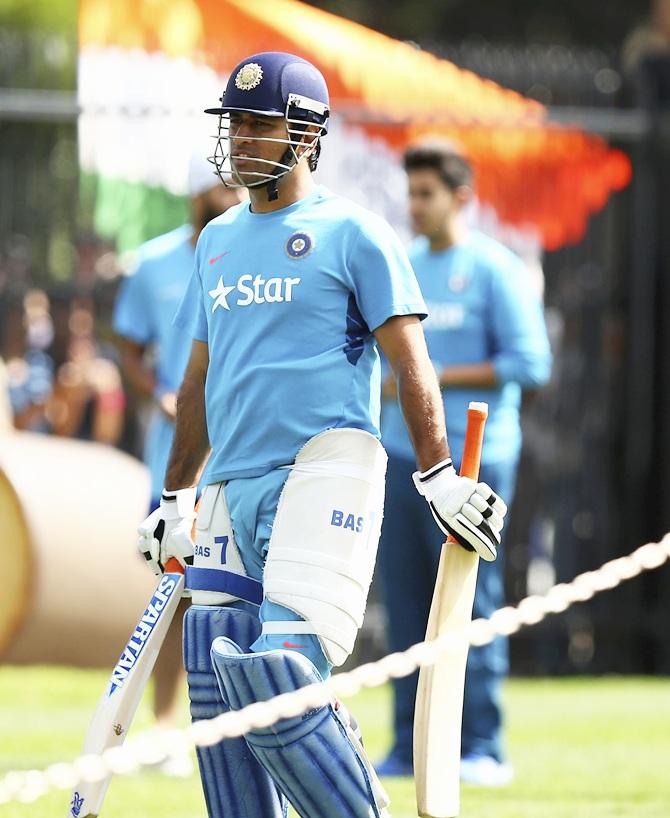 Mahendra Singh Dhoni of India preapres to bat during the nets session at Sydney Cricket Ground. Photograph: Ryan Pierse/Getty Images
Former Australian coach John Buchanan has backed Michael Clarke's side to beat India in the semi-final at Sydney on Thursday.
The doosra: India favourites in Sydney? Records indicate otherwise!
World Cup: Wear Blue for Team India!
India vs Australia, SF 2: How the teams measure up
Buchanan was coach of the Australian side that won the 2003 and 2007 World Cups. On Wednesday, Buchanan picked David Warner, Steve Smith, Mitchell Starc and Glenn Maxwell as the game changers from the Australian side. "These guys provide balance to the side and can change the colour of the match at any given time," said Buchanan.
On the Indian side, Buchanan noted that Shikhar Dhawan, Virat Kohli, Rohit Sharma and Mahendra Singh Dhoni are the players to watch out for. "You would have noted that I have picked batsmen and not bowlers. This is because I don't think India has a bowler who tear out a line-up. But what they have is good balance in their line-up in the bowling department. There is variety in the bowling," added Buchanan.
In the Australian line-up, Buchanan was worried about the form of Aaron Finch along with the spinner Xavier Doherty. "I don't think they will take the gamble of playing Doherty in the semi-final. I think Australia will stick to their strategy of playing the quickies. There is obvious strength in Australia's batting too." Overall, Buchanan backed Michael Clarke and Steven Smith to score in the middle overs. But the men who got the vote to charge the Indian bowlers were Warner and Maxwell.
Despite not backing India to win the contest, Buchanan felt they are well-balanced. "They have been here for about six weeks. They are becoming dangerous and very difficult to beat. But I will be very surprised if India beat Australia," concluded Buchanan.
Apostrophe Content and Entertainment