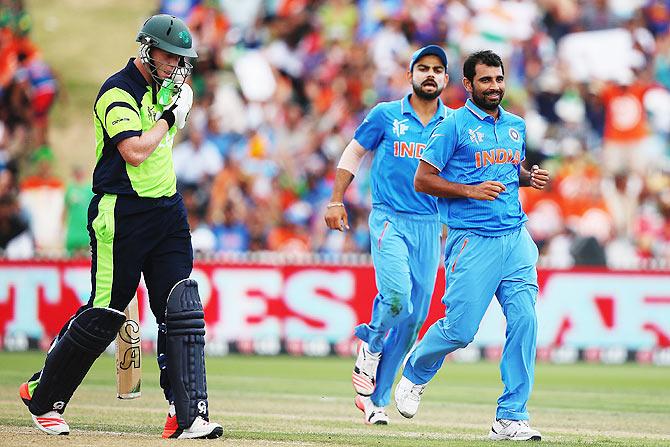 India's Mohammed Shami celebrates the wicket of Ireland's Kevin O'Brien during their 2015 ICC World Cup match at Seddon Park in Hamilton on Tuesday. Photograph: Hannah Peters/Getty Images
Before the start of the 2015 World Cup, it was suggested that Mohammad Shami should have been dropped for India's opener against Pakistan. His lack of form was going to push India back in the fast bowling stocks during the tournament and statistics had shown that the critics had a strong case.
Shami's problems, in fact, have been well-chronicled.
- VOTE: Who will win the 2015 World Cup?
- Don't Miss! The Rediff Cricket Show
- The World Cup, as never before on Rediff.com
Often touted as India's next quick-bowling hope, Shami's career had taken off reasonably well.There was a nine-wicket haul in his debut Test against the West Indies in 2013. He had followed it up with five wickets in the Johannesburg Test against South Africa that India almost won.
He was picking up wickets in ODIs too, but there were those odd matches when his line went awry and he'd deliver a boundary ball every now and then. It was his wicket-taking ability that kept him in the game but the sense one got from the outside was, he was getting jaded.
The frequency of those boundary balls seemed to increase with every series and there came a time, in England last year, when he picked up just five Test wickets over three games at an average of 73.
Shami had a better time in Australia during the Tests but by the end of that series, he looked spent. He just wasn't there.
Despite that, he was selected for three ODIs in the tri-series, where he bagged two wickets but had an average of 49. What was even worse for Shami's record was that on good seaming pitches he conceded five an over in the process.
It only got worse for India, as Shami's bowling failed to relieve any pressure that was being built by the bowlers at the other end.
So, while on the one hand, Mahendra Singh Dhoni's poor captaincy record in away Test matches could have been his own doing, the kind of bowling resources at his disposal was also a factor.
So you could relate to where the critics and the analysts were coming from. In many ways, they weren't too far off the mark. Had it not been for Bhuvneshwar Kumar's lack of fitness going into the tournament, and Ishant's injury, Shami could well have been ruled out of leading the Indian attack this World Cup.
But cometh the hour, cometh the man, and Shami has proved his worth on the biggest stage of the game.
Five matches into this World Cup -- of which Shami missed one against the UAE -- he has so far picked 12 wickets at an average of 11.75 and an economy-rate of 4.14.
After the Ireland game, Shami is the joint-second highest wicket-taker in the World Cup behind the two Kiwis, Tim Southee and Trent Boult, who have 13 scalps to their name.
This, in short, has been a turnaround of dramatic proportions.