'You saw the results yourself. I don't need to say that. He took four wickets, he bowled extremely well'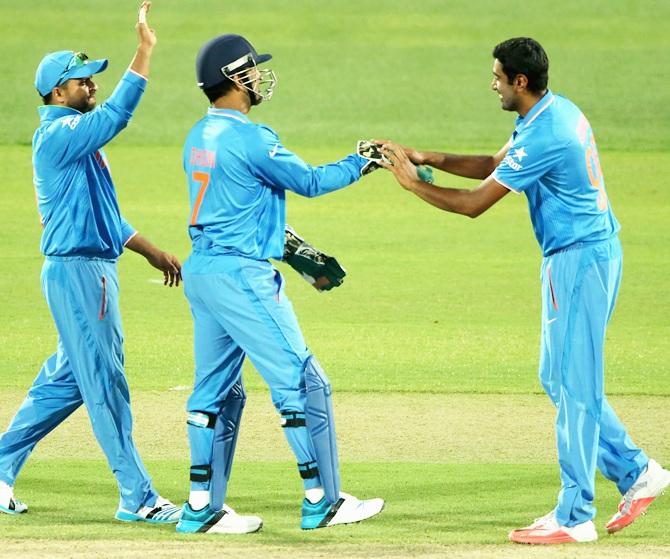 India skipper Mahendra Singh Dhoni celebrates with Ravichandran Ashwin. Photograph: Daniel Kalisz/Getty Images
Ravichandran Ashwin was one of the spinners picked for India's Test tour of Australia and as a senior slow bowler, he would have been expected to make the starting XI of the opening Test.
Prem Panicker: India sustain their intensity, to a point
Rohit Sharma, Virat Kohli help India seal third straight win
PHOTOS: Ashwin's career best haul helps India ease past UAE
A change in captaincy, brought about by Mahendra Singh Dhoni's injury, meant that Virat Kohli opted to try out Karn Sharma in his place. While the move surprised a few - Karn obviously did not have the domestic record to start a game as the number one spinner in a Test team abroad - there were quite a few who reckoned Ashwin had it coming.
His overseas record was anything but exceptional. In the six overseas Tests he had played before that, his bowling average was a poor 64.5, as opposed to an overall figure of 30.
Karn failed in his opening Test, Dhoni came back to lead the side and in came Ashwin. He took his time to get going though. At Brisbane, which was his first Test in the series, he scalped just two wickets at 64, keeping in line with his average away from home.
He went on to pick up five wickets apiece in the next two Tests but conceded 456 runs to do that. An improvement but not a great one at that.
In the tri-series that followed, Ashwin featured in just one game, India's first in that series in Melbourne. Figures of 1/54 did him no good and he went out for the rest of the series, arguably on pitches where the seamers would have a bigger role to play.
On the other hand, with India picking three spinners for the World Cup, the probability of Ashwin making it to the starting XI in the opening game of the tournament looked remote.
Stuart Binny had played in three of the games of that very tri-series and could well have made it to the eleven for the opener against Pakistan as the fifth bowler. Axar Patel featured in all four of the games and seemed to have done a good, controlling job as well. And Ravindra Jadeja has always been a preferred option for Dhoni because of his batting that adds solidity to the lower-order.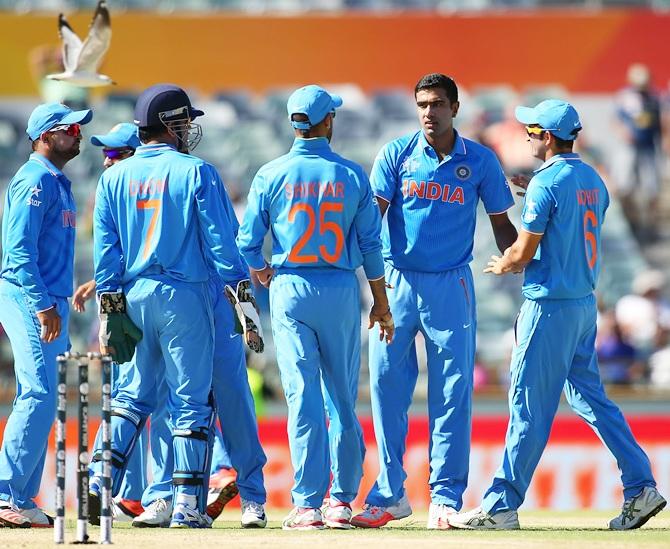 Ravichandran Ashwin celebrates after dismissing Krishna Karate of the UAE at the WACA on February 28, 2015. Photograph: Paul Kane/Getty Images
Dhoni changed everything around for that opener against Pakistan. He backed Ashwin yet again to deliver the goods and his player has ensured Dhoni has every reason to smile from ear to ear three games into the tournament.
Against Pakistan, Ashwin came on to bowl with Pakistan reasonably placed at 58 for one from 13 overs chasing 301. A poor spell from the offie could have brought Pakistan back into reckoning for the chase but he changed the game around with his first spell of four overs, of which there were two maidens and he picked up a wicket as well.
He returned to bowl another maiden and ended the game with figures of 1/41 from his 10 overs. Not match-turning but confidence-infusing enough. Enough to get him another game.
In the South Africa game, Dhoni held Ashwin back till the 21st over. He was probably looking to have Ashwin bowl at the left-handers they had but was left with no option to bring him on with AB de Villiers and Faf du Plessis still at the crease. Ashwin was tonked for two fours in his first over but Mohit Sharma came to his rescue with a run-out of the South African captain in the next over.
Ashwin turned the corner after that. He found his spot on the pitch and changed pace and the amount of turn and South Africa were never able to pick him out for any kind of treatment. After giving away 31 from his first five overs, Ashwin picked up JP Duminy in his sixth and ran through the tail to end with figures of 3/41 from his 10.
He had conceded just 31 from his final nine. And there looked evident signs he was slowly returning back to his own confident self were there.
UAE might not have been the strongest opponent he has played against but coming at the back of two solid performances, his four-wicket haul was a required spell. Almost like it underlined his return to form, like it highlighted Ashwin's necessity in the ODI side.
The words of UAE captain Mohammad Tauqir give an insight to what's probably changed.
When asked about Ashwin's performance, he said: "You saw the results yourself. I don't need to say that. He took four wickets, he bowled extremely well."
The thing to note, however, was the reason he gave for Ashwin's four-wicket haul. He praised the amount of bounce Ashwin got more than any movement.
"I think more than his turn, I think it was the bounce that was creating a problem for us. He was getting some very good bounce, you know, and yes, of course he bowled well. He took four wickets, and he won them the game," added Tauqir.
Ashwin will take a lot of heart from the manner in which he has adjusted to the different pitches in the tournament so far. He will face tougher opponents in the matches to come but the confidence that he will take from these performances; on the slower, lower surfaces at Adelaide and Melbourne and the bouncier one at Perth.
Dhoni praised that very aspect of his performance.
He said: "What's really important is according to the wicket you have to change your bowling to some extent. You have to find the right length and the right trajectory to bowl, and I felt Ash did that really well. He did use his faster one, also, and he was quite successful to get a bit of swing on it, and that was the reason he got a couple of wickets out of those particular deliveries."
With all the attention before the tournament on the Indian fast bowlers, Ashwin could well turn out to be the joker in the pack in their bid to defend their title.

Apostrophe Content and Entertainment
DON'T MISS!