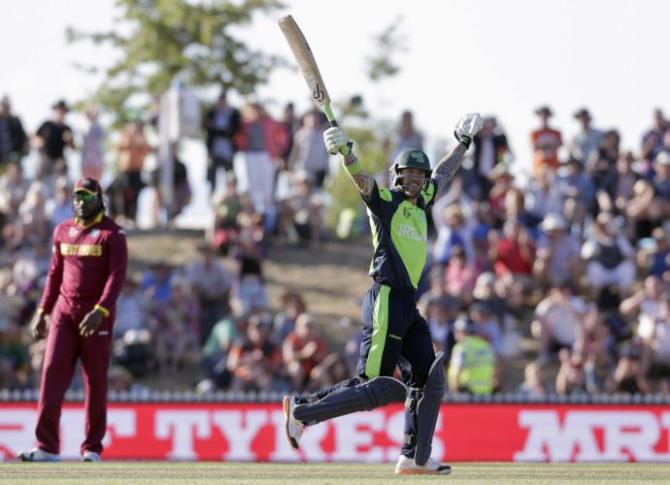 Ireland's John Mooney celebrates hitting the winning runs as they beat the West Indies in the World Cup match in Nelson. Photograph: Anthony Phelps/Reuters
West Indies great Michael Holding slammed the side's four-wicket loss to Ireland in their World Cup opener, saying it was a "little bit pathetic".
The Caribbean team collapsed to 87 for five in Nelson on Monday before Lendl Simmons (102) and Darren Sammy (89) guided them to a total of 304 for seven.
As far as fast bowling legend Holding and other former players were concerned that was merely a "par score".
- Cricket World Cup Points Table
Certainly, it was one. Ireland, defeating a Test side for the third successive World Cup, had few problems chasing down as they made 307 for six with 25 balls to spare at Saxton Oval.
"It was a little bit pathetic, to be honest," Holding was quoted as saying by AFP.
"I've been saying since this World Cup started that 300 on a good pitch here in New Zealand or Australia is just a par score, irrespective of who you're playing against," he added.
"The West Indies, I do not understand how they could ever think that just over 300 runs that they would just automatically win," insisted Holding, a member of the West Indies team that won the 1979 World Cup final.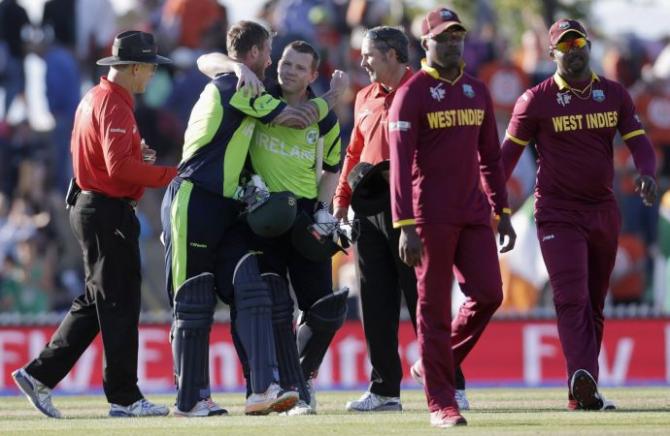 Ireland's John Mooney (second from left) hugs teammate Niall O'Brien after beating the West Indies. Photograph: Anthony Phelps/Reuters
Holding said an inability to adjust to match circumstances hurt the West Indies.
"They cannot take things for granted," the 61-year-old Jamaican told Wisden India.
- Cricket World Cup: Complete Coverage
"You should be able to think for yourself, 'OK we got a reasonable score but we still have a fight on our hands and we still have to go out there and perform.' "
However, He as far more complimentary about Ireland, indicating the International Cricket Council ought to grant them Test status in a bid to stop the other players from following the example of Irish-born Eoin Morgan, England's captain at the World Cup, in switching allegiance.
"If they (Ireland) continue to linger around the lower regions of world cricket they'll continue to lose good cricketers," Holding said.
"Morgan left Ireland to play for England because he saw brighter prospects. England are a Test-playing nation and are a world-renowned team.
"Ireland need to be recognised now. They are playing good cricket and it's about time they get the recognition, otherwise they'll keep losing cricketers."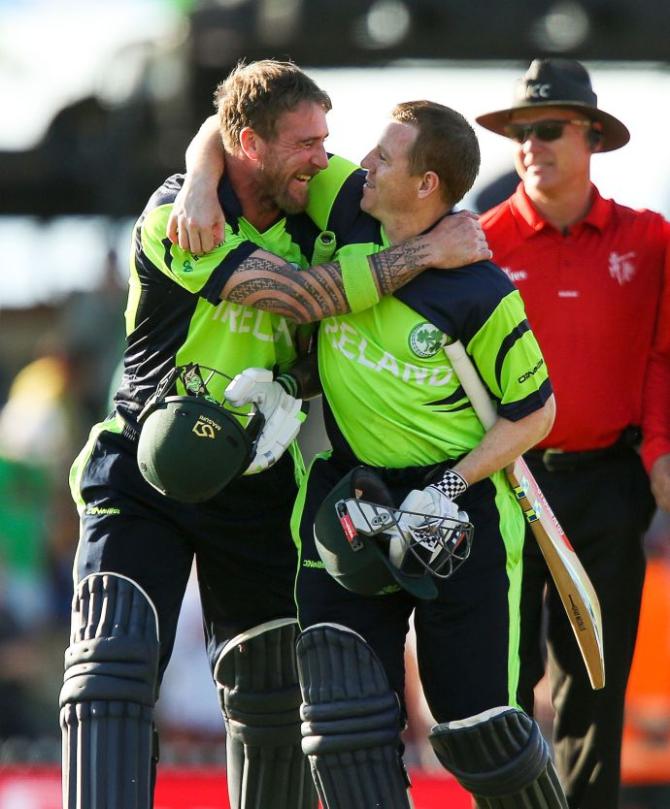 Ireland's John Mooney (left) and Niall O'Brien celebrate after winning the World Cup match against the West Indies. Photograph: Hagen Hopkins/Getty Images
Meanwhile, Holding predicted Ireland would qualify for the quarter-finals, what with four teams from each of the two pools of seven going through to the knock-out phase.
"I should certainly think (they'll qualify). I think they'll beat Zimbabwe.... I would think they have an outstanding chance of going on to the quarter-finals," he said.