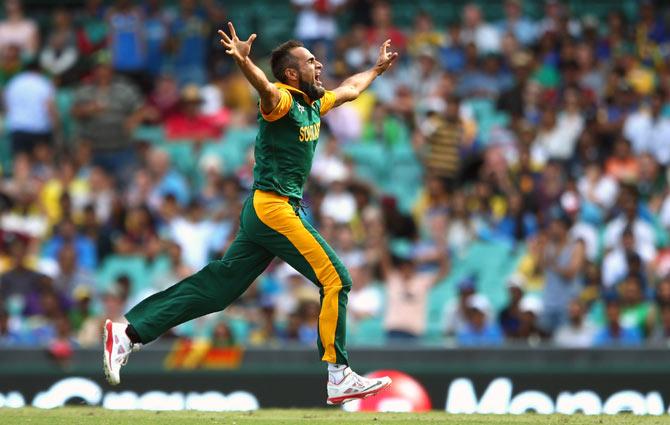 South Africa's Imran Tahir celebrates dismissing Thisara Perera of Sri Lanka during the World Cup quarter-final at the Sydney Cricket Ground. Photograph: Cameron Spencer/Getty Images)
South Africa stormed into the semi-finals of the World Cup on Wednesday and nobody was more pleased than their Pakistan-born spinner Imran Tahir, who was delighted to perform for his adopted country.
Tahir, who turns 36 later this month, claimed 4-26 to mow down Sri Lanka's middle order in the quarter-final match at the Sydney Cricket Ground.
In an otherwise pace-heavy attack, Tahir and J P Duminy shared seven wickets to help bowl out Sri Lanka for 133. The Proteas then romped home in 18 overs for a comprehensive nine-wicket victory.
- PHOTOS: South Africa vs Sri Lanka
"I got everything from South Africa. I always feel I have to pay the country back," the journeyman leg-spinner said, after collecting his man-of-the-match trophy.
"I'm just really pleased and honoured to be part of this team, playing with some great players. I'm just trying to do my role really. It's an absolute honour and I'm really loving it.
"I really don't know what to say. I'm pleased that all my hard work paid off today, what I was thinking about this game and stuff. So yeah, really glad."
South Africa captain AB de Villiers said the team, determined to shed the 'chokers' tag, was "almost obsessed" with the goal of winning and he lauded the spinners for the way they bowled against Sri Lanka, who are known for their reputation for playing spin well.
"They came in a really crucial stage. We bowled seams first 14-15 overs. Most teams introduce spin before then, especially teams that don't have that fifth bowler option in a front line bowler," de Villiers said.
"We always knew JP was going to have to bowl probably 10 (overs). So for two of them to come on against a subcontinent team in a crucial stage and really perform like that gives a lot of confidence to our spin attack going into rest of the games."
His counterpart Angelo Mathews called it Sri Lanka's worst World Cup performance.
"There were no demons in the track. We could have batted well and get to at least 250 and give our bowlers a chance," he said.
"I don't know. Maybe the nerves, did not go for out shots maybe. Easily the worst performance in World Cup. It happened to be in the quarter-finals."
REDIFF RECOMMENDS: