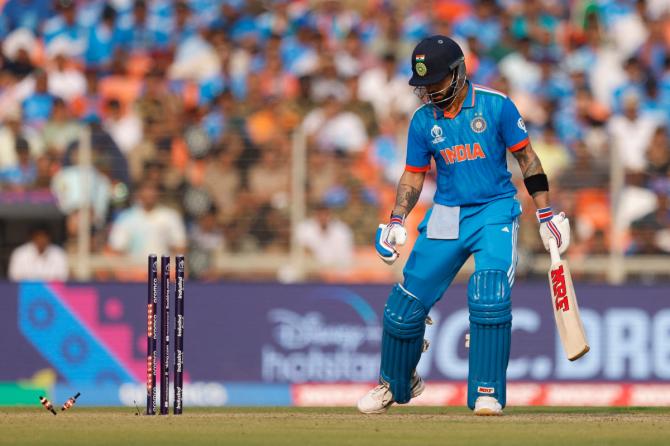 The deafening silence of 90,000 spectators at the Narendra D Modi stadium after Pat Cummins snuffed out the peerless Virat Kohli in the World Cup final was perhaps the 'sweetest moment' the Australian skipper has ever experienced on a cricket field.
After becoming the fifth Australian captain to secure his country's sixth ODI World Cup on Sunday, Cummins said he has 'fallen in love with 50-over format all over again'.
He got Kohli, who was well set on 54, with a delivery that had an extra bounce and the batter played on trying to jab it towards the covers.
'We did take a second in the huddle just to acknowledge the silence that was going around the crowd. It just felt like it was one of those days where it was all made for him to score another hundred like he normally does and that was satisfying,' Cummins said.
'Maybe because we won, I did fall in love with ODI again this World Cup. I think the scenario where every game really matters, it does mean a bit different to just a bilateral,' Cummins acknowledged.
'I mean, the World Cup's got such rich history, I'm sure it's going to be around for a long time. Yeah, there's so many wonderful games, so many wonderful stories within this last couple of months. So, I think there's definitely a place.'
Cummins lost his mother in March during a tour of India.
He led his team to the World Test Championship title, secure the coveted Ashes, and won what he hailed as the 'pinnacle of this sport'.
'At this moment just incredibly proud really of the year we've had. I have obviously had a really big year,; he said.
He spoke about the sacrifices made by everyone in the team and their families.
"I know my family at home is watching, just got a message from dad saying he's had a lot of 4 am wake ups, not going to bed until 4 am, so he's as pumped as anything. So yeah, you sacrifice a lot to play for Australia.'
'Everyone in the team has and we've spent a lot of this year away, but we do it for these moments and my wife and two girls are probably asleep, but they're all pumped, they do the journey with us.
'So, everyone's got their own story, but there's a lot of proud people out there in our team,' Cummins said.
From his hotel room, he saw Indian supporters, all clad in blue, walk towards the stadium. He felt a sense of nervous energy, pacing up and down in his hotel room.
'I always like to say I'm pretty relaxed, but I was a little bit nervous this morning,' he admitted.
'Just pacing around, waiting for it to start, seeing the sea of blue in the hotel getting closer to the ground.
'Observing the sea of blue, cars parked with selfie cameras out, you knew you were walking into something pretty special.
'And then to walk out for the toss and just see 130,000 blue Indian shirts, it's an experience you'll never forget.
'Awesome day and the good thing was they weren't too noisy for most of it.'