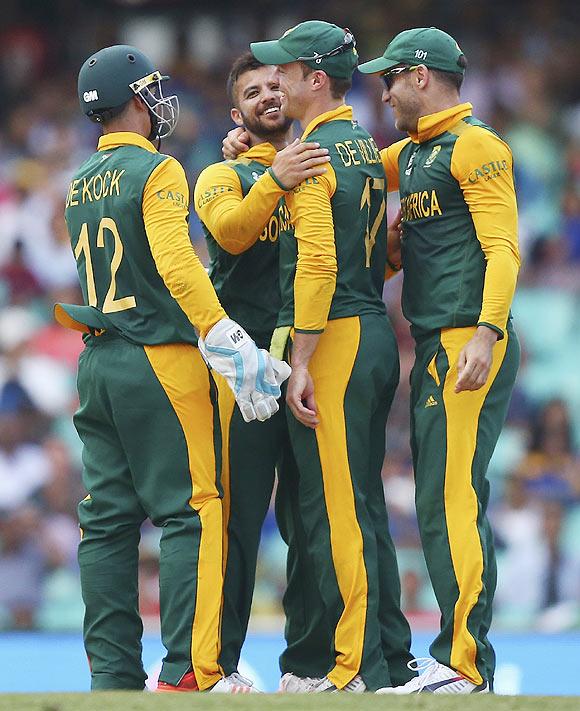 JP Duminy of South Africa celebrates with his teammates after taking the wicket of Tharindu Kaushal of Sri Lanka to claim a hat trick on Wednesday. Photograph: Ryan Pierse/Getty Images
A hat-trick in international cricket is no mean feat. And when you are not one of the frontline bowlers in the team, to grab hold of three wickets in as many deliveries is not only a personal achievement but gives the team a huge fillip; after all, as a backup bowler expected to bowl till you get hit, a hat-trick is probably something totally unexpected.
To be fair to JP Duminy, he's not totally a part-time bowler.
In recent times, he has managed to fill up the all-rounder's boots more easily than most others that South Africa have tried. But for his recent fitness issues, Duminy's growth as a batsman who can bowl regularly would have hardly been in question.
South Africa seemed to have surprised a lot of the experts by deciding to go into their quarter-final with seven batsmen including Duminy and just four frontline bowlers.
Bowlers like Duminy were often difficult to get away before the rules changed to include an extra fielder inside the circle but once the ICC mandated that a maximum of four fielders can be pushed outside, life became a touch difficult for them.
In fact not only the part-timers like Duminy, but even main spinners have often begun to find it harder to control the opposition with these new rules.
Recently after the game against Zimbabwe, India skipper Mahendra Singh Dhoni blamed these very rules for the demise of Yuvraj Singh, the bowler.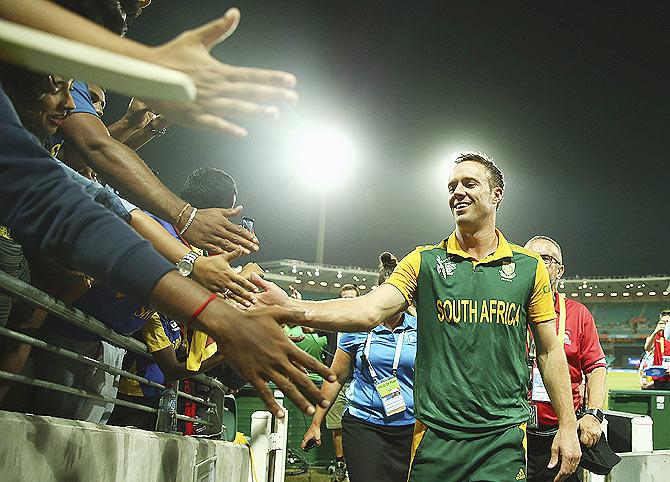 AB de Villiers of South Africa leaves the ground after their win over Sri Lanka. Photograph: Ryan Pierse/Getty Images
Coming back to the game against Sri Lanka, South Africa could well have given it away on a platter if Duminy had leaked runs. That he was helped at the other end by Imran Tahir, made his job easier to hold his end up, but adding those three wickets really hastened the Sri Lankan end.
What would have also helped Duminy was the faith that his captain AB de Villiers showed in him.
When asked in the post match conference about what he thought about the role of spinners in the World Cup, de Villiers was forthright in his assessment.
He said: ?"Spinners will have a major role. It changes the pace of the game completely. I think all captains use that kind of tactic to sort of see if the batter can adjust the pace of his game."
De Villiers added: "There are a lot of reasons why spinners have always played a big part in big tournaments like this. There are plenty to mention but I certainly think it will play a big role. It's just a matter for the captain to really use them at the right time."?
The South African captain could have been referring to Imran Tahir when he mentioned the above but Duminy has proven his mettle against a team that relishes batting against spin bowling on more difficult pitches. What it could mean is that Duminy's role in this game as a bowler was anything but restricted to be a one-off.
And it will also give Duminy the chance to add to the 98 international wickets? he has in his career.
REDIFF RECOMMENDS: