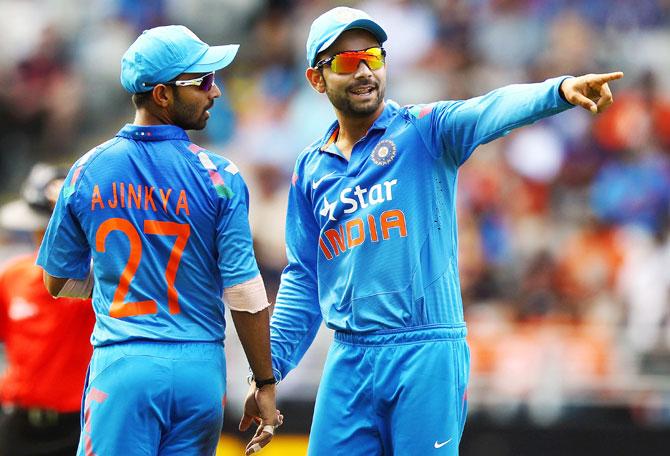 India's Ajinkya Rahane and Virat Kohli. Photograph: Getty Images
Concerned about the total domination of bat over ball in ODI cricket, former India captain Rahul Dravid has urged the ICC to reconsider the rule allowing a maximum of four fielders outside the 30-yard circle once the World Cup is over.
With the implementation of this rule that mandate five fielders inside the 30-yard circle at all times in an innings, the league stage of the World Cup has seen 100 or more runs being scored 17 times in the last 10 overs, compared to six in 2011.
As many as 388 sixes have already been hit, while only 258 were struck during the entire 2011 edition.
Dravid was quoted as saying by ESPNcricinfo: "The fact that five fielders have had to be in the ring is something that needs to be looked at. I think it will have to be reconsidered."
The batting great added, "There is no doubt that it is putting too much pressure and bowlers have not been able to cope with it. It's leading to these huge scores and I think that's not necessarily good for the game."
Only two fielders are allowed outside the circle for the first 10 overs. Just three fielders are mandated to be outside the circle during the five Powerplay overs to be taken by the batting team before the 40th over.
Dravid is disappointed by the high-scoring nature of many of the games in the league stage of the quadrennial extravaganza.
"We haven't seen enough close games; what really builds excitement is not really seeing people hit sixes and fours all the time, but what you want to see is a good contest between bat and ball, which would result in a close game. The games have been just too one-sided for me.
"There have just been too many high scoring games for my liking, it's one thing I have been disappointed by," Dravid said.
"It comes down to the fact that maybe the wickets in Australia have been very good, they've been flat and a lot slower than people have expected."
Dravid also favoured the presence of Associates in World Cup.
"I favour encouraging Associates to play in this tournament and giving them every single opportunity.
"I just know how important this is for the growth of their game to be seen at a World Cup, the games being telecast Live back home in terms of sponsorship, government funding; its so important for them to be a part of this premier event."