'Today we were out-skilled, but the first game against Australia we were well below par'
'We envisioned the future of having lost your first two games, but not by this much'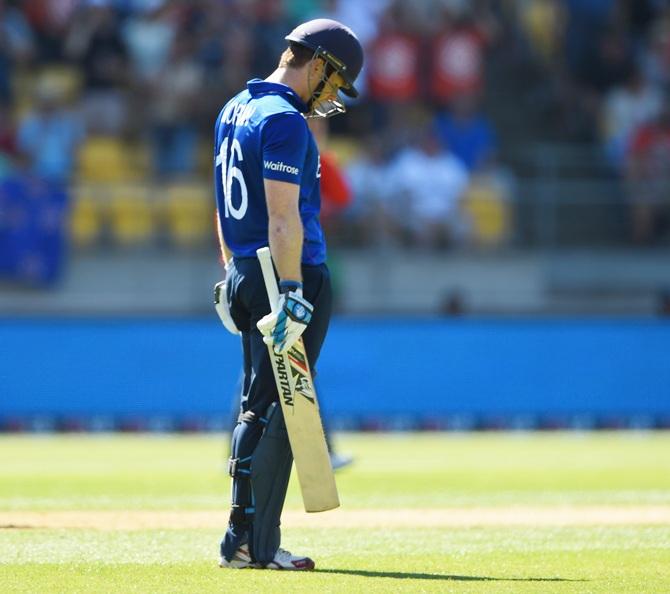 England captain Eoin Morgan looks dejected after losing his wicket. Photograph: Shaun Botterill/Getty Images
England captain Eoin Morgan insisted there is no reason to panic even after his team suffered a second humiliating loss at the World Cup on Friday.
Southee, McCullum destroy England in Wellington
McCullum does it again! Hits fastest 50 in World Cup!
PHOTOS: McCullum, Southee sizzle as New Zealand embarrass England
England could hardly have made a worse start to the sport's most important tournament, losing by 111 runs to Australia last weekend and then suffering an embarrassing eight-wicket loss to New Zealand on Friday.
But Morgan said things were not as bad as they seemed and he urged England's growing band of critics to keep faith with the players.
"Certainly you don't want to get into a state of panic where we make three or four changes in one day," he said, after Friday's thrashing.
"That's certainly not what I'm about. I've always believed in making good decisions and backing the right players at the right time.
"I believe at the moment that any of our players can play. The players that played today I believe were the best to win today, and given conditions, we'll change plans accordingly."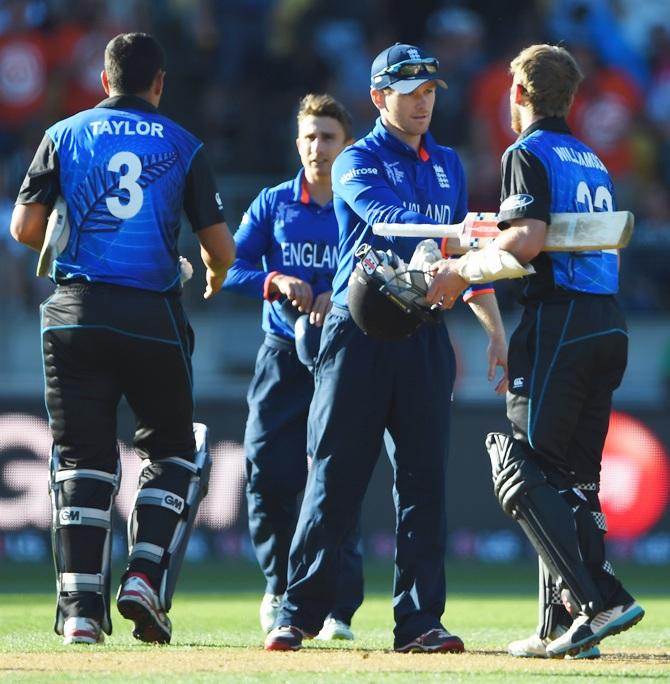 England captain Eoin Morgan congratulates Kane Williamson of New Zealand. Photograph: Shaun Botterill/Getty Images
The magnitude of England's loss to New Zealand could hardly have been more emphatic. After winning the toss and choosing to bat first at Wellington, England could only muster 123, the lowest total by any team so far in the tournament.
Then England's bowlers showed little when they had the ball as New Zealand cruised to victory in just 12.2 overs, completing one of the most one-side matches in One-day international cricket history.
"These first two games were going to be difficult games playing in these conditions. But we shouldn't be beaten by this much," Morgan said.
"Today we were out-skilled, but the first game against Australia we were well below par.
"(We're) not doing the basics. Not producing when we practice. We envisioned the future of having lost your first two games, but not by this much."
England came into the World Cup with few real expectations of winning and faced a difficult start to the tournament after being drawn to play both co-hosts in their opening two matches.
Morgan, who is also under fire for his own batting performances, said there was no getting around the fact England had started badly but he said all is not lost.
England have four pool games left to play: against Scotland, Sri Lanka, Bangladesh and Afghanistan, and will probably need to win at least three of them to make the knock-out stage.
"We can still make the quarter-finals, as soon as we start winning and getting into the next game," Morgan said.
"I think when we're not doing our basics well, we're being exposed by good teams, and we've seen that today.
"I certainly agree that we have to turn things around quickly. We need to start winning, and we'll work to get momentum to get to the quarters, to the semis and so on."