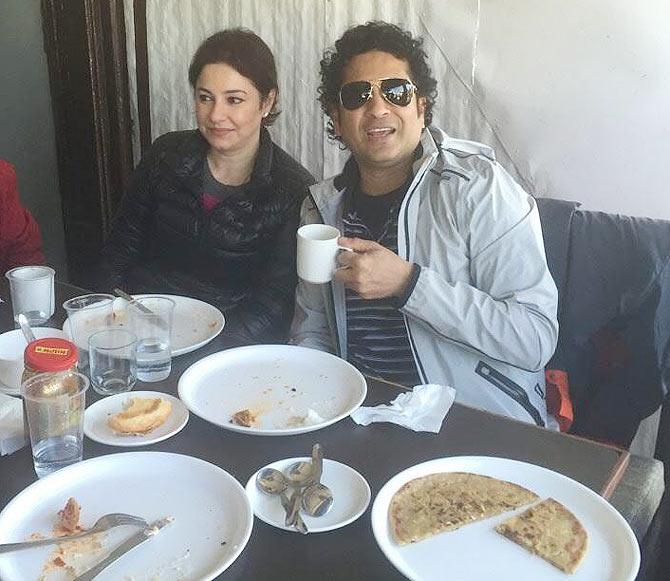 Sachin Tendulkar and wife Anjali enjoying a meal in Mussoorie. Photograph: Sachin Tendulkar/Twitter
If your dream is to dine with Sachin Tendulkar then here is your chance but be ready to shell out big bucks!
Sydney's most iconic restaurant is offering an exclusive dinner with the Little Master priced at 1,500 to 3,000 Australian dollars with just a few seats up for grabs.
The VIP dinner which will be only attended by over 60 people will be held on February 26 after the India-South Africa match on Sunday.
According to one of the organisers, the dinner will coincide with the cricket icon's trip to Australia to watch the India-South Africa match.
The flyer of the event which is doing the rounds in Australia says 'You are invited to an exclusive VIP dinning experience with the Master himself -- Sachin Tendulkar'.
"We are receiving an amazing response. It's not an event but it's an exclusive dinner with the Cricket legend," the organiser, on the condition of anonymity, said.
There will be tables of eight people, and choice of entrées, mains and desserts will be served along with premium wines and spirits.
Around a dozen people sitting on Sachin's table will have the pleasure of mingling with him for half an hour over cocktails and drinks, the organiser said adding that it would be only for a dozen people and has been priced for 3000 Australian Dollars.
During the dinner, an Emcee will introduce and interview Sachin and take questions from the attendees.
The cricketer will sign some auction items and also give away his recently released autobiography with his signatures.
The organiser said that the money raised would go towards Sachin's foundation.
There is an expectation that a similar dinner might come to Melbourne in March when Sachin visits the city for the World Cup final.
School cricketers 'Dream Team' rub shoulders with India players, Lee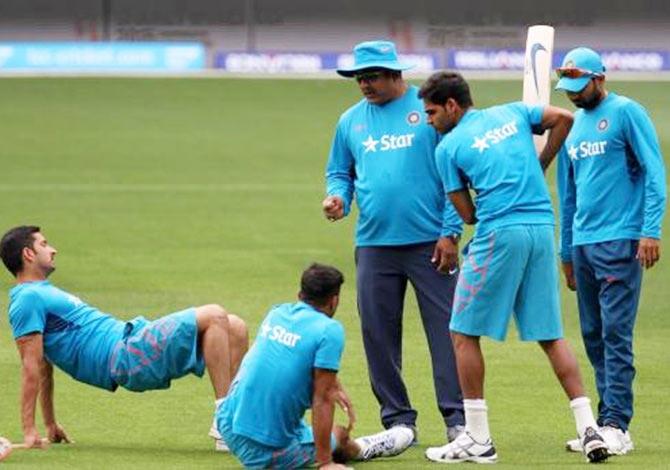 Indian bowling coach Bharat Arun with Indian bowlers Mohit Sharma, Umesh Yadav, Bhuvneshwar Kumar and Mohammad Sami during the practice session. Photograph: Vipin Pawar/Solaris Images
Fifteen school cricketers from India got an opportunity to bowl to the Indian cricket team during a practice session, as a part of their 16-day long tour in Adelaide, sponsored by the South Australia Tourism Commission (SATC).
Trained by top South Australian cricketer, Cameron Borgas at the world class facilities, the Indian school team – Dream Team 15 boys -- comprising 16-17 year old students from different parts of the country also had the privilege of watching the India versus Pakistan match at the Adelaide Oval, besides meeting Australian pace legend Brett Lee.
"It was once in a lifetime opportunity for us to watch India win against their biggest rivals in cricket," said young members of the team.
South Australian Premier Jay Weatherill said the budding cricketers, during their two-week tour, had displayed talent, determination and enthusiasm.
"The Dream Team also had the opportunity to bowl to the Indian team during a practice session and also met Brett Lee," Weatherill added.
Commenting on his experience as a coach of the Dream Team, Borgas said, "They are very enthusiastic and they love their cricket. Hopefully one day we will see one or two of them play for India."
The Dream Team 15 was selected from among more than 2500 applicants from across India. Over 450 applicants were invited to participate in selection trials in Delhi and Mumbai.
The selection of the youngsters from across different schools in India was done through a three-month talent hunt with the help of an independent jury comprising cricketers and professionals including from IPL franchisee Rajasthan Royals.