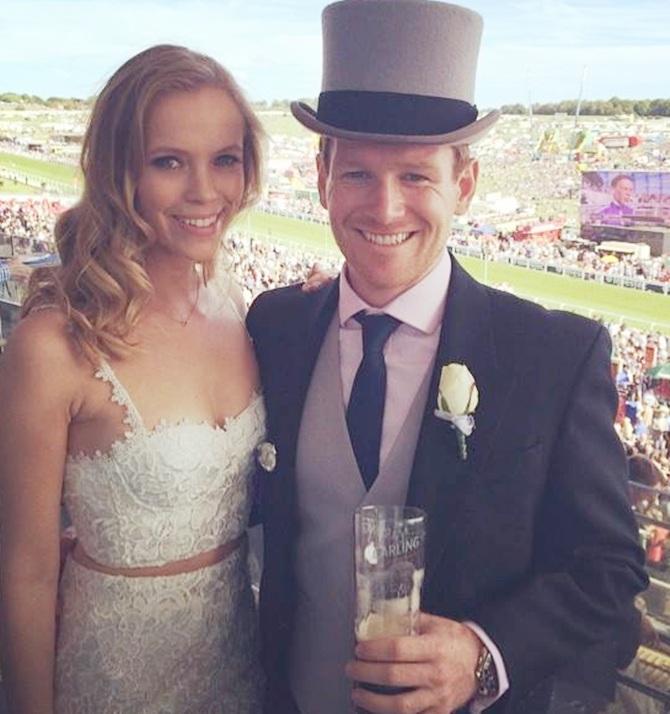 England's skipper Eoin Morgan with his partner. Photograph: Facebook
Seeing Dubliner Eoin Morgan become England's World Cup skipper was a 'wee bit irritating' for Ireland's chief cricket selector Alan Lewis, who has been left to rue how strong his side might have been in Australia and New Zealand.
VOTE: Who will win the 2015 World Cup?
Morgan made his Ireland debut as a 16-year-old but, like seamer Boyd Rankin and batsman Ed Joyce, switched allegiance to play for England and chase a Test career that has so far failed to flourish.
The 28-year-old Morgan, though, has faired far better in limited overs cricket and succeeded Alastair Cook as skipper of England's 50-over side in December, hitting a century against Australia in Sydney last month as the team showed signs of life after stagnation under his predecessor.
Lewis, a former Irish captain and international rugby referee, told Irish podcast 'The Slog Sweep' he had mixed feelings.
"I look at the England set up and over the last 10 years, three people from this little island where cricket is the fourth or fifth sport are playing for a country whose national sport is cricket," Lewis said.
'We've got Ed back'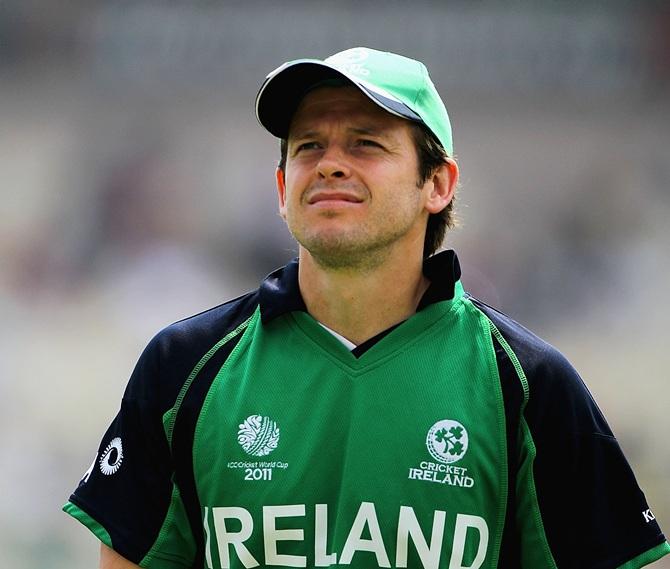 Ed Joyce of Ireland looks on. Photograph: Matthew Lewis/Getty Images
"It is a wee bit irritating to think where we could be if Eoin and Boyd were available; obviously we've got Ed back now.
"I wouldn't want to deprive Eoin Morgan the opportunity with the ability he has, I'd want to play at the top level, and in honesty every Irish supporter would wish him well, it's a great story, but it's a great frustration. To get our players back, that's part of the next step."
While Ireland were able to regain the services of Joyce, Lewis said they failed to lure back lanky Northern Irishman Rankin, who is touring South Africa with England's second tier side.
"We looked at it but certain doors got closed," Lewis said.
"We watched Boyd's form but with possibly Ireland sniffing around again, the England Lions were going to come watching and that's exactly what happened."
Ireland famously beat England in the last World Cup, with Kevin O'Brien smacking the quickest century in the tournament's history as the associate members successfully chased down a record 327 to win in Bangalore.
That followed a shock win over Pakistan on their World Cup debut in 2007, with the Irish seeking more scalps on their third appearance as they continue their push for greater recognition from the International Cricket Council.
Ireland have been drawn in Pool B alongside South Africa, India, Pakistan, West Indies, Zimbabwe and United Arab Emirates. They open their campaign on Monday against the West Indies in Nelson.

US has second-highest number of cricket-loving FB users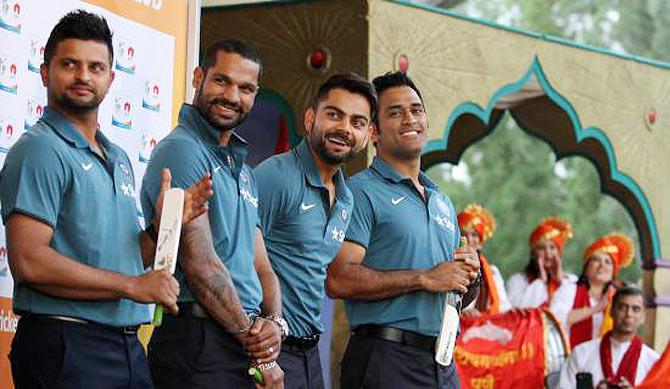 (Left to right) Indian cricket players Suresh Raina, Shikhar Dhawan, Virat Kholi and captain Mahendra Singh Dhoni during the event organised by South Australian Tourism to introduce the Indian cricket team to the local Indian community at the Adelaide Oval on Wednesday. Photograph: SOLARIS IMAGES
The United States may not be taking part in the World Cup beginning Saturday, but the country has the second highest number of Facebook users interested in cricket, the social networking site said on Friday.
According to Facebook's internal data, 45 per cent of the total people interested in cricket on Facebook come from India, which comprises of 81 per sent males and 19 per cent females, the US-headquartered company said in a release.
"Based on interests shared on Timelines, apps used, Pages liked and other activities on and off of Facebook, there are more than 100 million who are interested in cricket out of over 1.3 billion people who are on Facebook." it said.
"Interestingly, the US, which is not among the 14 participating countries, has the second-highest number of people interested in cricket, followed by Pakistan, Bangladesh and the United Kingdom," it added.
US is now home of thousands of South Asians who might be having affinity to cricket because their countries of origin are among the leading teams of the game.
Of the 14 team participating in the World Cup, the Indian team's Facebook page is expectedly the most popular. The most discussed cricket topic was the selection of Indian team. Players with highest mentions were Yuvraj Singh, MS Dhoni, Ravindra Jadeja, Stuart Binny.
Read More:
World Cup Diary: Check out this CHEEKY LETTER from NZ skipper!