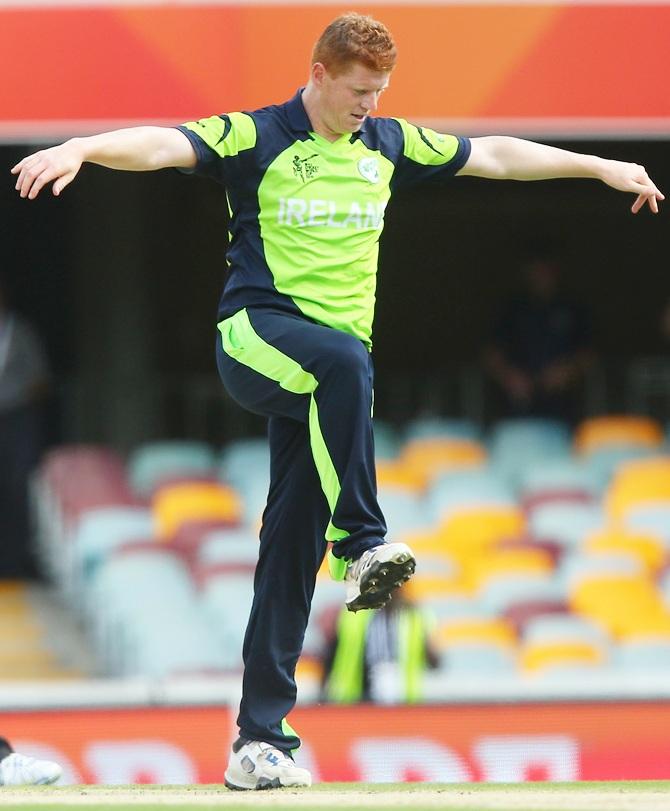 Niall O'Brien of Ireland celebrates after dismissing Swapnil Patil of the United Arab Emirates during the 2015 ICC Cricket World Cup match. Photograph: Chris Hyde/Getty Images
Niall O'Brien, the sturdy batting backbone during Irish cricket's meteoric rise, owes much of his World Cup success to the timely arrival of a pet dog during his troublesome teenage years.
The World Cup, as never before on Rediff.com
VOTE: Who will win the 2015 World Cup?
Growing up in Dublin, O'Brien, son of former Ireland captain Brendan and older brother to team mate Kevin, would frequently find himself in schoolyard scraps and have run-ins with the police because of his spiky temperament.
The issues were threatening to corrupt the talent that had been honed in the family garden against bowler-turned-all-rounder Kevin.
"When I was about 14 or 15 I wasn't really enjoying school and I was making a nuisance of myself in the village, getting in trouble with the police," the now 33-year-old told ESPN Cricinfo last year.
"Kev was good at school, very well behaved. I was the black sheep of the family, shall we say.
"It took me getting a dog to get me back on the straight and narrow. I asked my parents every day for two years if we could get a dog, and every day they said no. Eventually they got me a golden retriever and it changed my life.
"It gave me some responsibility: I fed it, walked it, cared for it. It was the best thing I've ever been given in my life. I didn't do brilliantly but I finished my studies, got my head down with the cricket, and got myself back on track."
While there was also an offer from Scottish soccer club Rangers for a trial, O'Brien opted for cricket, which he kept secret from his school pals for fear of ridicule.
"The schools I went to were very Irish schools -- hurling, rugby, Gaelic football -- and cricket was seen as an English sport," he said. "At school you had to keep it on the down low."
He moved to England and played county cricket with Kent, making his first class debut in 2004 before joining Northamptonshire and then Leicestershire where he still is.
The spiky nature remained, though, and his chirps from behind the stumps upset some, notably former West Indian great Brian Lara who O'Brien felt should have walked in a 2004 tour match and wasn't shy in telling him so.
By 2006, Ireland were playing full one-day internationals. The amateur, patchwork side made up of keen local enthusiasts and naturalised foreigners qualified for the 2007 World Cup and O'Brien revelled.
He struck 72 of Ireland's 133 runs as they beat 1992 champions Pakistan by three wickets in a St Patrick's Day victory that shocked all.
Then little brother Kevin blasted the fastest ever World Cup century in the cherished win over England at the 2011 edition, as Ireland recorded the tournament's highest run chase.
That innings of 113 made Kevin the poster boy of Irish cricket, a global name as they pushed for Test playing status with professionalism filtering through and full-time contracts offered to burgeoning local talent.
But there still remains room for the old guard, as O'Brien proved this month.
An unbeaten knock of 79, featuring a flurry of attacking shots, powered Ireland to a four-wicket win over the West Indies at the Saxton Oval in Nelson.
But unlike against Pakistan in 2007, where he threw away his wicket chasing 133, O'Brien was able to change tact to ensure he was there to see the job done, curbing his attacking instincts and playing more carefully as four quick wickets fell.
Like a responsible dog owner, there would be no mess left for others to clean up.
Are you watching the World Cup? Do share your videos, photos and comments here!
ICC World Cup Merchandise 2015 available on Rediff Shopping