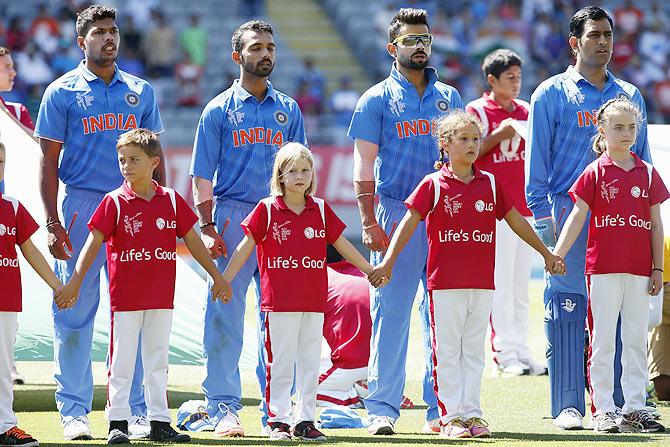 The India team sing the national anthem before the match against Zimbabwe. Photograph: Nigel Marple/Reuters
"The bench strength will warm the bench," is what the captain MS Dhoni had declared after India had beaten West Indies in Perth.
That was in response to a question asked of him about whether the side will look to bring in untried players from the Indian squad for the rest of the games given they had qualified for the quarter-finals.
And true to his word, Dhoni opted out of bringing in any of the likes of Stuart Binny, Bhuvneshwar Kumar, Axar Patel or Ambati Rayudu into the playing XI.
India went into their final pool game of the 2015 World Cup against Zimbabwe having already been assured of the top spot in the table. What was then surprising was their decision to select the same playing XI that featured in four of their previous five games.
The only change for India in the tournament so far came against UAE when Mohammed Shami was forced out of the match because of an injury.
Bhuvneswar Kumar, who had fitness concerns hanging over his head going into the tournament, bowled just five overs in that game and ended with figures of one for 19.
Before and since then, including this very inconsequential match against Zimbabwe, India have refused to bring in any changes to their playing XI.
Rewind a month earlier, coming into the tournament, India had a truckload of worries. Their opening combination was an issue because of a non-functional Shikhar Dhawan. The number seven slot was undecided because of form and fitness problems. And then there was that much famed bowling attack that looked as toothless as a new-born.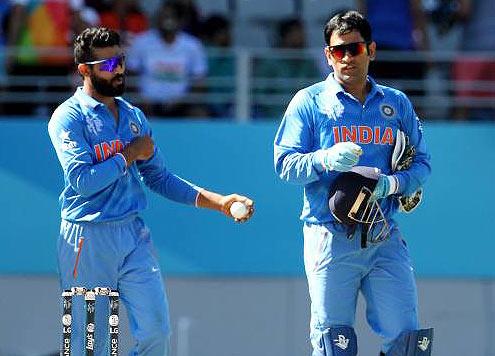 Indian player Ravindra Jadeja speaks with captain Mahendra Singh Dhoni. Photograph: Vipin Pawar/Solaris Images
As defending champions and playing in conditions very different from those back home, with rules having changed to take any advantage they could have derived from their back-up part-time bowlers, it almost seemed like their bowlers were lambs ready to be slaughtered.
So since the pieces of the puzzle started to come together from the beginning of the World Cup, the Indian management seems to have taken a conscious decision not to disturb a winning combination.
Dhoni might have his own whims on the field, but a part of his thinking as far as selection has been concerned is to not tweak the playing XI too much. Even when things aren't going as well as he would like, Dhoni has looked to back his players till he is left with no option.
A case in point is his own self. It's a known fact that Dhoni does not like taking too many breaks from the game, and has often soldiered on, even kept wickets with a back-up keeper in the XI.
There is one other factor here. It's not as if all of India's woes have been resolved. Dhawan's coming back to form has coincided with Rohit Sharma struggling to find the same touch that he had before his injury during the Carlton tri-series.
Ravindra Jadeja has struggled with the bat and his bowling hasn't been extraordinary either.
If there has been a real improvement it's been with the quick bowling department.
That being the case, what Dhoni could also be aiming at is to give them as many chances in order to get them in the right rhythm for the knock-outs. He had definitely spoken about Jadeja after the West Indies game, about the need for Jadeja to step up.
Dhoni said: "Jadeja needs to step up really because we have a lot of faith in him, but at the end of the day you can't really play with hope. What you want is actually performance on the field. He has that capability."
Importantly, Dhoni added: "He's definitely talented, but he needs to keep believing in himself."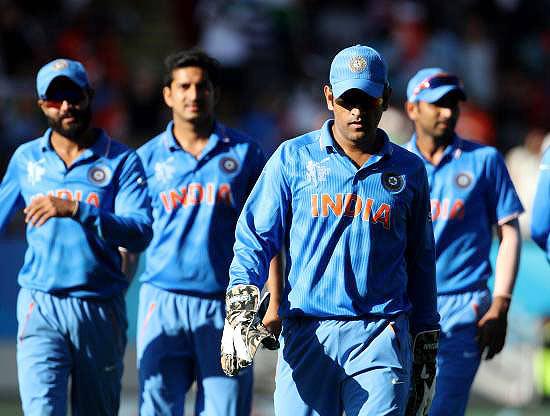 Indian players walk off the Eden Park stadium. Photograph: Vipin Pawar/Solaris Images
It's this belief that the captain loves to show in his players.
In a way, this is a very Australian approach to selection. ?It's often said about Australian cricket, it's more difficult to get out of the Australian team than to get into it. It certainly looks like the Indian style, Dhoni's style has been modelled along that bit.
It's happened before as well. The 2013 Champions Trophy was won by India without a single change to the side throughout the five matches. Yes, that's right, the same 11 had played in the entire tournament and won the title for the side.
Dhoni has made another interesting point in defence of his tactic.
He has pointed out that it's not as if the players are getting drained out playing too many games in quick succession. The format of the World Cup, whether rightly or otherwise, has allowed for teams to feature in six games over a period of 27 days -- that's an average of more than four days for every game. Add to that the fact that India played two games in Perth and a couple in Hamilton & Auckland - two cities just a 90-minute bus journey away from each other - reducing the stress involved with the travel as well.
Of course there is always that issue with an unexpected injury on the day of the game but it seems like it's a punt that Dhoni is ready to take. For now, it seems to be working as well.