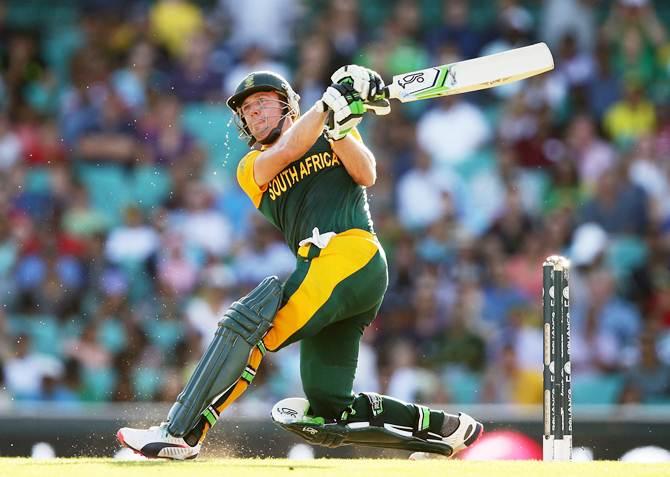 AB de Villiers. Photograph: Matt King/Getty Images
Dale Steyn, Mitchell Starc have Saeed Ajmal's No 1 bowler's ranking firmly within sight.
Shakib Al Hasan hoping to reclaim the No 1 all-rounder's spot from Tillakaratne Dilshan
South Africa's AB de Villiers and Sri Lanka's Kumar Sangakkara will take their battle for the coveted No 1 spot in the Reliance ICC Player Rankings for ODI batsmen to Sydney when they go head-to-head in the first quarter-final of the World Cup.
De Villiers started the year leading Sangakkara by 76 ratings points. When the two players take the field on Wednesday, the South African will be ahead of the Sri Lankan by just 38 points. Both are enjoying great form, with de Villiers having scored 417 to date and Sangakkara leading the field with 496 runs, including four centuries.
While de Villiers gained eight ratings points since the start of the tournament to enjoy a career-high rating of 899, Sangakkara rose three places with 68 ratings points and is on 861 ratings points, also his career-high rating.
Not too far behind the two batsmen are Hashim Amla of South Africa and India's Virat Kohli.
Amla is in third place, 14 ratings points behind Sangakkara, while Kohli will go into Thursday's second quarter-final against Bangladesh in Melbourne trailing the South African by four ratings points.
While the four top batsmen have consolidated their positions in the latest batting chart, there are a few other batsmen who have made upward movement following good performances in the second half of the pool stage matches and will aim to continue to head in the right direction when they feature in the knock-out stage.
Inside the top 10, India captain Mahendra Singh Dhoni has gained two places and is now at No 8 while Australia's Glenn Maxwell jumped eight places and occupies a career-best ninth position, just 17 ratings points behind Dhoni.
Outside the top 10, India's Suresh Raina is at 17 (up by three places), Pakistan's Ahmed Shehzad 24 (up by two places), Australia's David Warner 25 (up by five places), Mushfiqur Rahim of Bangladesh 27 (up by seven places), Australia's Steven Smith 31 (up by six places), New Zealand's duo of Martin Guptill 34 (up by eight places) and Corey Anderson 39 (up by eight places), Bangladesh's Mahmudullah 44 (up by 17 places) and Shahid Afridi of Pakistan 44 (up by three places).
Zimbabwe's former captain Brendan Taylor leads the batsmen who have gained places in the batting table but will not feature in the knock-out stage.
Taylor, who is the second leading run-getter with 433 runs, rocketed 13 places to claim the 16th spot, while others include England's pair of Jos Buttler in 22nd (up by six places) and Ian Bell 23rd (up by four places), Afghanistan's Samiullah Shenwari 48th (up by four places) and Zimbabwe's Sean Williams 49th (up by eight places).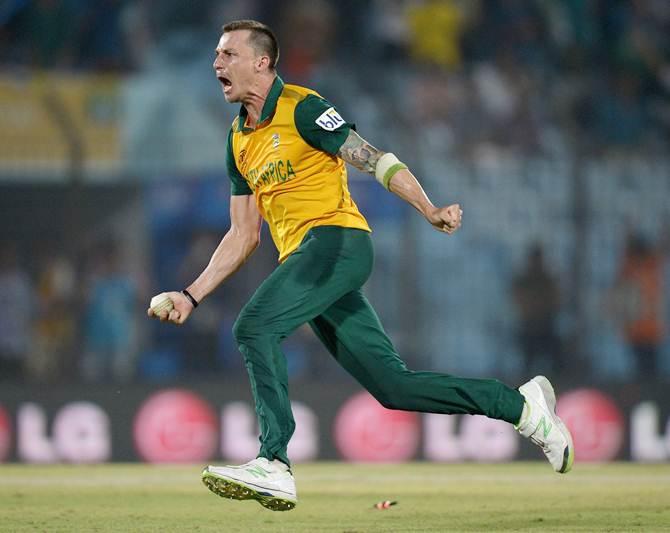 Dale Steyn. Photograph: Gareth Copley/Getty Images
In the Reliance ICC Player Rankings for ODI Bowlers, Dale Steyn of South Africa and Australia's Mitchell Starc have Saeed Ajmal's number-one ranking firmly within their sights.
Steyn has gained a place and moved to second spot and trails the absent Pakistan off-spinner by just five ratings points.
Starc, who started the World Cup in seventh spot, is now on a career-high third position after leading the bowlers' list with 16 wickets. He is four ratings points behind Steyn and nine ratings points behind Saeed.
England's James Anderson and Morne Morkel are the other bowlers inside the top 10 who improved their rankings. Anderson gained a place to occupy sixth position while Morkel is 10th after rising two places.
New Zealand's Trent Boult leads the charge of the other bowlers outside the top 10; he has vaulted nine places to career-best No 15, thanks to his 15 wickets to date in the World Cup.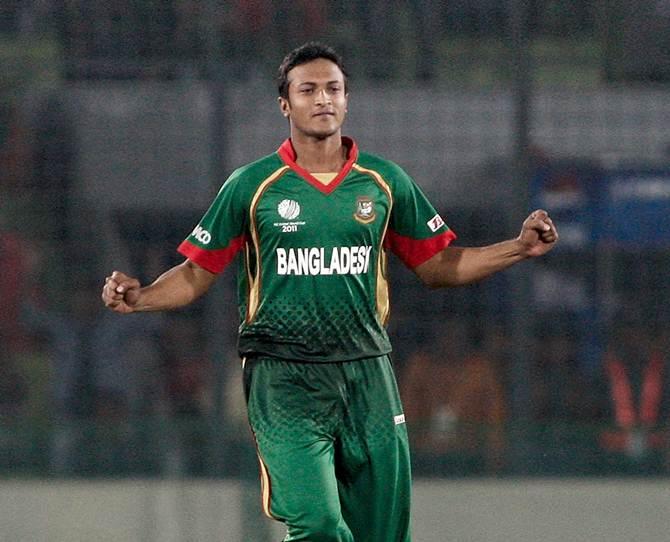 Shakib Al Hassan. Photograph: Graham Crouch/Getty Images
In the Reliance ICC Player Rankings for ODI All-rounders, Bangladesh's Shakib Al Hasan will try to reclaim the number-one spot from Tillakaratne Dilshan of Sri Lanka, who leads by 17 ratings points.
There are notable major changes inside the top 20 in the latest all-rounders' rankings.
Glenn Maxwell of Australia joined India's Ravindra Jadeja in seventh position after rising three places, Corey Anderson broke into the top 10 for the first time by gaining seven places while Mahmudullah of Bangladesh enjoys a career-best ranking of 14 after jumping nine places.