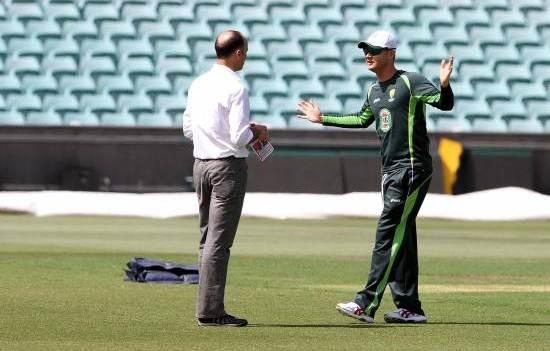 Australian captain Michael Clarke and former England captain and commentator Nasser Hussain during a practice session at the Sydney Cricket Ground on Monday. Photograph: Vipin Pawar/Solaris Images
Australia captain Michael Clarke has shown visible signs of being unhappy with the pitch prepared for the intense World Cup semi-final against India at the SCG.
It looked dry and flat, which could increase the chances of the defending champions.
Sydney is one venue where India has a better chance of beating Australia, as they have Ravichandran Ashwin and Ravindra Jadeja who can exploit the assistance to spin, a worrying sign for Australia's batting.
- Don't miss our 2015 World Cup coverage
The way Mahendra Singh Dhoni has handled his bowlers in the tournament also gives an edge to India, who have dismissed all the seven opponents they met en route to the semis.
Clarke, who inspected the pitch along with coach Darren Lehmann and ICC curator Andy Atkinson, raised eyebrows after a first look at the surface for Thursday's match. He was visibly upset and engaged in some conversation with Lehmann.
In his book on the Ashes 2013-14, he criticised the system in Australia where curators do not listen to the captain or coach's advice. This time, though, it is the ICC which looks after the pitch for the World Cup, so he has to cope with what is given to him.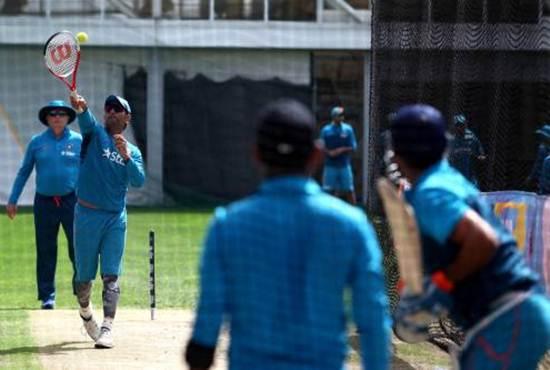 India captain Mahendra Singh Dhoni gives Suresh Raina batting practice session with a tennis ball at the Sydney Cricket Ground on Monday. Photograph: Vipin Pawar/Solaris Images
India adapted well in Australia, says Waqar
Pakistan coach Waqar Younis singled out India's adaptability as the key to their success in the World Cup, saying they were in Australia for the last three months and it helped their bowlers get used to the conditions and bounce of the pitches.
"I think Indian bowlers have done well in this tournament mainly because they have adapted to the conditions in the last three months. Initially, when they came to Australia, they were found wanting and Australia beat them in the Test series, while England also had the better of them in the One-day series.
"All the Indian bowlers went for runs in the tri-series, but then they found the accurate length to bowl and took advantage of the knowledge they gained from the matches they played," said Waqar, adding, India also have batsmen who can do power-hitting.
"India have the batsmen who can hit boundaries and sixes at will.
"From top of the order, batsmen like Shikhar Dhawan to MS and even Jadeja can hit boundaries and sixes at will and that was the one factor which we lacked in our batting; so we will have to search for batsmen who can do power-hitting, as this has become the demand of international cricket."
Waqar was also impressed with India's fielding.
"I have not seen India field as good as they have done in this tournament and credit to their fitness levels, which helps them in attaining good standards in fielding."
He said Australia's advantage is that they have batting deep down the order which will worry Indian bowling.
- Apostrophe Content and Entertainment