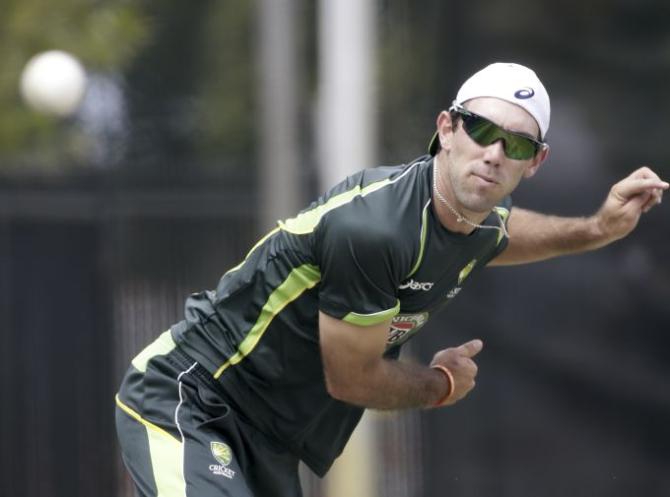 Glenn Maxwell. Photograph: Hamish Blair/Reuters
With the Sydney Cricket Ground wicket known for assisting spinners, Australian all-rounder Glenn Maxwell says he is ready to play the role of frontline spinner in World Cup semi-final against India.
The mouthwatering semis clash will be played at the same wicket where seven Sri Lankan wickets fell to spinners against South Africa in the quarter-final.
Australia do not have a regular spinner in their ranks as they heavily rely on their pacers, led by Mitchell Starc, while India have R Ashwin and Ravindra Jadeja.
"I've taken a couple of wickets this tournament which has been nice, and I feel like I've been doing the job that Michael Clarke has been asking of me whenever I've come to the crease," Maxwell said.
"I had a chat to John Davison (Australian spin bowling coach) last night and he said my shape was looking really good. It's starting to become a bit more of a frontline spinner's action as well and not so much just a run-stopping option but it's actually becoming semi-threatening, compared to just going and putting the ball on a tee," Maxwell was quoted as saying by Australian media.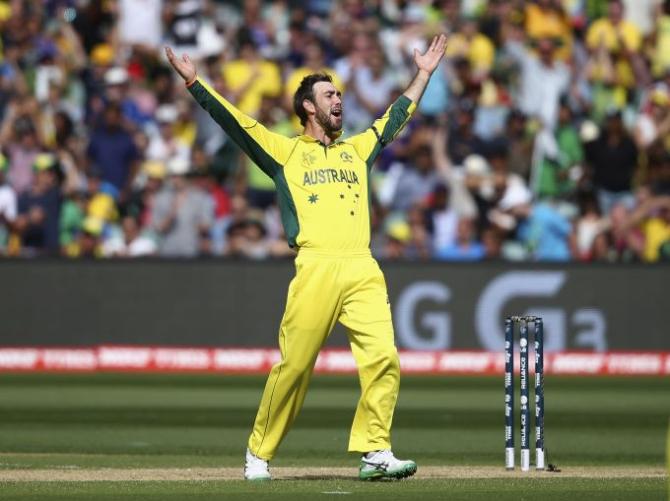 Gelnn Maxwell. Photograph: Ryan Pierse/Getty Images
Maxwell, who was used quite well by his skipper in the quarter-final against Pakistan, said his in the recent past he has developed into a good spin option for his side.
"I think after that UAE series against Pakistan last year I worked out a few things with my bowling. As soon as I came back to Australia I worked really hard on it and I felt like I was starting to get signs of what I wanted to do with my off-spin and what other coaches had been looking for me to do as well which was to get that drop and a bit more energy on the ball," he said.
"Coming from a fast bowler's background growing up I have a long bowling stride for an off-spinner and I've been trying to shorten that but still have the same energy through the crease. It's been a long work in progress, I've had to change my action about six or seven times since the academy which has been frustrating but hopefully with this change there's only an upward curve now.
"I've been working with everyone. I have a chat with whoever wants to listen basically, whoever can put up with me for the longest," he said.
© Copyright 2023 PTI. All rights reserved. Republication or redistribution of PTI content, including by framing or similar means, is expressly prohibited without the prior written consent.