A selection of musings from around the cricket World Cup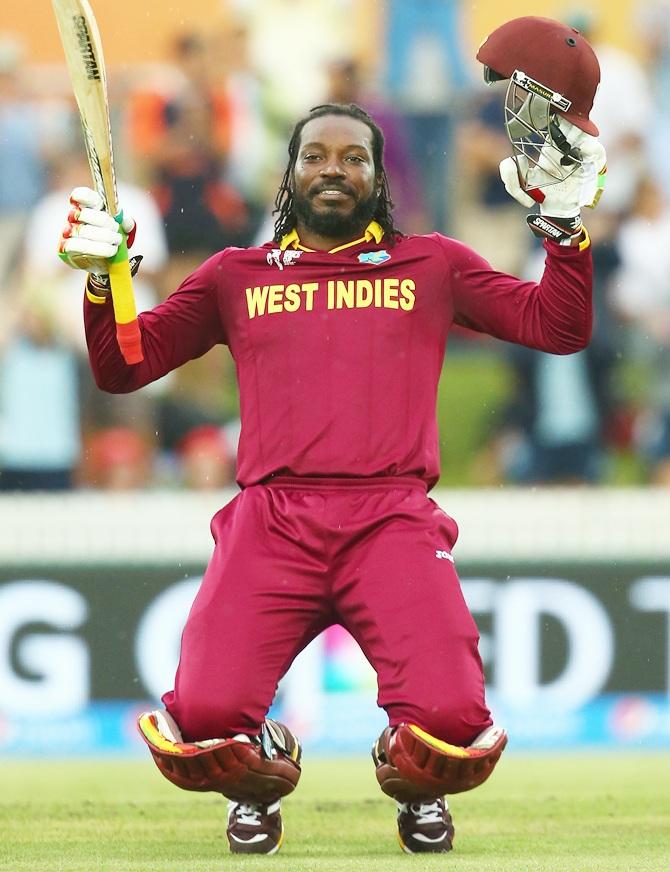 Chris Gayle of the West Indies celebrates his double century during the 2015 ICC Cricket World Cup match against Zimbabwe at Manuka Oval. Photograph: Mark Kolbe/Getty Images
It is enough to make bowlers pack up their boots and take the first flight home.
Predict your FOUR World Cup semi-finalists
If it's not Chris Gayle heaving over the leg side, it's Brendon McCullum charging down the pitch and flat-batting through the covers. If it's not Kumar Sangakkara torturing fielders like a sadistic surgeon, it's AB de Villiers sweeping fast bowlers for six - with one hand.
Celebrating Sarfraz's success in a small corner of Uttar Pradesh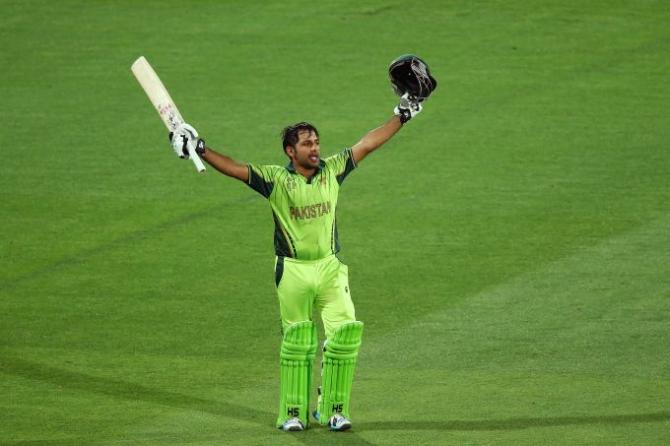 Sarfaraz Ahmed of Pakistan celebrates after completing his century during the World Cup match between Pakistan and Ireland at Adelaide Oval. Photograph: Morne de Klerk/Getty Images
There were a few individuals who were also left with the ignominy of eating their own words as Pakistan wicketkeeper Sarfraz Ahmed punched the air and raised his bat to acknowledge the crowd after scoring his maiden ODI ton in a must-win game against Ireland on Sunday.
Largely, though, there was joy. It even reached a small corner of Uttar Pradesh, India, where one man was busy distributing sweets and frantically answering phone calls.
He who chokes last holds the trophy highest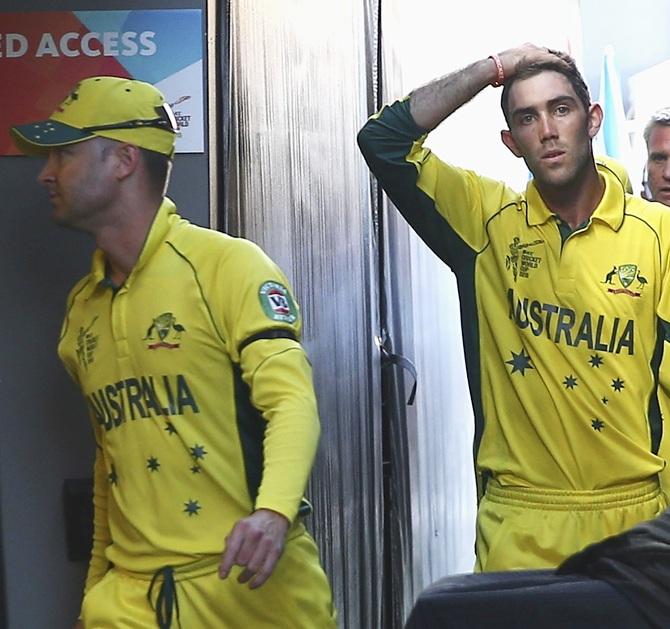 Michael Clarke and Glenn Maxwell of Australia leave the ground after the World Cup match between Australia and New Zealand at Eden Park. Photograph: Ryan Pierse/Getty Images
Glenn Maxwell put one hand to his throat, then the other, teasing the Eden Park crowd who were choking nearly as much as the players.
Grown men and women hid their face in their hands, unable to watch the Aussie cybermen advancing on the New Zealand time lords. Seven more
episodes of the Cricket World Cup to go and you just know, that someone, somewhere, is going to be remembered as the most uncomfortable bloke on the planet.