A selection of musings from around the cricket World Cup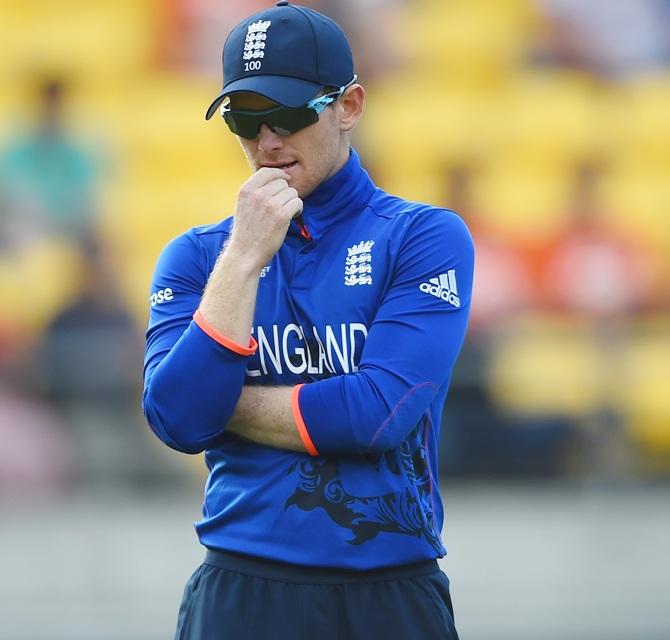 Eoin Morgan looks during England's ICC World Cup match. Photograph: Shaun Botterill/Getty Images
When Eoin Morgan, the England cricket captain, failed to sing God Save The Queen at the World Cup, questions were asked.
- The World Cup, as never before on Rediff.com
- VOTE: Who will win the 2015 World Cup?
Morgan is Irish, switching allegiance to England in 2009 in order to play Test cricket. Was his decision a political statement? A deliberate snub to the monarch?
How much can an old war horse do?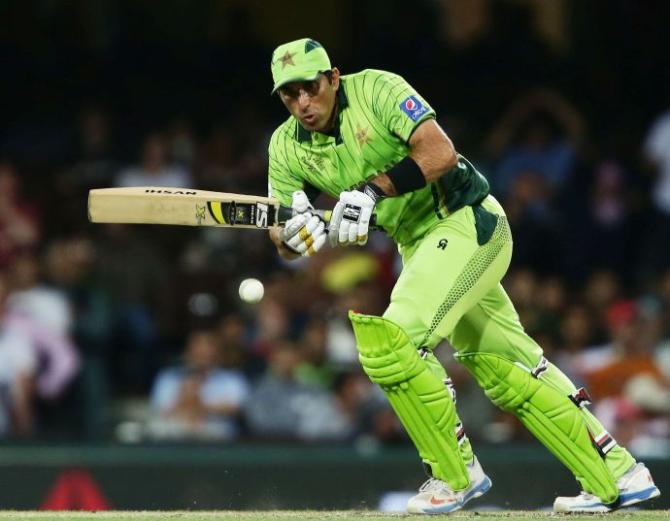 Misbah-ul-Haq. Photograph: Matt King/Getty Images
The nation of Pakistan received a welcome surprise today after their team overcame Zimbabwe in a tight contest that may as well have been dubbed the battle of the minnows – going by Pakistan's woeful recent batting performances.
In fact, considering Zimbabwe's stellar World Cup scores of 277, 286, and 289, one could argue that Pakistan's win was a bit of an upset.
After losing to India and then capitulating against the West Indies, captain Misbah-ul-Haq urged his team to seek example from the heroics of Imran Khan's 1992 efforts. Unfortunately, it seems Misbah's players took his words literally, and time traveled back to 1992 where scores of over 225 in 50 overs were considered to be commanding totals.
Was Michael Clarke having pop at Darren Lehmann?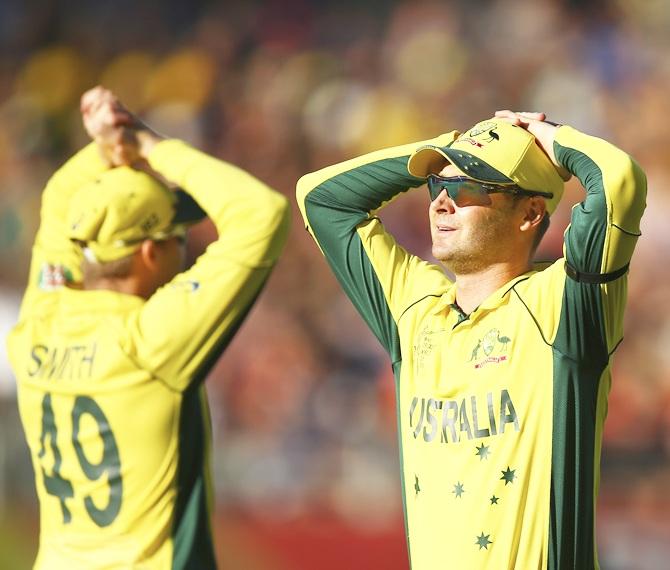 Michael Clarke, right, and Steven Smith of Australia look on during the 2015 ICC Cricket World Cup match against New Zealand at Eden Park on February 28, 2015 in Auckland. Photograph: Ryan Pierse/Getty Images
It was just a couple of sentences in a post-match explanation that ran close to 10 minutes, but in the present climate it stood out like a dot ball bowled to Brendon McCullum.
As Michael Clarke conceded his team's batting in Saturday's low-scoring World Cup thriller had been very poor, he predictably took aim at the shot selection, including his own, but also blamed the way they had practised in the week before.
DON'T MISS!
Are you watching the World Cup? Please share your videos, photos and comments here!