A selection of musings from around the cricket World Cup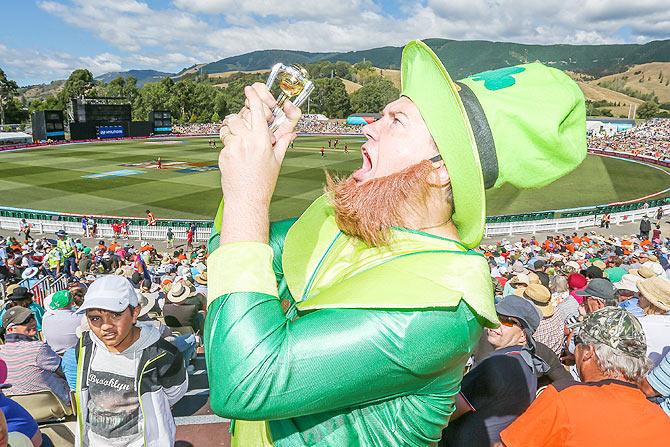 An Ireland fan poses with the replica of the World Cup. Photograph: Hagen Hopkins/Getty Images
Four weeks. Forty-two matches. And what have we gained from it? Not a great deal -- eight Test-playing nations are left as the World Cup enters its knockout stage this week.
- Predict your FOUR World Cup semi-finalists
- The Cricket World Cup like never before, only on Rediff.com
The ICC could have arrived at this scenario by having an eight-nation tournament to begin with, and selecting the teams based on performances between successive cups.
The tournament seems to drag on and on, providing much of the sameness week in, week out. There has been a great deal of contrived excitement as is usual in any multi-nation one-day tournament, a mass of largely predictable results, and the supremacy of bat over ball has been in evidence as predicted by random pundits well before the first ball was bowled.
Kohli wakes up to fulfil role as natural born leader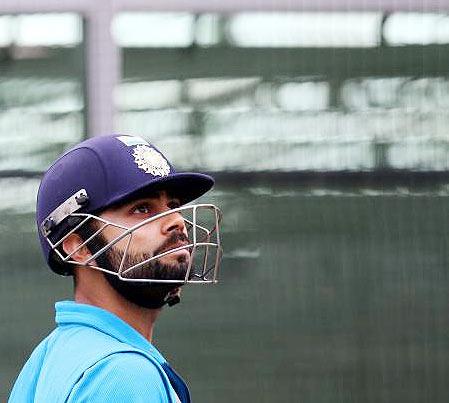 Virat Kohli looks on during a team training session at the Melbourne Cricket Ground on Wednesday. Photograph: Vipin Pawar/Solaris Images
A born winner. A man for the big occasion. Makes his runs when they are most needed. Took on Mitchell Johnson and won. A born leader, too. Of which England cricketer are these statements being made?
Well, yes, exactly. Nobody springs to mind, which is part of the reason why England are now engaged in a World Cup post-mortem and not a quarter-final. But every one of those labels can be attached to India's Virat Kohli, who is being phased in as the captain of cricket's superpower.