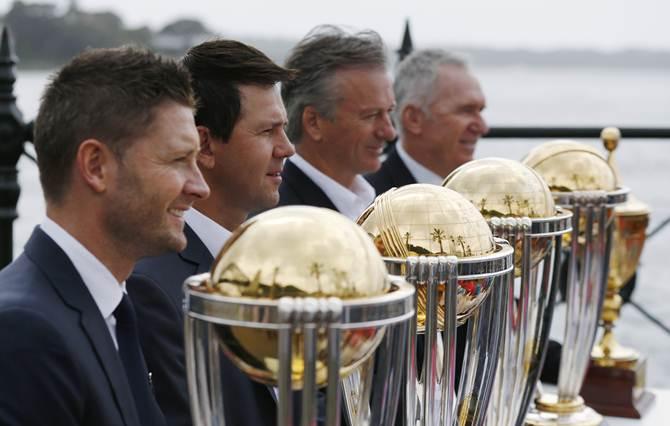 Captain Michael Clarke (left) gathers with Australian cricket World Cup-winning captains (second left-right) Ricky Ponting, Steve Waugh and Allan Border as they pose with their previous World Cup trophies in Sydney ahead of the World Cup. Photograph: Jason Reed/Reuters
Australia have drawn inspiration from former World Cup-winning captain Steve Waugh in how to handle big-match pressure ahead of Friday's quarter-final against Pakistan.
Waugh captained Australia to their second World Cup triumph in England in 1999, when they beat Pakistan in the final at Lord's, and was a part of the squad that won the nation's first trophy in India in 1987.
- Predict your FOUR World Cup semi-finalists
- The Cricket World Cup like never before, only on Rediff.com
As leader of one of the toughest teams in the modern era, Waugh famously guided Australia to the 1999 semi-finals with a match-winning century against South Africa after being dropped by Herschelle Gibbs.
Though Waugh denied telling the mortified Gibbs that he had "just dropped the World Cup", the alleged sledge entered cricket folklore after South Africa were knocked out by Australia in their subsequent semi-final.
An uncompromising captain and unflappable batsman in his prime, the 49-year-old Waugh joined up with the players for dinner to share some pearls of wisdom in his usual, direct way.
"Guys just threw a few questions out at him," opening batsman Aaron Finch told reporters in Adelaide on Wednesday.
"It was good to sit down over dinner with him and just chat about cricket really, and World Cups.
"There's not many better-credentialed players to talk to about it.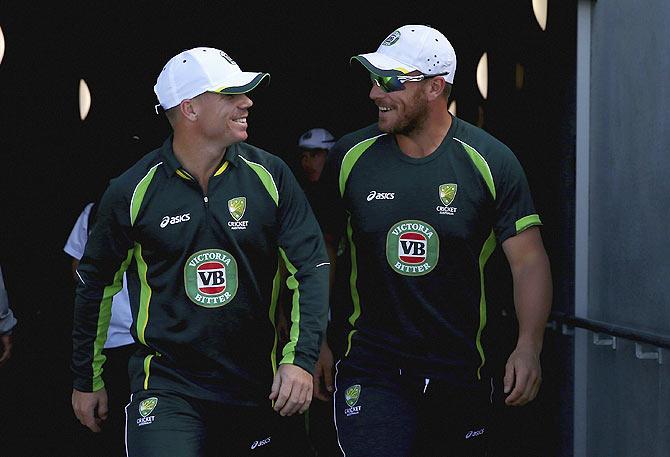 David Warner and Aaron Finch of Australia arrive for a nets session. Photograph: Ryan Pierse/Getty Images
"Steve was great in his chat last night when he said: 'There's a reason why there's pressure -- it's because you're expected to do well and expected to perform'.
"And there's only one reason for that. It's because we've been successful and we're good players, so we're excited about that challenge."
Australia suffered one tight loss away to New Zealand in the pool phase, but have been dominant otherwise, with every player making a contribution.
Finch scored a match-winning century to set the tone in the opening win against England, but has had a lean trot with the bat since, not surpassing 24 in four matches.
The stocky right-hander has been given a stern examination in the nets, copping blows from Australia's fearsome left-arm pacemen Mitchell Johnson and Mitchell Starc.
"I feel like I've been playing nicely in the nets. It hasn't translated into runs over the past couple of games but I'm not too bothered about it," Finch said.
"Getting that hundred in the first game, gives you confidence now going into a big game... I'm still very confident going into Friday."
Are you watching the World Cup? Please share your videos, photos and comments here