Sri Lanka are never anybody's pre-tournament favourites; most people even miss them when picking the four semi-finalists before a ball is bowled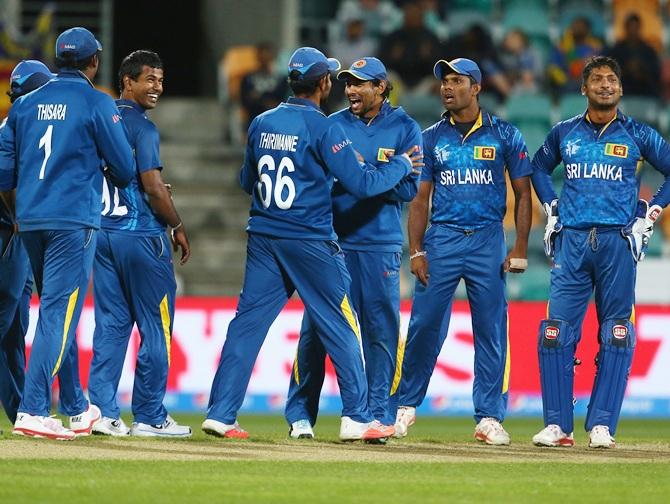 The Sri Lankan team celebrates. Photograph: Mark Kolbe/Getty Images
Talk about an ICC event and there are few teams synonymous with the knock-out stages. Australia, the ever-dominant champion side in nearly every format of the game, is one. The other is a sub-continental giant. Surprisingly, not India, but Sri Lanka.
At 38, Dilshan is Sri Lanka's guiding light
Thrilling matches in the offing as Lanka-Proteas kick-start quarters
Sri Lanka want 'unbelievable' Sangakkara to play on
Finalists in the 2007 and 2011 ODI World Cup, finalists in the 2009 and 2012 T20 World Cup, semi-finalists in the 2010 edition and eventual winners in 2014, Sri Lanka were also semi-finalists in the 2013 Champions Trophy in England.
It was only prior to 2006 that they were not as successful in breaching the knock-out stage barrier, the last event being the 2006 Champions Trophy in India.
Off late, and that is a big stretch of time, this is what Lanka does.
1. They start slowly and then gather momentum, achieving an optimum balance between bat and ball as they steamroll their way to the later stages.
2. They are never anybody's pre-tournament favourites; most people even miss them when picking the four semi-finalists before a ball is bowled in anger. Yet, when the dust settles, there they are.
Predict your FOUR World Cup semi-finalists
Six key moments in India's winning run at the World Cup
Something similar happened in this 2015 ODI World Cup as well. New Zealand and Australia on account of being co-hosts, South Africa as perennial favourites, and India as defending champion, were everybody's picks for the semi-finals. The way the last-eight line-ups are currently set, this pre-tournament bet might come to transpire indeed.
3. However, Lanka will have a mighty say in things when the first quarter-final gets underway in Sydney on Wednesday.
'Coming into the World Cup no one really gave us a chance. You know, we had a pretty poor series against New Zealand. We didn't play that good cricket. But I think we are peaking ourselves, and I think we're peaking at the right time,' said skipper Angelo Mathews.
'It's going to be an even contest from the quarter-finals onwards. Whoever plays better cricket on that day will go on to win the World Cup, but we're not looking too far ahead. We want to take one game at a time and play positive and good cricket and try to win each game,' he added.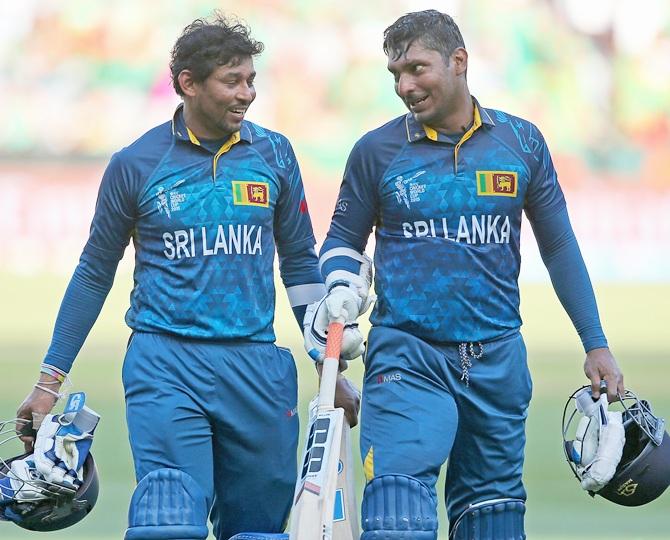 Sri Lanka's run-machines Tillakaratne Dilshan and Kumar Sangakkara . Photograph: Quinn Rooney/Getty Images
4. First up then, the Lankans will be happy getting this vital knock-out stage started at the Sydney Cricket Ground, a traditional spinners' favourite, more so considering the wicket laid for their clash against Australia previously.
5. Not to mention their opponents, South Africa, are not in the best of form at the moment. They are too reliant on AB de Villiers and in a tournament where India and New Zealand have been the best bowling attacks, followed closely by Australia, the Proteas' bowlers haven't impressed.
This latter point alone gives Lanka immense advantage. After losing to New Zealand in their opening game of the tournament, the 2011 runners-up have gone from strength to strength as concerns their batting order.
6. Tilakratne Dilshan has two hundreds to his name, against Bangladesh and Scotland. Lahiru Thirimanne got a hundred against England, while Mahela Jayawardene also got his name on the same list with a hundred against Afghanistan.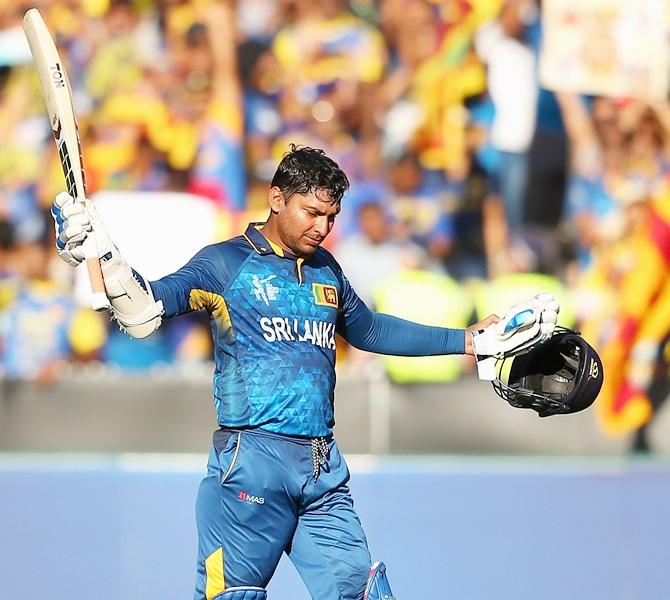 Kumar Sangakkara celebrates scoring a century. Photograph: Quinn Rooney/Getty Images
7. Kumar Sangakkara, though, has lit up this World Cup alone with four exemplary, back-to-back hundreds. He was pristine against Bangladesh at the MCG. He was in immaculate control against England at Wellington, and in full flow against Australia at Sydney, almost desperate to chase down a tall score single-handedly. Against Scotland, he just made his run of form count, like any top-class batsman would do when offered easy prey.
There is a certain point about all these innings. Sangakkara did not raise his bat whenever he breached the 50-mark, almost as if his job wasn't done. If the aspect of his looming ODI retirement is taken into consideration, he seems to be a man-on-a-mission. It is much like in the T20 World Cup in Bangladesh almost a year ago, when he and Jayawardene did the same through the tournament and left that format on a high.
Indeed, Sangakkara's form has upped the ante for Lanka. The lower order is buoyed by the top-order's good run and it could be seen against Australia when they wouldn't give up chasing a tall-order of 377 runs. They gave the co-hosts a major fright even as the two sides fought over who would finish second in the group behind New Zealand.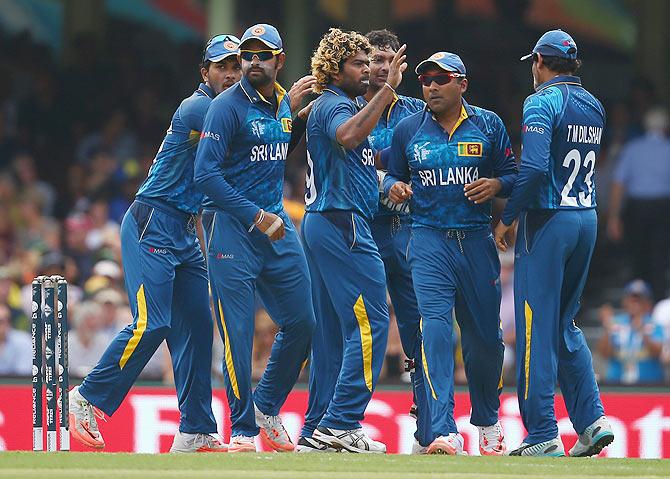 Lasith Malinga of Sri Lanka celebrates with his teammates after claiming a wicket. Photograph: Mark Kolbe/Getty Images
8. There is one weakness, however, that is holding the team back even as they prepare for the knock-out stage. Thanks to umpteen injuries the Lankan bowling attack has not been able to get together as a unit, as other front-line teams have been able to do. Dinesh Chandimal tore a hamstring while batting during Sri Lanka's 64-run defeat to Australia last Sunday and has been replaced in the squad by Kusal Perera, while paceman Dhammika Prasad, slow-bowling all-rounder Jeevan Mendis and batsman Dimuth Karunaratne are already out of the tournament.
At the time of writing, skipper Mathews (who suffered soreness in his Achilles tendon) and spinner Rangana Herath (who missed the Australia and Scotland games due to a finger injury) are expected to be fit for the South Africa game. Even so, with an uneven injury record affecting performances in previous matches, they will be heavily dependent on one man to deliver big time in the business-end of the tournament: Lasith Malinga.
'He's been brilliant in the last few games,' said Sri Lankan coach Marvan Attapattu. 'There are big game players and he's one of those. He stands up and he has a big game, and in pressure situations he comes up trumps. He is a great asset to the team and the bowling.'
Apostrophe Content and Entertainment
Are you watching the World Cup? Please share your videos, photos and comments here