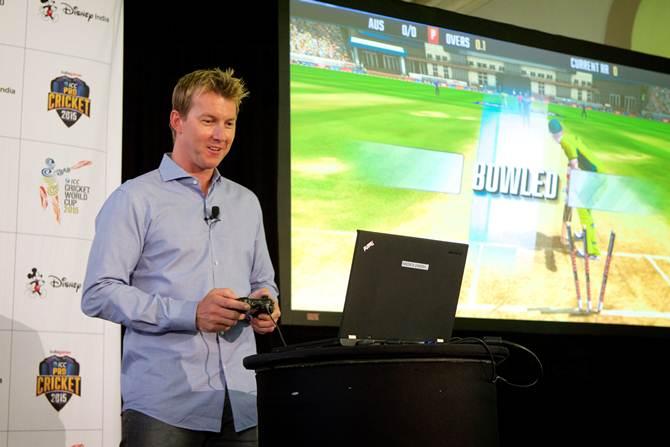 Brett Lee tries out the official World Cup game by Disney India – ICC Pro Cricket 2015 – during its unveiling in Sydney on Friday.

Former Australia paceman Brett Lee picked his country's bowling attack as the most balanced for the World Cup and expressed hope that the pitches during the tournament will retain their tradition of being conducive to fast bowling.
There are concerns that the Australian pitches for the February 14-March 29 tournament might be better suited to batting after a record number of runs were scored during India's recent four-Test series Down Under.
"The wickets when you play in India should be low and slow turning wickets. That's what India is about," Lee told reporters during a video-conference from Sydney to mark the launch of the official World Cup video game by Disney.
"When you are playing in Australia the wicket should be the traditional Perth wicket that we always see. Real bouncy, fast wickets. Sydney should have some pace.
"Adelaide should be low and slow. Brisbane should be seaming. The wickets should be traditional Australian wickets that we are used to and grew up playing on."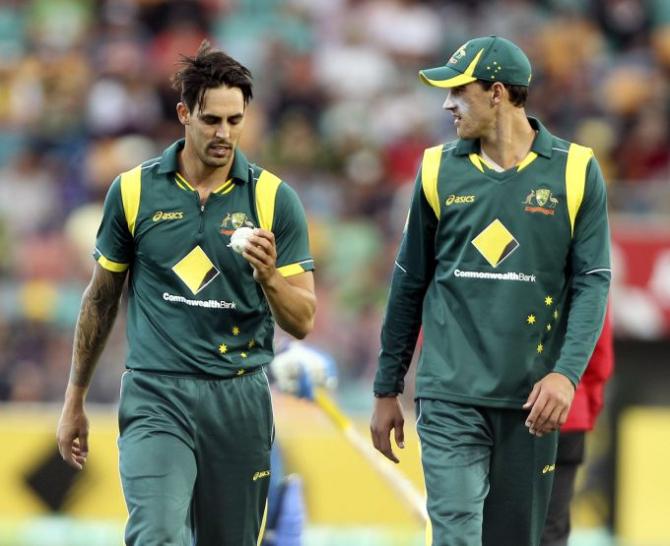 Australia pacers Mitchell Starc and Mitchell Johnson. Photograph: Brandon Malone/Reuters
The 38-year-old Lee, one of the fastest bowlers of his time, feels Australia have the ideal mix of bowlers to dominate batting sides during the 50-over tournament.
"If they are all firing on one particular day, it's Australia to me that are very balanced," said Lee, who played 76 Tests and 221 ODIs during a 13-year international career.
"They've got a strong bowling attack. You got (Mitchell) Johnson, (Mitchell) Starc, (Pat) Cummins and (Josh) Hazlewood, just to mention a few."
England, South Africa, New Zealand and India also had the variety in bowling to succeed at the tournament, according to the right-arm paceman.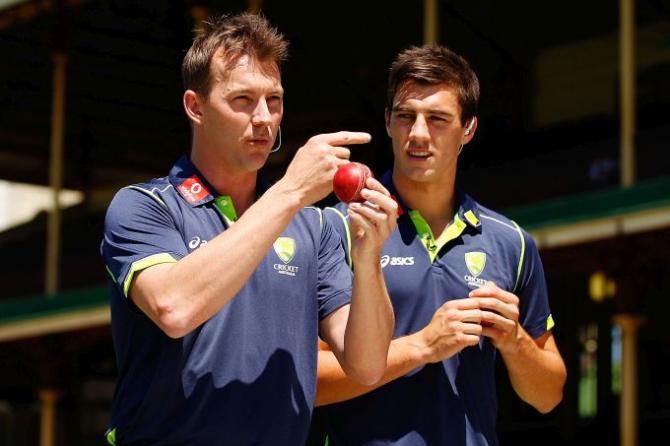 Brett Lee and Pat Cummins. Photograph: Brendon Thorne/Getty Images
The twice World Cup winner will pass on his experience and knowledge about the local conditions as a bowling coach for giant-killers Ireland during the event.
"My allegiance is with Australia, but it wouldn't be fair of me not to take the opportunity to try and pass on some knowledge to younger players coming through," said Lee, who agreed a short-term deal to help Ireland during their warm-up period.
"It is my chance to give something back to cricket."
Ireland, who defeated Pakistan and England in the 2007 and 2011 editions of the tournament, have been paired in Pool B against South Africa, India, Pakistan, West Indies, Zimbabwe and the United Arab Emirates.