Penpix of the West Indies squad for the 2015 cricket World Cup in Australia and New Zealand.
6 reasons why West Indies is MOST TROUBLED World Cup team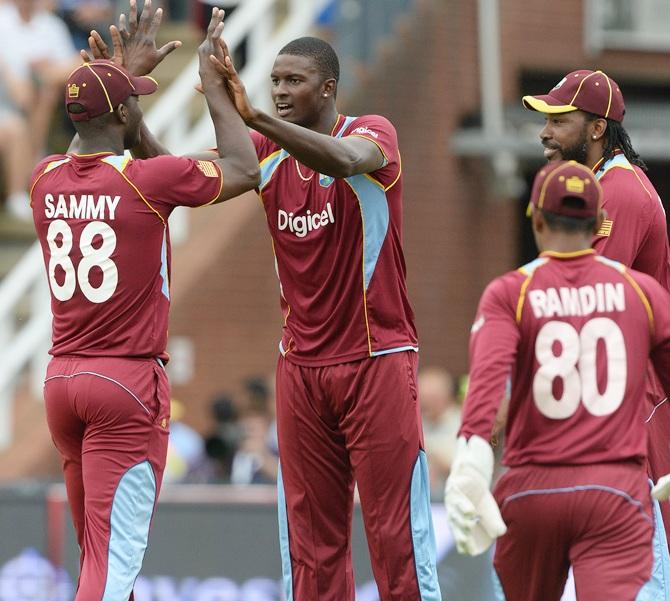 Jason Holder of West Indies celebrates a wicket with teammates. Photograph: Duif du Toit/Gallo Images/Getty Images
Jason Holder (23): Right-arm medium-fast bowler. 26 matches. 37 wickets. Best bowling: 4-13
A hugely surprising choice as captain given his youth and relative inexperience, the Barbadian faces a huge challenge in uniting a dressing room not known for its unity. A promising seamer and useful lower-order batsman, the captaincy appears to many a premature and unnecessary burden.
Marlon Samuels (34): Right-hand bat/right-arm off-spinner. 167 matches. 4,401 runs. Highest score: 126 not out. 82 wickets. Best bowling: 3-25
Hugely talented batsman and useful off-spinner, Samuels has rebuilt his career after returning in 2011 from a two-year ban for involvement with a bookmaker. The Jamaican may never have quite lived up to his potential but can be an explosive match-winner on his day.
Sulieman Benn (33): Slow left-arm orthodox bowler. 31 matches. 32 wickets. Best bowling: 4-18
The lanky Benn uses his height effectively, making himself difficult to score from in the one-day game. An aggressive player who sometimes lets his passion get the better of him, Benn has never truly established himself as first choice spinner but will have a key role in the tournament.
Darren Bravo (26): Left-handed batsman. 79 matches. 2,171 runs. Highest score: 124
Drew comparisons with fellow Trinidadian Brian Lara from an early age and not without accident -- Bravo consciously modelled his game on his compatriot and hero and it is noticeable.
Bravo, the younger brother of all-rounder Dwayne, will need to deliver consistent scores if West Indies are to make a challenge.
Jonathan Carter (27): Left-handed batsman. Five matches. 80 runs. Highest score: 40
A surprise inclusion, Carter is a late developer who is a product of the West Indies 'A' team. An attacking strokeplayer, if Carter is used it is likely to be down at number six.
Sheldon Cottrell (25): Left-arm fast bowler. Two matches. Two wickets. Best bowling: 2-39
Another player inexperienced at international level who has been thrown in at the deep end for the World Cup, the Jamaican is a throwback to the days of fiery fast bowlers from the Caribbean.
Chris Gayle (35): Left-handed batsman. 263 matches. 8,881 runs. Highest score: 153 not out
Hugely powerful striker of the ball who has the ability to single-handedly take apart a bowling attack, the former captain has become a star of the Twenty20 circuit.
Will claim his place among the most spectacular of Caribbean batsmen despite playing through an era of struggle and decline for his team. His tight off-break bowling can also be valuable in the one day game.
Nikita Miller (32): Slow left-arm orthodox bowler. 45 matches. 40 wickets. Best bowling: 4-43
The left-arm spinner last played an ODI in March, 2014 and was a late inclusion in the squad following the withdrawal of West Indies' first choice spinner Sunil Narine.
Denesh Ramdin (29): Right-handed batsman/wicketkeeper. 120 matches. 1,804 runs. Highest score: 169. Dismissals: 200
Test captain and first choice behind the stumps, Ramdin's ability with the gloves has rarely been questioned but his batting form has been inconsistent for a player with evident technique and skill. His 128 against England in Antigua last year showed the skill is there.
Kemar Roach (26): Right-arm fast bowler. 64 matches. 98 wickets. Best bowling: 6-27
Genuinely quick but lacking the expected height, Roach's skiddy deliveries, forcing batsmen to hurry their shots, have made him an effective test match bowler and an established part of the one day team.
Andre Russell (26): Right-arm fast bowler/right-handed batsman. 43 matches. 840 runs. Highest score: 92 not out. Wickets: 53. Best bowling: 4-35
Exciting Jamaican all-rounder who sadly only featured in one test but who can be highly effective in the short-forms.
A quick bowler, hard-hitting batsman and athletic fielder, the World Cup is the perfect stage for Russell to show he is more than just another T20 specialist.
Darren Sammy (31): Right-handed batsman/right-arm medium pace bowler. 119 matches. 1,694 runs. Highest score: 84. 80 wickets. Best bowling: 4-26
The first St Lucian to captain West Indies, he led the team to the 2012 World Twenty20 title and his tight bowling and effective middle-order batting have been consistently useful in the short formats if no longer enough to merit a place in the test team.
Lendl Simmons (30): Right-handed batsman. 61 matches. 1,785 runs. Highest score: 122
Identified at a young age as an exciting talent, he enjoyed successful spells in the Under-19 and A team before stepping up to the test side in 2009.
Has disappointed at test level but could play a key role in the upper order. Nephew of former test batsman Phil Simmons.
Dwayne Smith (31): Right-handed batsman. 99 matches. 1,467 runs. Highest score: 97
Despite an evident strokemaking talent, the Barbadian has never truly established himself in over a decade in the West Indies set-up.
An average of 18.80 in the one-day game with just eight half centuries in 83 innings is a record of under-achievement. This could be his final chance to change that impression.
Jerome Taylor (30): Right-arm fast bowler. 72 matches. 106 wickets. Best bowling: 5-48
In his early 20's Taylor's pace and bounce made him the most promising West Indies fast bowler in years but a back injury led to a breakdown on the tour of Australia in 2009.
Several returns in regional cricket were short-lived as his back continued to trouble him. After a four-year absence he returned to the one-day team in October 2014 and has performed well enough to earn his place.