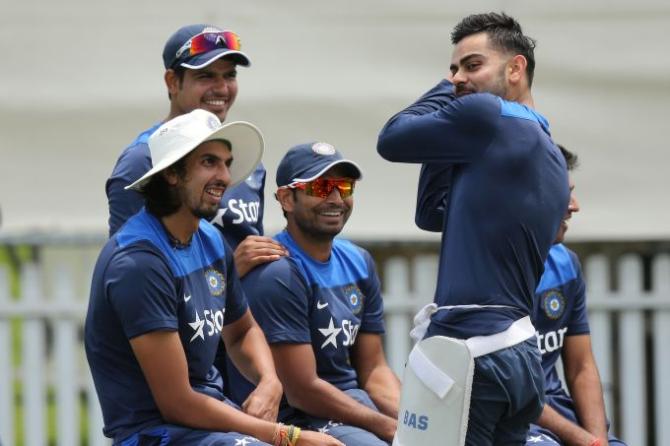 Virat Kohli shares a joke with teammates during a practice session. Photograph: Morne de Klerk/Getty Images
India may have had a terrible Australian summer so far, but commentator Harsha Bhogle said that putting in hard-yards against the No 1 ODI side would have certainly made the 'Men in Blue' battle-ready for the cricket World Cup.
India lost the four-match Test series 0-2 and then failed to win a single match in the tri-series involving Australia and England. Bhogle believes that the losses can be a blessing in disguise for Mahendra Singh Dhoni and company.
"Look India may have fared badly against Australia but you are not playing Australia every day. There is also Pakistan, Sri Lanka and New Zealand that they will have to face. So after putting in that hard yards against the best ODI side for so long they might find themselves in good position to take on the the rest of the sides," Bhogle said on the sidelines of the official World Cup game launch titled ICC Pro Cricket by Disney India.
'Not too worried about Dhoni's ODI form'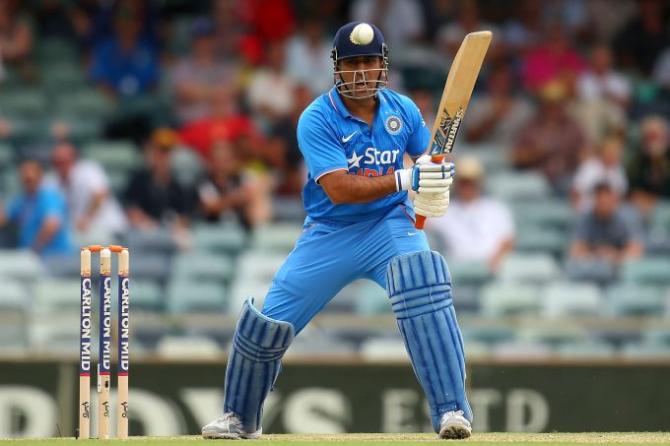 MS Dhoni. Photograph: Paul Kane/Getty Images
Commenting on India's fragile batting line-up, the cricket analyst opined that apart from the opening slot, batting is not much of a worry.
"The batting I think will take care of itself in 50 overs. The opening slot I believe is a cause of worry and also the No.7 spot, but apart from that the batting looks all right.
"There should be a No.7 on whom Dhoni can rely on and play his shots freely. That will also help Virat Kohli to take his usual No.3 position and the Raina's can then follow at 4, 5 and 6," he said.
Meanwhile just when everybody seems to be fretting over Dhoni's lack of runs ahead of the 50-over showpiece event, Bhogle says he is not too worried about the wicketkeeper-batsman's form in ODIs.
"I am not too worried about Dhoni's ODI form. Yes, he has struggled in the longer format but in the one-dayers he seems to find his groove if he gets going," said Bhogle.
'Dhoni may opt for Shami with the new ball'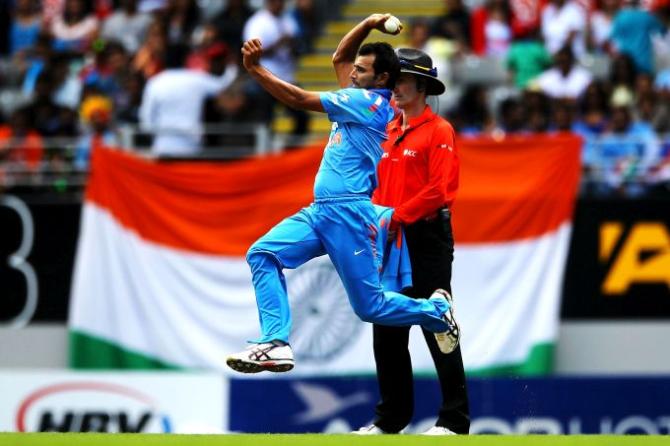 Mohammad Shami. Photograph: Anthony Au-Yeung/Getty Images
Trying to take a peek into Dhoni's mind, Bhogle felt that the skipper may pick Mohammed Shami for the new-ball duty but suggested that the Bengal pacer should work on his consistency.
"Dhoni may opt for Shami with the new ball. Because he swings and seems but he should be more consistent. Consistency is his main problem," he said.
Bhogle also insisted that India will find their way to the top-four if they play consistent cricket.
"My top-four is not very different from others and India does feature in it. Look, everybody has Australia, South Africa and New Zealand in their semi-final pick and I also feel that India will also make a place there," he said.