Pakistan can break World Cup jinx against underperforming India, believes former Pakistan captain Zaheer Abbas.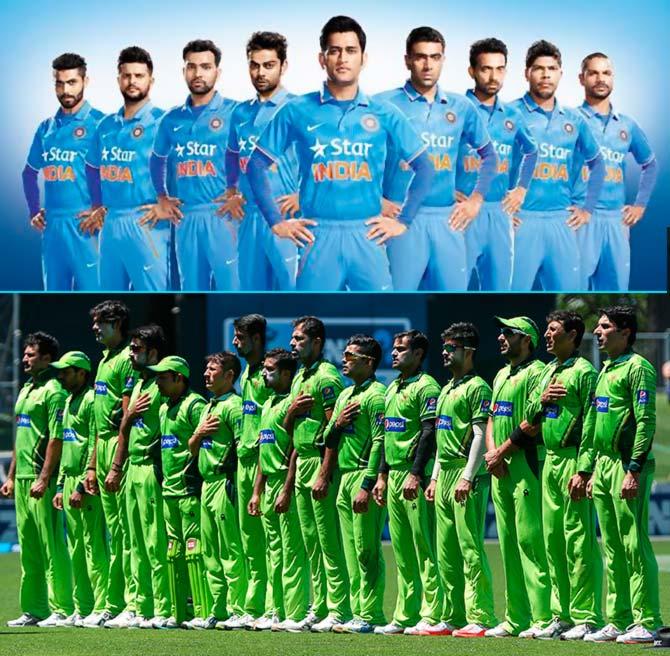 Players of Team India and Team Pakistan. Photograph: BCCI/Twitter and Hagen Hopkins/Getty Images
Batting great Zaheer Abbas feels that considering India's recent dismal show in Australia, Pakistan has a golden chance to break the jinx of not beating the defending champions in a World Cup match.
Pakistan have never beaten arch rivals India in their last five meetings at the World Cup. They play against each other in their World Cup campaign opener in a potentially high voltage contest on February 15 at Adelaide oval.
"I think Australia, New Zealand and South Africa will make it to the semi-finals. The fourth team will be either India or Pakistan. Hence, the first match is very crucial and it will be really a high voltage contest," Abbas said.
"Pakistan could never win against India in a World Cup but they have a golden chance to break that jinx this time. I have seen India's performance in Australia and their first practice match against the hosts on Sunday, so I can say that. I hope that Pakistan can find their team combination right as the injury list is growing day by day," he told PTI-Bhasha from Multan.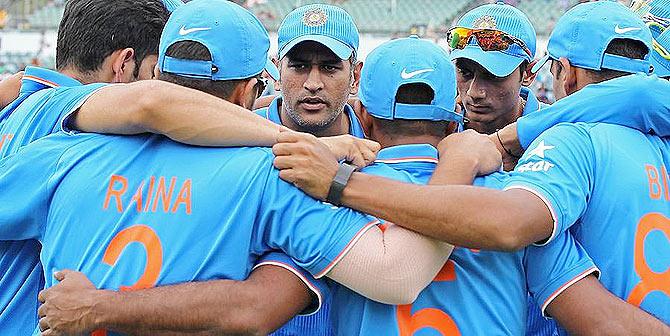 India captain Mahendra Singh Dhoni huddles up with teammates. Photograph: BCCI/Twitter
The former Pakistan captain said that India, being the defending champion, will be under more pressure than Pakistan.
"India are the defending champions, so there will be more pressure on them to perform as compared to Pakistan," said the 67-year-old Abbas who was the first batsman to score three consecutive ODI centuries in 1982-83 -- all of them came against India.
Abbas said that India has an experienced team while Pakistan are a young side and they have to give their best in the very first match.
Pakistan were hit hard by injuries. After pace bowler Zunaid Khan, all-rounder Mohammad Hafeez is also out of the World Cup due to injury.
"The Indian team is experienced, while Pakistan has a young team. They (Pakistan) have fitness issues as well and team combination is also not settled as of now. Batting will be weakened in Hafeez's absence but players are talented and if they can handle the pressure well, they will win," said the former batsman who has scored 5062 runs in 78 Tests and 2572 runs in 62 ODIs.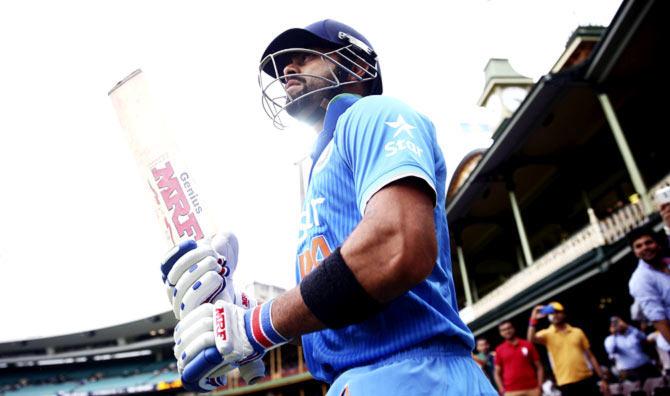 Virat Kohli walks out to bat Photograph: Ryan Pierse/Getty Images
He, however, refused to write India off despite the struggling form of Mahendra Singh Dhoni and his men recently.
"Pakistan does not have bowlers like Imran Khan, Wasim Akram or Waqar Younis now. Indian batting is strong but they are not performing well in Australia. They could not win a single match their but we can not write them off," he said.
"The World Cup is a different tournament and they will do well as they (India) have experience of winning the trophy. I can only say that handling the pressure will be the key as far as India-Pakistan match is concerned," he added.
Asked who will be one Indian player to watch out for in the tournament, he said that all eyes will be on star batsman Virat Kohli.
"This Indian team does not have Sachin Tendulkar, so all eyes will be on Virat now. He is the best batsman for India and he has to perform to his potential. The Indian bowling is looking weak so they have to rely on their batting. They have been playing is Australia for two months now and are acclimatized well," he said.