'No bowler is without injury and this is not new to the sport'
'I think Bhuvaneshwar Kumar should be the bigger loss'
'I think if India is banking on one man then India has lost the World Cup already'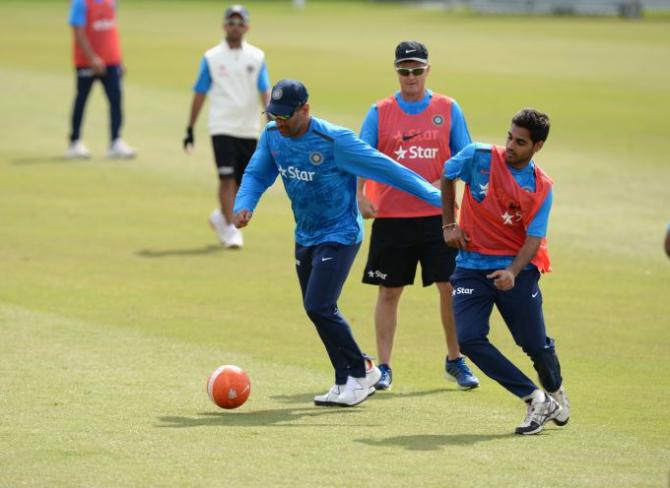 Mahendra Singh Dhoni and Bhuvneshwar Kumar during a training session. Photograph: Tony Marshall/Getty Images
As India heads into the World Cup, battered and bruised, they will be hoping that all their four players on the injury list recover in time when they take on Pakistan in their campaign opener.
Rohit Sharma, Ishant Sharma, Bhuvneshwar Kumar and Ravindra Jadeja have all been nursing injuries and their fitness is critical to India's success at the mega event, starting February 14.
Ask cricket commentator Harsha Bhogle and he will tell you that the biggest challenge for Mahendra Singh Dhoni is how he manages his set of bowlers.
The Cricket World Cup: Complete Coverage
"No bowler is without injury and this is not new to the sport. It is not that you are suddenly missing Virat Kohli and Ajinkya Rahane. I think Dhoni is going to have to manage his bowlers very carefully.
"I think Mohit Sharma bowled alright in the last game. Maybe Dhoni will retain him to use more slower bowlers than quicker bowlers, making it interesting to watch. I think it is a question that is best answered once you know whether a player is definitely in or out," said Bhogle on the sidelines of an event in Sydney on Friday.
'If Bhuvneshwar misses on being in the playing eleven, he will be the bigger loss'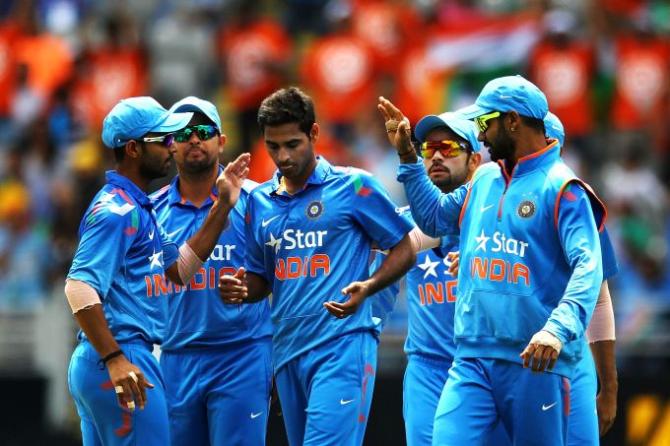 Bhuvneshwar Kumar. Photograph: Anthony Au-Yeung/Getty Images
But even Dhoni knows that the task will not be easy. After all, missing someone like Bhuvneshwar could hurt India badly as he provides the much-needed control up front.
"I think Bhuvaneshwar Kumar should be the bigger loss, because when he is in form he is significantly swinging the new ball.
"Also, he has started to bowl the end overs pretty well. So I think that if Bhuvaneshwar misses on being in the playing eleven he will be the bigger loss," Bhogle added.
Former Australia fast bowler Brett Lee echoed similar sentiments, saying it is vital that India's bowlers are fit if they have to succeed in the tournament.
"I think what India needs to do is ensuring that the fast bowlers are fully fit. Ishant Sharma, to me, could be a bowler that could play a huge role along with someone like (Umesh) Yadav, who was rested for the recent match in Perth. Now whether he was injured or whether he was pre-rested to be ready for this World Cup campaign, the need of the hour for India is pace," said Lee.
'India need quick bowlers that can bowl good bouncers and have a good slower delivery'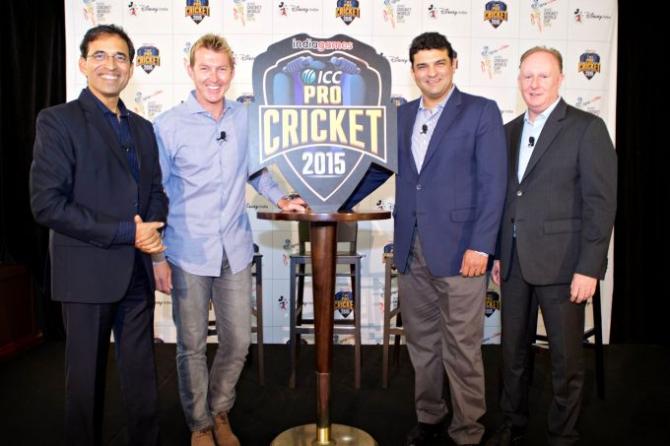 Harsha Bhogle (extreme left) and Brett Lee with Siddharth Roy Kapur (Managing Director, Disney India) and Campbell Jamieson (ICC General Manager) at Disney India's launch of the official game for ICC Cricket World Cup 2015 – ICC Pro Cricket 2015, in Sydney.
Lee stressed on the importance of slower deliveries and yorkers in the death overs, saying India needs a bowler who has the ability to do both.
"Out here, they (India) need quick bowlers that can bowl good bouncers and have a good slower delivery in their armory along with the skills to bowl during the death overs. What I mean by bowl at the death is to be able to deliver fast 145 km yorkers that can knock-out a team at the death.
"This is because they are not playing on wickets like those in India that are dusty and the ball turns and swings. Here, they would be playing on wickets that are conducive to fast bowling in Australia and so they need good, young fast bowlers," Lee added.
'Don't think any team can bank on one person to go ahead'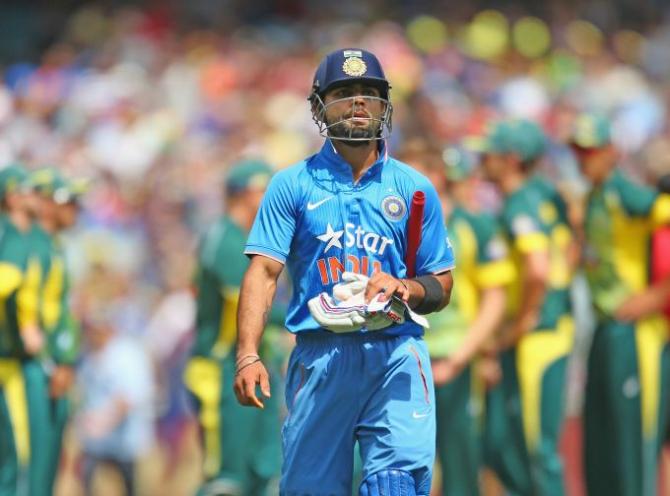 Virat Kohli. Photograph: Scott Barbour/Getty Images
Quizzed about India's over-dependence on Virat Kohli, Bhogle was quick to point out that if that's the case then India has already lost the battle.
"I think if India is banking on one man then India has lost the World Cup already. I don't think any team can bank on one person to go ahead. In terms of absorbing the pressure, you do it well and that is the reason you're called an elite sportsperson? What's the difference between an elite sportsman and an average sportsman? The elite sportsman is someone who can take the pressure. So if there's so much pressure on Virat Kohli that's because he's seen to be that kind of person. All the great players in the world have taken pressure," said Bhogle.