'Judging by the formbook, both sides are an equal chance to win. Pakistan has the better-balanced attack, offset by a batting line-up that oscillates between the brilliant and the bwahahaha, sometimes in the space of the same over.'
'As for India, 'bowling attack' is an oxymoron and the batting line-up is still struggling to memorise its lines.'
Prem Panicker, arguably the finest cricket writer alive, studies the form book for Sunday's World Cup game.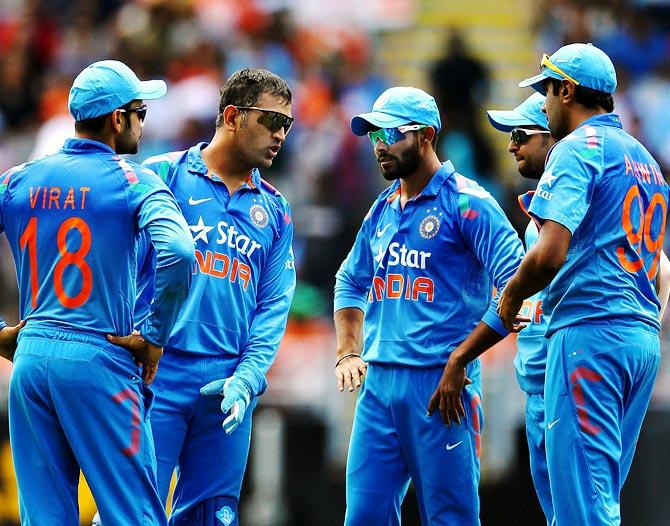 A strong rumour I fabricated just this minute suggests that before the start of its innings, India lines up its top five batsmen for a round of Inky-Pinky-Ponky to determine who will go in at the hinge position of number three.
Over the team's last 16 games in the World Cup preparatory cycle beginning August 27, 2014 against England at Cardiff, Virat Kohli, Ambati Rayudu, Ajinkya Rahane and Suresh Raina have variously played Ponky -- and this inability to sign up a long-term tenant for the number three slot has been the team's most visible vulnerability.
Terms like 'strategy' and 'tactics' are used to spin what is essentially confusion over the role and form of the side's totemic player. The explanation runs thus: If a wicket falls early we will send out someone else at number three so Kohli gets a buffer; if the first wicket lasts for ten overs or more, we will send out Kohli at three to maximise his batting time.
Sounds sensible, till you put yourself in the mind of a batsman -- and Kohli's own experience is illustrative. India's in-form Test batsman famously threw a hissy fit when asked to bat in place of Shikhar Dhawan at the start of the fourth morning of the fourth Test against Australia at the Gabba.
His objection was that he had only seven minutes to change into his gear and get his mind into batting mode. The resulting mental turbulence resulted in his cheap dismissal even in the midst of a dream run.
How then is any of Rahane, Raina, Rayudu or the designated Ponky-of-the-day supposed to cope, knowing that if conditions are difficult he'll have to take the heat and if conditions are benign, then Kohli gets to benefit? And how do you in one breath vaunt Kohli as your best batsman and in the next, suggest that like a fretful Caesar, he needs to be cosseted by a Praetorian guard?
The obvious solution is to bed Kohli down at three, accepting a failure or two in the knowledge that for a player of his talent, a return to form is one good hit away. Alternately, bat Rahane at three and Kohli at four but keep them there, so each can grow into the respective role.
The strength of conviction required to make such a call is diluted by problems elsewhere. Dhawan is still to find a bat that has a middle to go with its outsize outer edge. Rohit Sharma is in sure touch with the bat, but his various body parts seem to be held together by rubber bands and hope.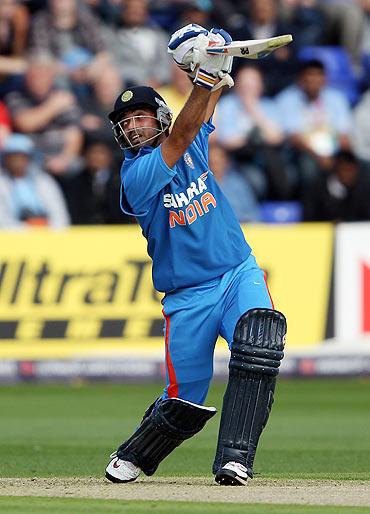 Rahane, easily India's most consistent batsman, has adapted to the varied positional challenges thrown at him with admirable sang froid. However, India's use of him as silly putty to caulk every batting hole that opens up doesn't give him a chance to settle into an optimal slot.
Then there is Suresh Raina, all bustle and bristle when he can play with low hands and free arms, but visibly discommoded by the steepling lift of Australian tracks that ramp the ball up at his throat. M S Dhoni's last influential score away from home was 52 off 51 against England at Cardiff back in August 2014; since then, he has lacked quality time in the middle.
When Dhoni repeatedly insists that India 'can't afford' to play five bowlers, he is really saying that he can't trust six batsmen. A modern master at the art of using a lot of words to say nothing at all, the Indian captain inadvertently underlined the team's prevailing confusion when he said, in the post-warm up press conference:
'If you see the good sides, they bat quite deep. Even with the kind of batsmen that we have, we know they can bat, but how they can bat at the first-class level is not how they will bat at the international level...'
'We need to get our batting strong. The lower-order contribution is something that is a key factor. We can't really have four to five batsmen in the lower order that will get out quickly because you want to make the most of 50 overs.'
Simply put, Dhoni thinks his top six batsmen -- including himself -- can't be trusted to inflate the scoreboard to intimidatory levels, so he needs additional firepower in the lower half.
He got his wish in the warm-up game when his team composition was 11 batsmen and eight bowlers. In chase mode -- which is the team's default setting -- a line-up with Ashwin at 11 not only failed to deliver, it even failed by 4.5 overs to last the full fifty overs, Dhoni's sine qua non.
The seventh batsman is at best a placebo. The only way to ease pressure on an under-pressure batting unit is for bowlers to strike early, and often. While a warm-up game is not probative, February 8 was instructive when read with the preceding triangular series against Australia and England.
India used all six front-line bowlers inside the first 23 overs, and eight overall -- double the number Dhoni wants in his line-up. Yet an Australia that retired Glen Maxwell, recuperated Clarke and Faulkner and gave its five bowlers a hit still ended up with 371.
India's bowling template, honed in and finely tuned for home conditions, revolves around part-timers slowing things down with the older, softer ball in the second half of the innings.
That tactic has demonstrably failed in Australia, for valid reasons: The bats are meaty. The boundaries are short. The field restrictions reward mishits. The use of two balls per innings means the ball in use is never going to get soft and slow.
It follows that the fielding side has just one option -- take wickets. And the only way to do that in the conditions on offer is to bowl fast and straight, consistently, at either end.
The key is pace -- in the air and off the deck. 145 kmph is the new 135 kmph, but the only time an Indian bowler can see the speedometer top 140 is if he borrows one of Dhoni's 33 super-bikes. At the mid-130s -- the bowlers' operational setting -- on tracks where the ball comes even-paced onto the bat, it's all too easy for strong line-ups to power off the blocks. In the process, the ability of the Rainas, Sharmas and Jadejas to get a chokehold in the middle is negated.
This combination of uncertainty with the bat and ordinariness with the ball is why even commentators contracted to beat the drum have shied away from naming India as one of the favorites for the 11th edition of the Cup.
But who cares? On Sunday the 15th, it is India versus Pakistan -- THE game that matters more than the other 48 games.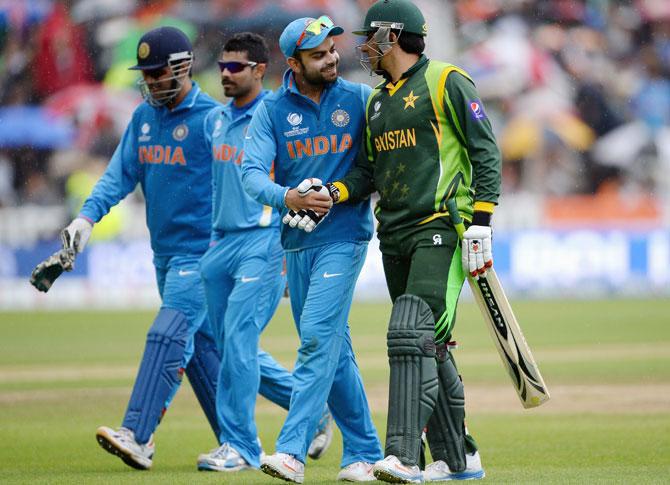 Actually, not so much -- because much as we would like to treat it as such, this is not proxy war; its resolution will not settle the border dispute or prevent incursions or usher in a brave new world. It is just a game -- one of six India will play in the first phase.
Judging by the formbook, both sides are an equal chance to win. Pakistan has the better-balanced attack, offset by a batting line-up that oscillates between the brilliant and the bwahahaha, sometimes in the space of the same over. As for India, 'bowling attack' is an oxymoron and the batting line-up is still struggling to memorise its lines.
The double XL-sized league phase that begins February 14 is a Valentine to advertisers, hand-crafted to ensure that the commercially attractive teams -- read India -- make it through the first round.
India has games against the UAE, Zimbabwe, Ireland and the West Indies to ensure qualification, plus outings against Pakistan and South Africa to test its immune system against pressure and pace.
Sunny Gavaskar, whose ability as a batsman is exceeded only by his propensity to spout banal nonsense, was heard saying during India's warm-up game against Australia: 'It is very important for a batsman to get his lungs working.' 'Indeed!' co-commentator Mark Nicholas said with tongue bulging his cheek, 'You are in big trouble if your lungs aren't working!'
But Sunny has a point, even if his making of it is unintentionally risible. It is important to get your playing lungs working, to get the various gears to mesh, to find a way past the wheezy stutter of the last couple of months.
That is the only good thing to say of a format that calls for 42 games to decide who plays the next four games -- it gives India the precious gift of time.
REDIFF RECOMMENDS
Images: Top: Mahendra Singh Dhoni confers with his team mates. Photograph: Anthony Au-Yeung/Getty Images
Middle: Ajinkya Rahane Photograph: Michael Steele/Getty Images
Bottom: Virat Kohli congratulates Pakistan's Misbah-ul Haq after a India-Pakistan game. Photograph: Getty Images