Pakistan will have to wait for some more time to bring international cricket back to the country as the International Cricket Council (ICC) believes that it needs to do more on the security front to win the confidence of the foreign teams.
ICC Chief Executive Dave Richardson on Sunday said it is "premature" to comment if the country is safe to host international matches.
"It's safe or not that we have to ask the security officials. Obviously, they have got a difficult situation there and I think they still have a lot of work to do in convincing the international teams to tour Pakistan. I think it's premature to say whether it's safe to tour Pakistan or not," Richardson said.
No Test playing nation has toured Pakistan since militants attacked Sri Lankan team's bus in March 2009 in Lahore.
Pakistan had been working hard to convince the Bangladesh Cricket Board (BCB) to tour the nation for a short series. But Bangladesh recently called off their January tour of Pakistan because of security worries.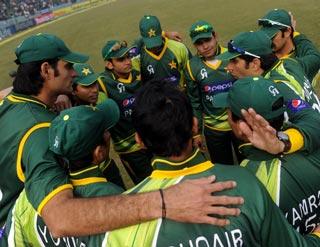 The ICC statement has also now put a question mark on the country hosting an international series in the near future.
Richardson seemed happy with the resumption of bilateral ties between India and Pakistan and said both the countries should play each other on a regular basis.
"Fortunately, we always have the ICC events where they can play each other. Apart from that, we have the bilateral  events and it's up to the two countries to determine how regularly they play. For the Test matches and other series, the two parties (BCCI and PCB) are talking to each other on a continuous basis. Hopefully, they can work something out.
"Obviously, we would encourage that more cricket is being played between India and Pakistan without over killing it," said Richardson, who is in the capital to witness the third and final One-Day International between India and Pakistan at the Feroz Shah Kotla stadium in New Delhi.
Commenting on growing clamour for Dhoni's ouster as a captain after series of dismal performances by the team at home and away post World Cup triumph in 2011, Richardson, who himself donned the responsibility of wicketkeeper-batsman for South Africa for 42 Tests and 122 ODIs, said, "If he is a good captain, which he is, then he should remain at the job.
"The only way you judge a keeper is by how much he misses and Dhoni doesn't miss too much. In fact, I have always marvelled at his workload. The fact that he is batting at number six, captaining the side and keeping wickets, I think he has exceptional talent. He also stays calm.
On providing a separate window to the Indian Premier League in Future Tours Program, Richardson said, "Practically, most countries do provide that window without formally being provided. The domestic T20 league...those have to co-exist with the international cricket.
"IPL is very important and a big event, it provides a lot of employment to many international players. To provide windows to all the other T20 leagues happening around the world would be totally impractical. They have to co-exist with us. The countries need to find a good balance.
"The IPL has more positives than negatives. The skills develop in all three departments of the game. It adds to the skills of the international players," he added.
Talking about BCCI's reluctance to introduce DRS (Decision Review System) in the home series, Richardson said the idea behind introducing the technology is to improve the accuracy, reliability and the ball tracking system.
"There are a number of teams and the players who want to have DRS on a more consistent basis. At this stage, the majority of member countries agree with the ICC policy to have it in the series so when it is used it works well. I think in the longer run, it's good for the game.
"To avoid umpiring controversies, our goal is to make sure that if it is used, it should be used well. The policy is 'don't force it on the member nations'."
The ICC has made few changes to spice up ODIs, giving bowlers some leeway by allowing two bouncers an over, doing away with the bowling Powerplay rule and allowing only four fielders outside the 30-yard circle in the non-Powerplay period.
Asked about the new rules, the ICC CEO said the purpose is to make cricket more attacking both from the batting and bowling point of view.
"I think it will take some time for captains to work out the strategy to deal with it. I think it's far too early to form any judgement whether its been successful or not. For me, we have to have a full year cricket, look at all the facts, and if it did contribute to more attacking cricket, then we will take it forward from there on."
Despite the presence of so many domestic T20 leagues going on around the world, Richardson is still not worried about the future of the 50-overs format.
"There's no doubt in my mind that 50 overs is still a good product to continue with. To me, it provides the perfect balance, it's a full day out and you get a result in that very same day. There is still a place for the 50 overs game."
Richardson also advocated the need to have day-night Test matches and said it will help in increasing the popularity of the format.
"We are happy with it. There are very few venues in the world probably which can hold a day night match because you have to keep in mind dew and floodlights quality. But, if you can find a venue where there is no dew, the lights are good then I don't see any problem in going ahead with it. One venue which comes to my mind presently is Barbados."
Photograph: BCCI