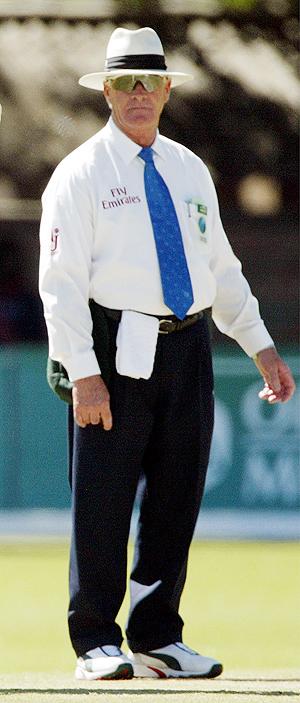 ICC Chief Executive Haroon Lorgat on Tuesday paid glowing tribute to record-holding umpire Rudi Koertzen of South Africa and wished him all the best for his final Test starting on Wednesday at Headingley.
Emirates Elite Panel umpire Koertzen will officiate in his final Test match starting on Wednesday when Pakistan take on Australia in the MCC Spirit of Cricket Test match, bringing an end to an illustrious umpiring career.
"We owe a debt of gratitude to Rudi for his hard work and effort throughout his time as an international umpire," Lorgat said.
"He is one of the most highly respected umpires of the game and we wish him the best of luck in his final Test tomorrow. It is somewhat fitting that Rudi's final appointment before retiring from the Elite Panel is to officiate in the pinnacle of our great sport, Test cricket," he added.
The retirement of Koertzen will see the end of an outstanding career for the 61-year-old, who will have stood in 108 Tests, a record 209 ODIs and 14 T20Is.
Koertzen made his international ODI debut on December 9, 1992 in a match between South Africa and India at Port Elizabeth and three weeks later at the same venue and between the same opponents stood in his first Test match.
ICC Umpires and Referees manager, Vincent van der Bijl said, "Rudi can be proud of the respect and affection that he has generated among his fellow umpires as well as captains, players and administrators alike.
"We all applaud him for his professionalism, integrity and for being such a fine team player in the officiating ranks. His character, warmth and sheer love of cricket will remain with us and be a beacon for those who follow.
"We hope that the Headingley crowd give Rudi the reception that his outstanding career deserves. He is special and he will be remembered as one of the greats of the umpiring fraternity," he added.