Following his impressive batting show in India's 5-0 series win over Sri Lanka, where he was named the man of the series, Virat Kohli has moved to second place in the ICC ODI Rankings for batsmen.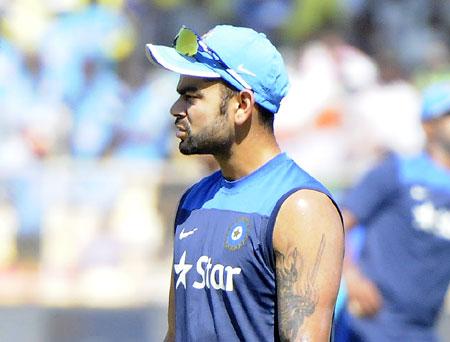 Kohli, who hit 139 not out in the fifth ODI in Ranchi on Sunday as India completed a clean sweep, jumped one place to be behind top-ranked AB de Villiers of South Africa. The stand-in captain had earlier scored 66, 53 and 49.
Meanwhile, world record breaker double centurion Rohit Sharma jumped to the 15th spot in the latest chart.
Rohit made a spectacular rise of 18 places after his world-record breaking innings of 264 in Kolkata, in what was the 27-year-old's second ODI career double-century, following his 209 against Australia in Bangalore last November.
Shikar Dhawan maintained his fifth spot while Mahendra Singh Dhoni, who was rested against the Lankans, also remained on seventh position.
For Sri Lanka, Lahiru Thirimanne rose four places to 46th after scoring half-centuries in Kolkata and Ranchi (59 and 52 respectively).
Sri Lanka captain Angelo Mathews has surged to the top of the Reliance ICC ODI Player Rankings for all-rounders for the first time after accumulating 339 runs, including 139 not out and two half centuries (75 and 92 not out), to finish the series with an average of 113.00 with the bat.
In doing so, he also moved up four places to a career high 10th place in the batting rankings. The Colombo cricketer also chipped in with four wickets, and he now holds a nine-point advantage, on 420 points, over Pakistan's Mohammad Hafeez in the all-rounder rankings.
In the ICC Players Rankings for ODI bowlers, Bhuvneshwar Kumar remained the highest-ranking Indian at eighth while Ravindra Jadeja was at 10th spot. Both, however, lost two places each. Ravichandran Ashwin climbed one place to 15th to be 21 points off a place in the top 10.
Umesh Yadav, who claimed 10 wickets to climb eight places to 40th, and slow left-arm spinner Akshar Patel, who has moved 11 places to a career high 71st ranking after claiming 11 wickets in the five-match series.
Sri Lanka will next face England in the first of seven ODIs on 26 November, while India will next be seen in ODI action in a tri-series involving England and joint host Australia in January prior to the start of the ICC Cricket World Cup 2015.
ICC Rankings:
Batsmen:

1 AB de Villiers (SA) 887
2 Virat Kohli (India) 862
3 Hashim Amla (SA) 834
4 George Bailey (Australia) 810
5 Shikhar Dhawan (India) 777
6 K Sangakkara (Sri Lanka) 776
7 MS Dhoni (India) 738
8 T. Dilshan (Sri Lanka) 731
9 Quinton de Kock (SA) 718*
10 Angelo Mathews (Sri Lanka) 706
Bowling:

1 Saeed Ajmal (Pakistan) 770
2 Sunil Narine (WI) 753
3 Dale Steyn (SA) 712
4 James Anderson (England) 690
4.Mitchell Johnson (Australia) 690
6 Morne Morkel (SA) 651
7 M. Hafeez (Pakistan) 647
8 Bhuvneswar Kumar (India) 641
9 Steven Finn (England) 640
10 Ravindra Jadeja (India) 638
Image: Virat Kohli
Photo: BCCI